"Rice is a beautiful food. It is beautiful when it grows, precision rows of sparkling green stalks shooting up to reach the hot summer sun. It is beautiful when harvested, autumn gold sheaves piled on diked, patchwork paddies. It is beautiful when, once threshed, it enters granary bins like a (flood) of tiny seed-pearls. It is beautiful when cooked by a practiced hand, pure white and sweetly fragrant."

– Shizuo Tsuji, Chef and cookbook author
Buenos Aires – Moving swiftly along with our class schedule, this week our first group simmered their way through a trio of grains – we looked at the different types of risotto, polenta, and farro, and had our way with a Saffron-Asparagus Risotto flavored with Gremolatta, a slow cooked Polenta with Cremini mushrooms and homemade Italian sausage, and a bubbling pot of Wheatberries with a Quartet of Spring Vegetables. Thus ends our carbo loading – next week on to vegetable side dishes.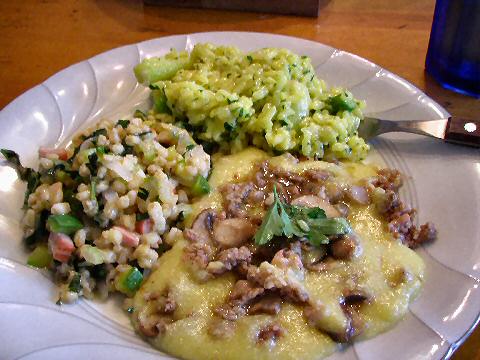 More detailed pictures on our Flickr page.
On my side, I swam my way through a duo of Brazilian classic fish dishes – casquinha de siri and moqueca de peixe, both delicious – Henry insisted on more moqueca after sampling, so I whipped up a version using calamari that evening, simply because I had some….