"Look at me and tell me if I don't have Brazil in every curve of my body."

– Carmen Miranda
Just a little touch of Brazilian flavoring in some of the dishes this weekend – no particular reason other than I was perusing through some of my Brazilian cooking class recipes and got a little inspired, and, it's been awhile since I played around with any of those flavor profiles….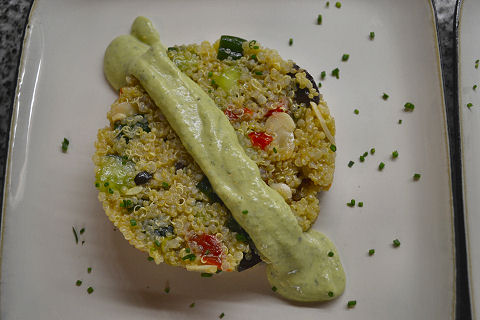 Quinua / Olive / Tahini / Chickpea
Chandon Rosé Brut
Partially inspired by the great quinua tabouleh at Kensho recently, and partly just my own thoughts – a quinua salad, the quinua cooked in vegetable stock, then tossed with toasted almonds, green and black olives, roasted cherry tomatoes and red bell pepper. The dressing a sort of pseudo-hummus – puree of chickpeas, tahini, lemon juice, mint, cilantro, green chilies, salt and pepper, and just a touch of olive oil and water to thin it out.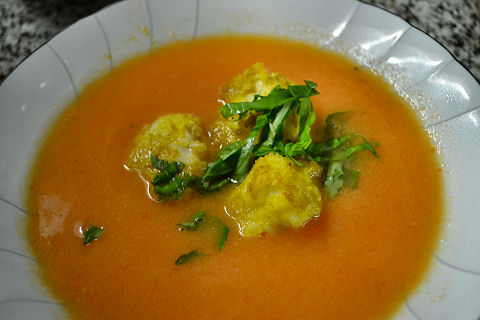 Tomato / Bell Pepper / Malagueta Pepper / Sand Perch
Pulenta Estate "La Flor" Sauvignon Blanc 2010
I was thinking about making a moqueca, the classic slow cooked fish dish flavored with tomatoes, peppers, herbs and coconut, but in the end decided to go a soup-ish route. The broth, a mix of the tomatoes, bell peppers, malagueta peppers, white onions and garlic, slowly cooked and then basil blended in at the last minute. The fish, salmón blanco, in English known as either Argentine or Brazilian sand perch, not a salmon at all, cut in cubes, dusted flour, dipped in beaten egg, and then rolled in a mix of grated plantain and coconut, then fried. Good, but my least favorite dish of the evening, though, Henry's favorite, so, go figure – we'll see what guest feedback is like as it comes in.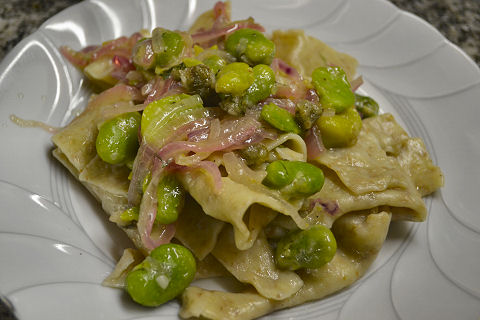 Whole Wheat Pasta / Fava / Preserved Lemon / Red Onion
Kaikén Rosé de Malbec 2011
Not particularly Brazilian in inspiration, just something I've been playing with that I thought would fit into the progression. Whole wheat langanelli pasta (3½ cups whole wheat flour, ¼ cup all purpose flour, 4 extra large eggs, 1 tablespoon olive oil, extra egg if you need it) – essentially narrow rectangles of pasta. Preserved lemon oil (great recipe that I now use whenever I want to make preserved lemons and/or its oil here), fresh fava beans, thinly sliced red onions, capers and dill.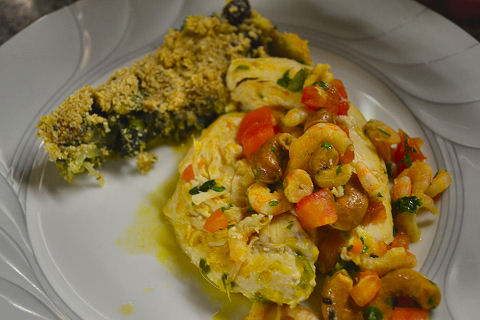 Chicken / Shrimp / Cashew / Chard
Alfredo Roca Pinot Noir 2009
The closest to a classic recipe for the night, a take on Xinxim de Galinha – pounded then breast of chicken sauteed in a mix of dende and olive oil, ginger and green chilies. Then to that added tomatoes, small shrimp and cashews, covered the pot and let it all simmer away until the chicken was cooked through (also one of the nights made this with some fish for someone who didn't eat chicken – equally delicious). Tossed with cilantro, and served with some of the sauce spooned over it. On the side, a slice of swiss chard tart – almond crust (2 cups almond flour, 2 tablespoons coconut oil, 1 egg, half teaspoon of salt), par-baked, then brushed with egg white so it wouldn't fall apart when the filling was added – a saute of onions, garlic, pinenuts, peperoncino, raisins rehydrated in rum, and swiss chard, salt and pepper. Over the top, a farofa – coarse manioc flour sauteed with garlic in olive oil. Baked until cooked through.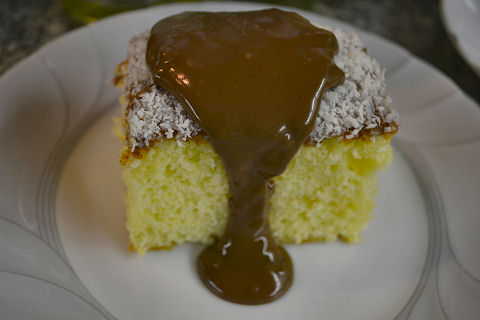 Coconut / Orange / Chocolate / Coffee
Quara Torrontés Dulce 2011
And, a return to my favorite Trés Leches cake, topped with my chocolate and coffee sauce.
On to a couple of private parties….