"THRONGS OF MONGOLS in resplendent robes of blue, red, and maroon swarm Ulaan Baatar's Central Stadium. Archers snap bows, bands blow brass music, and the air is saturated with the pungent odor of mutton, the national dish (the older and tougher, the better). Yet all eyes are focused on the field, where scores of burly men dance in ill-fitting leather bikini briefs, flapping their arms and hooting wildly. Herders and horse riders from the farthest reaches of Mongolia migrate to the capital for the annual Naadam. That's short for Eriin Gurvan Naadam, meaning the "Three Manly Games," an ancient nomadic Olympics comprising archery, horse riding and wrestling."

– Ron Gluckman, Mongolia's Manly Sports: The World's Second-Oldest Olympics
Buenos Aires – Trust me, none of us dressed up in ill-fitting leather bikini briefs, and there was no archery, nor horse-racing, nor wrestling. Come to think of it, none of us are all that burly. Still, we thought we ought to at least raise a fork and glass to the annual three-day sporting fest held at this time of year in Mongolia, with cuisine that was inspired by, if in no way traditional to, the country – and particularly not the festivities, which tend towards the local version of picnic fair – "bread, fruit, cold meat pancakes, tea, and fermented mare's milk".
A minor digression… a couple of weekends ago I participated in a day long cultural and educational event called Limud Keshet, an exploration of various aspects of Judaism. The fare on offer for the day ranged from cooking demonstrations to literature discussions, movies to philosophical talks, activism to talmudic debate, and pretty much anything that anyone had convinced them to offer. I attended a couple of cooking demos, a discussion of rabbinic interpretations of torah and talmudic law on gay relationships, a look at the place of orthodoxy in modern life, and an introduction to Argentine Jewish literature – quite the mixed bag. Of note in regard to today's post, one of the cooking demonstrations, from a local catering company, included what seemed to me a fascinatingly simple approach to making gefilte fish, and it stuck in my mind to give it a try at home – I really liked how theirs turned out, and they literally made them in a matter of about half an hour standing at a small card table in front of us.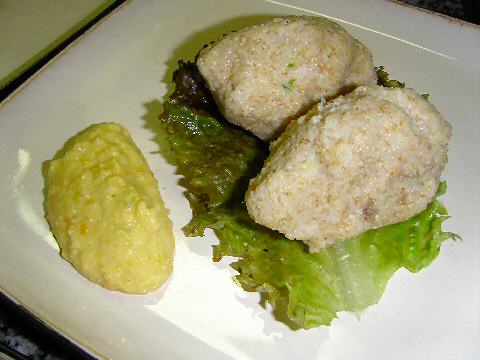 So, when I spotted a note somewhere that around Lake Khövsgöl in northwestern Mongolia, they make a sort of fishball from the local Taimen (king of the rivers), considered the largest freshwater fish in the world (averaging 4-5 feet in length) they came to mind. I couldn't find any recipes for the fishballs in particular, but thought it'd be a great opportunity to try out the gefilte fish recipe, using, if I could find it, our own massive freshwater fish, the pacú, or river pig (not as poetic as the meaning of taimen). Unfortunately I couldn't find any fresh pacú and decided instead on one of my favorite local freshwater fish, the tararira, or wolf-fish. The recipe is simple, a finely ground mix of half tararira and half merluza (hake – or another similar fish like pollack or cod), a kilo in total, and then in a blender I put half a kilo of well-fried onions, 4 eggs, a tablespoon of sugar, a teaspoon of white pepper, and about a teaspoon and a half of salt and for good measure threw in a couple of jalapeños – it just seems like they ought to be there. Blended those together and mixed with the fish, along with 200 grams of whole wheat flour. Meanwhile, I simmered the fish bones and heads in water with some onion and carrot to make a lightly flavored stock, strained it, brought it back to a simmer, and then formed the fish mixture into egg sized ovoids, which I carefully slipped into the liquid and let them cook for about 15-20 minutes. Then I drained them, cooled them, chilled them. The original dish description suggested serving them up with a spicy yellow bean sauce – I pureed some yellow beans (lupines) with several fresh chilies, some garlic, sugar, rice vinegar, and a splash of peanut oil to smooth it out. So there you have it – Mongolian Gefilte Fish – you read it here first.
Next up, a simple meat and pasta broth. Though most of the recipes I found specified either beef or mutton, a few suggested that the traditional meat used is often yak… I thought it might be interesting to do something with oxtail, which is easily available here, so I made a stock out of oxtail, onions, garlic, just a single chili for a faint kick, potatoes, and carrots. When the stock was ready I fished out the oxtails and picked the meat off them, shredded it and added it back to the soup. Just before serving, I added some fresh pasta squares – simply rolled out fresh basic pasta to about the thickness of a lasagna noodle and cut it in 1″ squares, then straight into the soup.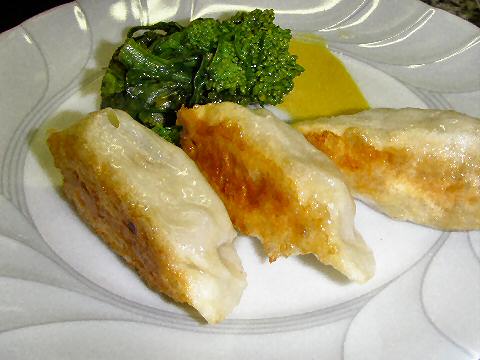 You know I love potstickers. They're fun to make and even more fun to eat. I got a call about a week and a half ago, very conveniently, from a local "ranch" that raises game birds. Including, it turned out, Mongolian Ring Necked Pheasant – how's that for coincidence? I decided to give them a try – first off I roasted up one big pheasant (it was 1.3 kilos, which yielded just over half a kilo of meat). Then I coarsely ground the pheasant and added green onions, ginger, roasted garlic, and sesame oil, packed it all into wonton wrappers, then cooked them proper potsticker style. I served them with sauteed mustard greens and a pool of that wonderful hot spicy Chinese mustard.
For a main course, Mongolian Lamb of some sort was a must. I trimmed and cubed lamb shoulder and then marinated it for a few hours in garlic, soy, rice wine, sesame oil, sugar, m.s.g., and cornstarch. For service I sauteed sliced carrots and leeks until just softening, then added the lamb and sauteed it all over very high heat until it was cooked through. We served it simply atop rice.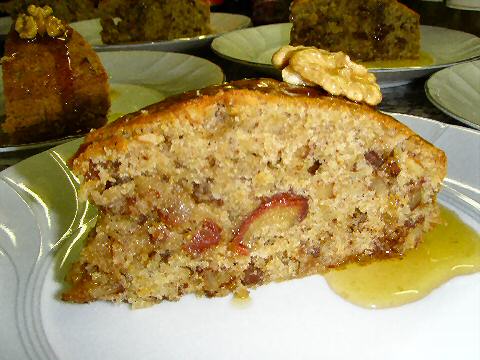 Mongolian desserts seem to be mostly of the yak cheese and fruit variety, but there were hints here and there about things with walnuts or dates. I thought I'd see about finding an interesting sort of walnut and date dessert and purely happened across this recipe for a fresh date, yam, and walnut cake – I doubled the recipe and made it as one big cake in a springform pan – I also don't have fresh dates, but had some lovely Spanish dates left from the big sherry dinner a couple of weeks ago. The cake turns out great, and we garnished it with a toasted half walnut and warm organic honey.