"True heroism is remarkably sober, very undramatic. It is not the urge to surpass all others at whatever cost, but the urge to serve others at whatever cost."

– Arthur Ashe, activist and tennis pro
Buenos Aires – The title is not the name of "Dear Leader" in North Korea, but, in South Korea this past weekend was the celebration of Memorial Day, a commemorative day for the men and women lost in the independence movement. We chose the theme for the weekend's flavor inspirations, and I think, even fusing these flavors with our trend towards a more Mediterranean style, my more comfortable mode in the kitchen, we came up with some pretty interesting dishes. It was a quiet weekend, with only a few people attending on Friday and none on Saturday, but that's been the story of the last three Junes in a row – 'tis the season.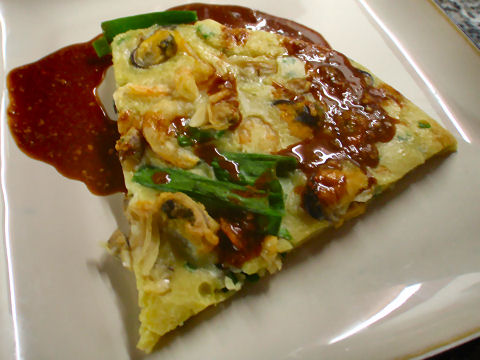 The last time I tried making seafood scallion pancakes they were a bit of a mess. It suddenly occured to me, in one of those "what an idiot" moments, that rather than trying to flip the things to brown both sides and making a hash out of it, why not just brown one side and stick the pan under the broiler. They came out beautifully this time – I also used a slightly different batter – 2 cups 0000 flour, 1½ cups milk, 6 eggs, ½ teaspoon salt, and a handful of chopped chives – pretty much the batter I use for making French style crepes, just poured in thicker and then stocked with small mussels, cockles and shrimp, and a handful of inch-long strips of scallion. For the sauce, a mix of soy, vinegar, green onion, garlic, red pepper powder (used Peruvian which wasn't quite hot enough in comparison to Korean type), sesame oil and seeds, and sugar. The wine, we were so enamored of the Humberto Canale Extra Brut the previous weekend, especially with spicy flavors, that we went with it again.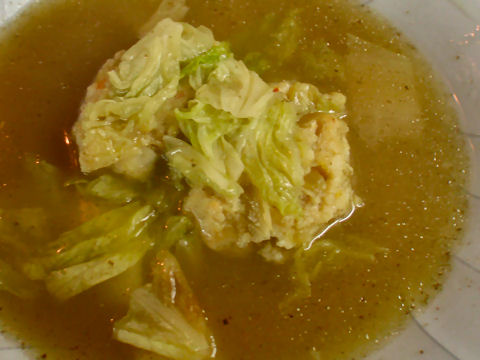 Somewhat of a reprise, at least in the idea of a fishball soup. Instead of the light and airy but somewhat misshapen and falling apart fishballs from the previous Korean dinner, I went with my gefilte fish recipe, but added some finely chopped chilies. The broth, a deep, rich beef, miso, garlic and mushroom broth, and a bit of sauteed cabbage added in at the last moment. To accompany it, one of my favorite whites from Argentina, the Tahuantinsuyu Torrontés 2007, with a lovely perfumed, floral note, fresh apricots, spice, and just a hint of toastiness.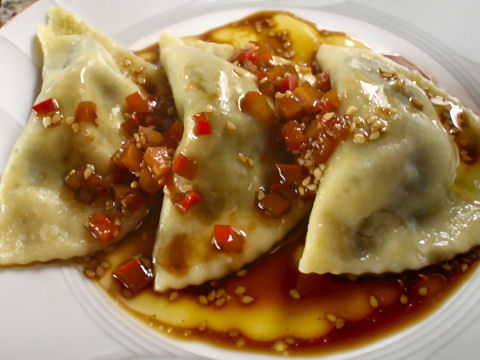 Certainly the most reinterpreted dish of the evening – starting from a classic jap chae – sweet potato glass noodles sauteed with vegetables – I instead carried on with the previous week's idea of sweet potato pasta, this time formed into agnolotti and filled with a mix of sauteed spinach and mushrooms with a little garlic, salt and pepper. The sauce, a mix of soy, fish sauce, sugar, sesame oil and seeds, scallions and garlic, and then little bits of diced carrot and red bell pepper that had just been quickly sauteed. The wine, Familia Gascón's Rose Sangiovese 2008 with its beautiful cherry flavor with hints of old leather and spice.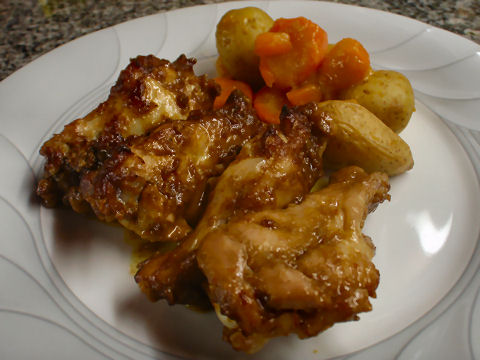 Some of you, those who've been following out Twitter posts, know that I've been on a bit of a "hot wings" kick recently. Now, there's a classic Korean hot wings dish that pretty much involves boiling a whole mess of chicken wings with potatoes, carrots, onion, garlic, hot chili paste, sugar, salt, and water. In some ways it's almost like stew, and quite good. I took the dish apart, the carrots and some new potatoes caramelized in a mix of fresh orange juice, mustard, and honey, and the wings… well, I suddenly realized that I'd made a whole mess of those two lovely mojos earlier in the week – the garlic one and the carrot one (recipes in last week's dinner post), and the flavors, though more complex than the classic stew, pretty much fit – with onions and garlic and carrots… so I marinated the wings in a mix of the two mojos, plus, a good dollop of Korean hot chili-garlic paste. Then simply cooked them in the marinade until it was reduced to a glaze. Really quite good, and nicely spicy. The wine, from Finca Intimayu in Mendoza, their 2006 Syrah, a really dark, rich Syrah with plenty of body, blackberry fruit and spice.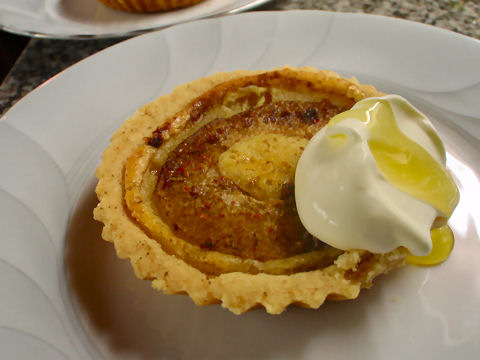 And, further on from last weekend (becoming a trend, no?), I took the traditional Korean dessert of an Asian pear studded with peppercorns and simmered in sugar syrup and turned it into a tartlet. The crust, once again a basic pâte brisèe, the filling, the same as the previous week except substituting pinenuts for the almonds, as they're usually used to garnish the simmered pear, so, more or less a pinenut frangipane sort of thing. Then a cored slice of Asian pear, and dusted the top with crushed pink peppercorns. Then baked, cooled, and served with barely sweetened whipped cream and a drizzle of good honey. The wine, from San Felipe, their late harvest blend of Sauvignon blanc, Chardonnay and Gewurztraminer.