My time as President is fast coming to a close. For me, it has been a rare opportunity to make a difference and is the completion of one stage in my life's mission. For Taiwan, these past eight years, though just a small stretch in the endless stream of history, have been an important stage in its history that has enabled us to reach a higher plateau as we continuously strive to strengthen and deepen democracy, create a more prosperous, advanced society, and realize social equity and justice. This stage of our great journey will soon come to a close. This administration will work hard to the very end, but there remains much to be done by my successor. I believe that the torch of democracy and progress will be passed on smoothly. As it is passed on from one administration to the next, its flame will burn with ever-greater brilliance and continue to guide Taiwan towards a new era of wellbeing and renewal that will create unlimited possibilities for future generations. In closing, may our nation enjoy good fortune in 2008! And a Happy New Year to you all! Thank you!

– excerpt from President Chen Shui-bian's 2008 New Year's Day Address
Buenos Aires – It is traditional on the Lunar New Year in both China and Taiwan to receive hong bao – lucky money – a red envelope containing some amount of cash given by family members to the elders and the children of the family. Not having any family here except Henry, and he away in Peru, and I'd prefer he didn't think of me as an elder anyway, I received no hong bao. I did, however, head with a friend to Barrio Chino for the day's festivities (it occurs to me that here, barrio chino is a misnomer, since given the makeup of the local population, it is probably more correctly barrio taiwanés) – something I've missed the last three years in a row (2005, I was here on vacation and didn't even know about chinatown, 2006, I simply forgot about it until late in the day and by the time I got there, it was all over, and 2007, we were away in Peru). Turns out, I didn't miss much.
I can't speak for those past years, but this year anyway, they cordoned off two blocks of Arribeños, but only kinda sorta… they left cars parked along one side of the street, which meant the food and knickknack stands got shoved out into the middle of the street, which was teeming with people – many of whom, based on what I overheard had had no idea that there was a chinatown in Buenos Aires (and I'm talking about locals, not visitors), and apparently had found out because of an announcement in the papers. The far end was further roped off into a small rectangle, in which 5-6 people were preparing to to a small scale version of the famed Lion Dance – the rectangle was surrounded by spectators waiting to get a glimpse of this, and glimpse was pretty much all anyone was going to get – it was just too packed with people. So we wandered the block and a half of food stalls, nibbling on various skewers of things, springrolls, steamed buns (really good steamed buns too), tea eggs, and what have you. A good percentage of the food offered was not Chinese or Taiwanese in origin, but seemed to be catering to local tastes – I don't believe I've ever seen quite so many deep fried battered hot dogs in my life, and sure enough, watching, I'd say the majority of locals sampling foods completely ignored the Chinese offerings and went for things more familiar. And I'm pretty sure that the two of us were among a mere handful who made any use of the hot sauce that various stands were offering.
It was fun, but too little to do and too many people to deal with. We got out of there after about an hour.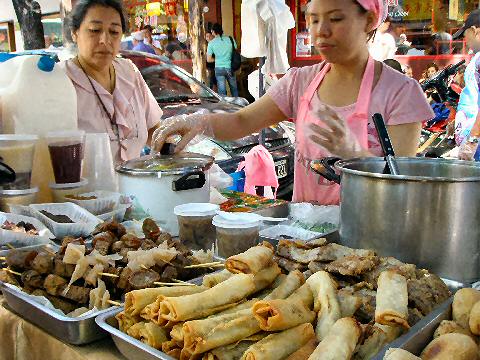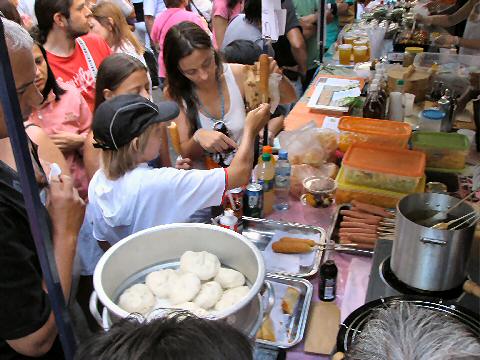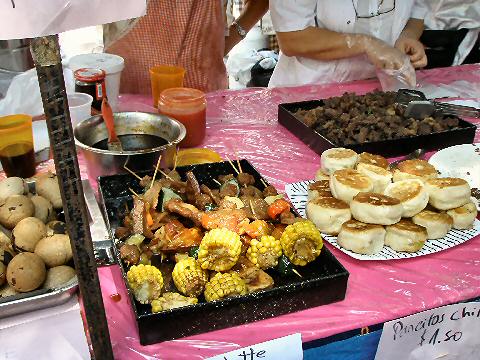 Happy Year of the Earth Rat, 4705!