Millions long for immortality who don't know what to do with themselves on a rainy Sunday afternoon."

– Susan Ertz, Novelist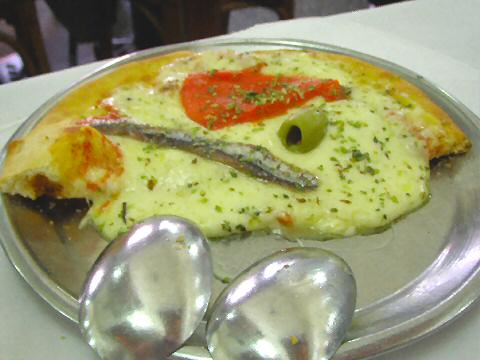 Buenos Aires – You'd think that at some point over the last three years I'd have made it to the famed Café Los Inmortales, Corrientes 1369, near Paraná – had a coffee, a pastry… a pizza… They are one of the spots that pops up in conversation regularly when folks talk about "the best pizza in Buenos Aires". Upfront, it's not. Which doesn't take away from the fact that it's really quite good pizza. A nice thin crust, and the dough is used before anything else arrives on the table, rolled out very thin and topped with lots of chopped garlic and then baked – pretty much the best garlic focaccia I've had in many a year. A decent, and good-sized steak empanada hit the table shortly thereafter – the crust an interesting really flaky, almost puff pastry dough, the filling reasonably spicy, with lots of diced steak, and whole olives that… hey, the rest of you empanada makers out there take note… have been pitted.
Finally, the pizza arrived – an individual sized pizza that really is individual sized, rather than feeling like I'm overdoing it – well, maybe without the empanada the pizza would have seemed a touch too small. The house classic, the pizza los inmortales is a gooey, delicious mix of plenty of herb covered mozzarella, crushed fresh tomatoes and garlic, roasted red pepper, anchovies, and whole olives (pitted again, yay!). Nothing wrong with that. It might even edge somewhere into the lower echelons of the top ten in town.