"A great empire, like a great cake, is most easily diminished at the edges."

– Benjamin Franklin
Buenos Aires – It's not uncommon here to see restaurants claiming to be El Rey (the king) of this or that, but I've seen few that claim to be the Empire. Nonetheless, in response to a recent review of some pizza he particularly liked, Alan over at Buenos Aires Tours received a comment from a local claiming that the Empire was the place to go. Our schedules don't mesh, so we couldn't plan a jaunt together, and I decided to head that way on my own. So, off I went to El Imperio de la Pizza, Corrientes 5206, right outside the Lacroze subte stop on the B Line, and opposite my favorite local cemetery, Chacarita – is it weird to have a favorite cemetery?
The place looks like a cafeteria, with lots of standing room and that fun porteño custom of grabbing a slice or two and standing at any square inch of available space to eat. I'd rather sit down to enjoy my lunch, so I grabbed a table in the seating area. The first thing I noted was the wind. Not really wind, but above the seating area, there's a bank of a dozen ceiling fans running at high speed, and there are things blowing around the room – mostly napkins and other bits of paper, but some of it is detritus left from dining – the second thing I noticed is that the waiters' method of cleaning tables was simply to brush everything onto the floor with a damp cloth and leave it there – so there are bits of pizza and other things all over the ground. Not appealling. But, let me check out the pizza. It's deep dish pan pizza – al molde – and comes in two sizes, small and large. Small turns out to be pretty huge, easily shareable by two people, had I had a second person with me. There are only about a dozen selections available, and toppings are limited to a core group of usual suspects. A few of the types are available by the slice. I ordered a small of the house special, the Imperio itself – ham, red bell pepper, tomato, anchovy, olives, hard-boiled egg, and mozzarella. It takes about 20 minutes to get a pizza (less if you just want a slice, which is dished up from pies spread all over the kitchen counter – those show up at your table in about a minute). They offer beer, soda, and house wine as beverages, and a few non-pizza items to eat, but I didn't see anyone eating anything else.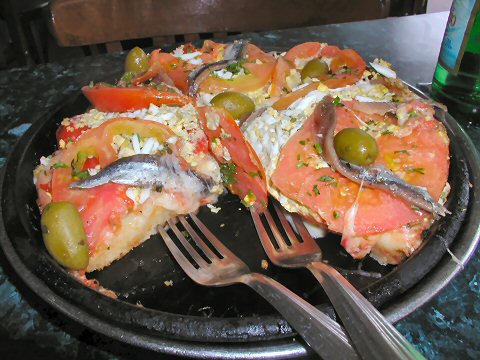 Okay, that's one fine looking pizza, no? I will hands down give them that it's got to be about the thickest pizza I've ever encountered. It's certainly over an inch in height, probably about an inch and a quarter. About half of that is dough – puffy and white on the inside, nicely browned on the bottom. The other half is a huge pile of toppings – easily the most "topped" pizza I've run into here in Buenos Aires. I wouldn't, however, say that it's the best pizza I've had here, not by a long shot. It's okay. The crust and sauce are a bit on the bland side. The toppings are fine – I mean it's sliced ham, green olives (with pits, I hate that you know), anchovies that are just fine. The hard-boiled egg is, well, grated hard-boiled egg, and a whole lot of it, perhaps a bit too much in relation to the other toppings. The tomatoes, mealy – this isn't their season, but these were really mealy. The red peppers would have been great if they'd been roasted or something, instead they seemed sort of watery, as if they'd been pulled out of a can – which they may very well have been. It's hard to believe that a pizza topped with all those ingredients would need salt, but it did, desperately. As I said, it was okay, it just wasn't great. Perhaps they're confusing quantity with quality in their Empire?
Now, that was too much pizza to finish by myself. I managed three of the four quarters, and even that was a tad too much. So, a walk was in order. Given the neighborhood, I knew there were some areas I wanted to explore. It's been way too long since I kept working on my "Paint by Numbers" touring, and the last time was actually in this same neighborhood. I ran across this poem painted onto a wall – one of those nice surprises that you encounter wandering around the city – this one on a mixed residential and industrial corner at Elcano and Alvarez. The poet, one Carlos Alberto Medina Matevé, a tribute to jazz musician Norbert Minichillo – I didn't find anything out about the poet, but his hotmail address is listed in the lower corner of the poem, so I assume he's relatively contemporary – as is Minichillo.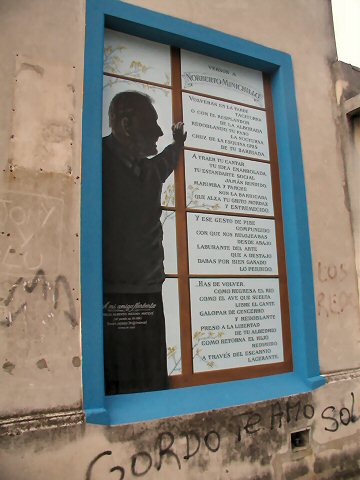 I had a little bit of a hike to the two next locales in the area – and found myself trotting my way around the entire cemetery to the other side, where I wandered some charming streets to finally encounter 12 de Octubre, a quiet, three-block long residential street that is made up of almost entirely one famly homes. I did get a chance to stuff myself slightly further, as right at it's inception, at the corner of Añasco and 12 de Octubre, is the Freeport Heladería. I have to give this spot some high marks for quality. Their selection is somewhat limited, but offered up one flavor in particular – a fresh blueberry gelato that was absolutely delicious. I also had to try my usual reference standard, the chocolate amargo – verrrry interesting. They take the amargo seriously – I have to doubt that there was any sugar in this gelato at all, and it was very intensely chocolatey. Not a great combination with fresh blueberry, but separately, quite good.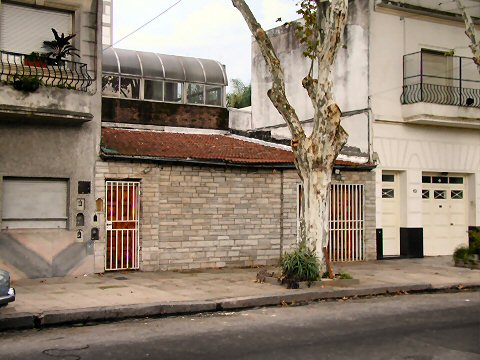 From there, it was a walk along Avenida San Martin, to where I got to wander alongside the Veterinary and Farm school – not a good bet in these current days when we're experiencing a mosquito infestation – it was like walking through a jungle. Nonetheless, I got to peer through the fence at horses, llamas, and students – all very exciting. But, in a little triangular cutout at the far end of the school, is what was originally (and perhaps still is?) a gorgeous little public housing project, Barrio Rawson – Robert Wright has done a great job of writing up the history and I'm not going to try to outdo him, suffice it to say that if all public housing looked like that, everyone would want to live in it [Unfortunately he's removed that post from his site.]. My main reason for popping over there, the short two blocks of 2 de Abríl, one of several short streets that radiate out from the little central square – Plazoleta Carlos de la Púa – he was an early 20th century local poet who wrote much of his verse in the local street dialect of lunfardo.