"The gods do not deduct from man's allotted span the hours spent in fishing."

– Babylonian proverb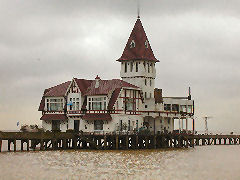 I've spotted this intriguing building several times when zooming up the Costanera Norte along the river. It's located right across from the southern end of the Jose Newberry Aeroparque, the domestic airport. It's the sort of thing I keep in the back of my mind to "one day find out just what the hell that place is". Yesterday turned out to be the day. I was out for a wander, just needing some time to think and not do or see anything in particular. I ended up over by the planetarium, which, of course, being Monday, was closed; and it suddenly popped into my mind that I was a short walk from the Costanera Norte… relatively speaking. So I followed the avenue under railroad bridges and around the end of the airport, and indeed, there it was. A bit of maneuvering to get to the walkway, and not a section of the avenue that there's anything of note on – the entrance to the Punta Carrasca tennis club, a public golf course, a public swimming pool (closed at this time of year), two street food vendors serving up pretty decent choripan, and there, about a block's distance away, this building, perched out on a dock in the river.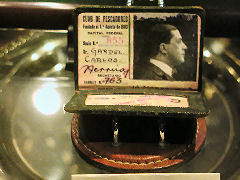 Turns out it's a sort of private club, the Club del Pescadores, or Fisherman's Club. There was a nice young man at the entrance, in the tackle and bait shop, who said I was free to wander in and take a closer look, though ostensibly the building is closed on Mondays. Inside, the building houses the offices of the club (fees appear quite reasonable and they offer fishing classes to both members and non-members); a restaurant, Muelle del Plata, that on searching gets mixed reviews, but has been added to my list to check out one day; an aquarium, open to the public on weekends; and a very nicely appointed lobby with various fishing memorabilia, including this membership card for Carlos Gardel. Apparently the father of tango needed somewhere to go and relax and get his inspiration!