"There's a pizza place near where I live that sells only slices. In the back you can see a guy tossing a triangle in the air."

– Stephen Wright, comedian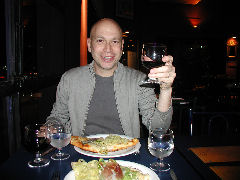 Yes, that's me, toasting to a lovely evening out with my friend Juan. We wandered about his neighborhood in Palermo, looking for, as my friend John back in New York would put it, "something cheap and cheerful". No interest in some place with any pretentions to grandeur or "cuisine" or, even for that matter, ambiance. It's hard to do much better in that vein than splitting a good pizza. But you all know the problem with splitting a pizza. One of you wants anchovies, the other doesn't. One of you, the one with appalling bad taste, thinks that tuna or bananas are acceptable pizza toppings, the other, the one with a palate, doesn't. Thin crust, thick crust, mozzarella, red sauce, white… the discourse is endless.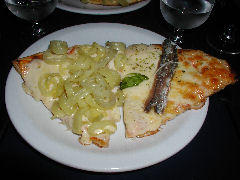 Enter Pizza Libre, Scalabrini Ortiz 1599, corner of El Salvador. I think that's what it's called, the check is unreadable, and the only sign we saw said "36 Gustos – Pizza Libre". Now wait. 36 types of pizza? All you can eat? A pizza buffet? Heaven? Well, not exactly. It almost resembles the Stephen Wright quote above. You choose from a menu, as many slices as you want at a time, they recommend no more than two at once to keep them hot, and a few minutes later, they are delivered, piping hot, to your plate. And you can keep doing that as long as you can stuff slices of pizza down your gullet. It's sort of gavage (the process of making foie gras duck and goose livers fat and tasty that everyone is arguing about – trust me, it wasn't painful at all) for human beings. And no arguments about which one or ones you might care to chomp on. No buffet, they just make plain pizzas and then add toppings to the slices to order, throw them back in the oven and get them all gooey and melty for you. [This place has closed.
Oh yeah, and while it won't win any awards, the pizza is actually pretty darned good. And at 12 pesos for all you can eat…