"I never worry about diets. The only carrots that interest me are the number you get in a diamond."

– Mae West
James Buchanan "Diamond Jim" Brady's enormous appetite and resultant girth were as legendary as his wealth. It was not unusual for Brady to eat enough food for ten people at a sitting. George Rector, owner of Rector's restaurant (Brady's favorite hangout), described Brady as "the best 25 customers I ever had." A typical breakfast might be eggs, pancakes, pork chops, cornbread, fried potatoes, hominy, muffins, and a beefsteak. For refreshment, a gallon of orange juice – or "golden nectar", as he called his favorite drink. Lunch might have been a couple of lobsters, deviled crabs, clams, oysters and beef, and a few pies for dessert. His usual evening meal began with an appetizer of a couple dozen oysters, half a dozen crabs, and a few servings of green turtle soup, followed by a main course of two whole ducks, six or seven lobsters, a sirloin steak, two servings of terrapin and a host of vegetables. For dessert, Brady enjoyed pastries followed by a two pound box of candy.
I wasn't about to attempt to recreate any one of Diamond Jim's legendary meals for this weekend's Casa SaltShaker dinners. Especially not for 60 pesos. Nobody coming was likely to eat that much food. Besides, where was I going to come up with a terrapin? Though, I did try to find a source for some farmed turtle meat (those sea turtles are protected now you know), thinking maybe I could make a turtle soup (which I've had, and made, before, and it's excellent). I still felt that a tribute to the man's 150th birthday was in order, and I looked through lists of various menus that he was known to enjoy, picked a few items, and used them as the basis for my own recipes.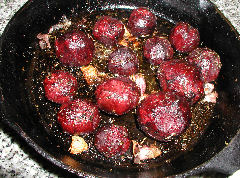 Diamond Jim was, along with all those things listed above, particularly fond of vegetables. Perhaps that's part of how he survived to 61 years old despite his excess hundreds of pounds. He always ate his salads, and loved platters of vegetables. Since I had no guidelines other than that, I thought a terrine would be in order – something a little more elegant than just a plain salad or crudité plate. It's still the season here for root vegetables, and I like beets – roasted beets in particular. The first thing I did was took a dozen or so beets, peeled them, rubbed them with olive oil, and a mix of dried thyme, parsley, marjoram, and just a touch of rosemary. A couple of crushed garlic cloves got tossed in the pan as well. Then into the oven on medium heat for about an hour, until the beets were tender when I stuck a fork into the largest one. I let them cool overnight. A couple of dozen porcini mushrooms got themselves sliced and sauteed with chopped shallots. And a good handful of large spinach leaves were blanched in boiling water.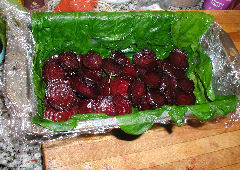 To assemble the terrine, line a bread pan with plastic wrap, and then with the overlapping spinach leaves, with a bit of an overhang so that they could fold over the top of it. Slice the beets thinly and layer them in the bottom of the terrine, then top them with the mushroom mixture. Fold the the spinach leaves down over the mixture, along with the plastic wrap, then press the whole thing down firmly. Cut a rectangle of cardboard that will just fit the top of the terrine, place it on top, and weight it down with some cans or other heavy objects. Let it sit in the refrigerator for a few hours. Unfortunately, when sliced, the terrine didn't hold together as well as I would have liked. I think maybe the beets needed to be more thinly sliced – the next time I'd use something like a mandoline and cut them sort of potato chip thin. I suppose I could have also used some sort of gelatin, but that changes the whole texture of the terrine. Regardless, the flavor came out just as I wanted.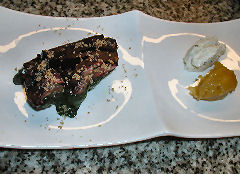 A traditional layering of a beet terrine is a fresh goat cheese. Rather than put it in as one of the layers, I kept it on the side, mixed it with a little bit of salt, white pepper, and chopped chives. I also wanted a sort of dressing, and initially I was thinking about a roasted garlic vinaigrette, which I think would work well, but decided to go simpler, and just roasted a bunch of heads of garlic – leave them whole, drizzle with just a little olive oil, and roast in the oven for about an hour – then cut the heads in half and squeeze out the pulp. All I did with the pulp is puree it to smooth it out and added a touch of salt and olive oil. A little mustard added might have been a nice touch to brighten it up. Next time! A sprinkle of "pecan salt" for garnish – I took a handful of pecans, salt, and a little cayenne pepper, and ground it all finely.
Next up, since no turtles were to be had, a favorite of DJB was a lobster chowder. Lobsters are near impossible to find here, but langostinos are often available. My local fishmonger promised me that he was getting in some beautiful fresh langostinos. I waited, and waited, and finally he got a case of them the day of the dinner. "Semi-frozen", which as best I could tell meant they'd been frozen but had partially thawed during delivery. Regardless, they were indeed beautiful, nice large prawns. I thawed them the rest of the way, then separated the tails from the heads, and peeled the tails. The heads and shells, and a couple of corn cobs (without the kernels of corn) went into a saucepan with a couple of sticks of butter and ¼ cup of ouzo, all cooked until the butter was just starting to brown. I then topped it off with water, brought it to a boil, and let it simmer for an hour or two. Somewhere in the middle of the process I used the immersion blender to crush up all the shells and extract more flavor. Then I let it cool, strained it through a fine mesh strainer, pressing the solids to extract every bit of flavor I could. Meanwhile, I diced some batatas (yams) and cooked them until they were just tender. The langostino tails I sauteed in butter with more ouzo. When ready to serve, I sauteed a finely chopped onion and about a half cup of chopped jamón serrano until just lightly browned. I added the batatas and the broth and topped it off with about a cup and a half of heavy cream and then let the whole thing simmer together about ten minutes. The langostinos went into a bowl and got heated up by ladling the broth and batatas over the top. A little bit of chopped chives for garnish was all it needed.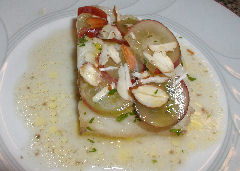 The man's apparently absolutely favorite fish dish was Filet du Sole de Marguery. The story of this dish is told in various culinary circles in various manners. Supposedly, one of these people created this dish: Edward VII, his chef, the chef at the Café du Paris, or the chef at the Café du Marguery, or someone else entirely. What is known, relatively well, is that on a trip to Paris, Brady tried the dish, came back, and told Charles Rector, the original owner of his fave restaurant, to come up with the equivalent or he'd lose his best customer. Charles sent his son George to Paris, where he worked his way up through the ranks of whichever restaurant this had really come from, starting as a busboy and dishwasher, and eventually ending up assisting the poissonier, or fish cook. The day he figured out the recipe, more than a year later, he cabled the news to his father, who had the dish recreated for Brady. There's a quote of somewhat dubious provenance that Brady said of this sauce, "You could put this on a terry cloth towel, and I'd eat the whole thing." It is good. Really good. I couldn't find any fresh sole for the dinner, so used abadejo, or pollack – not as delicate, but still in the same general category of fish. The sauce is a mix of butter, grapes, almonds, marsala, parsley, lemon zest, and salt. I steamed the whole thing in packets in the oven, but more traditionally, the sauce would be thicker and cooked stove top and served atop the sauteed fish.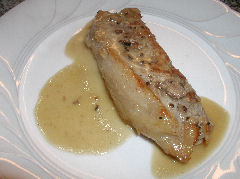 The main course had to be a steak. It just had to be. One of my personal favorite ways to cook a nice steak is a sort of less peppery version of au poivre. In this case, the steaks are lightly coated with a mixture of crushed black peppercorns, allspice, and coarse salt. They're cooked in whatever way you like to cook steaks – in this case I pan-roasted them. The sauce is made by sprinkling some flour over the drippings in the pan and lightly browning it, then deglazing with some cognac, a splash of beef stock, and finishing with a pat of cold butter. It won't need any seasoning. If it wasn't for all the other food being served, which seemed to have added up to a bit of a mountain, I think I'd normally accompany this with something like papas a la crema or a potato gratin.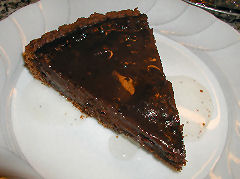 I can't claim any real credit for the basics of this dessert. Pastry has never been my forté – I can reproduce recipes well, but coming up with my own is rarely my best bet. So the torte itself is a recipe from my old pastry professor in cooking school, Nick Maglieri, listed in his fantastic book, Chocolate, as Spicy Chocolate Tart. The only thing I changed is that instead of a teaspoon of cinnamon and a half teaspoon of clove, I cut the cinnamon in half and used a half teaspoon of nutmeg as well, and I used bitter chocolate instead of semi-sweet. You can barely see it in the photo, but the slice of the torte is drizzled with a large spoonful of bay leaf syrup. Credit for that goes to Tom Colicchio, who used to serve a molten chocolate cake with bay leaf syrup at Mondrian. The syrup is a mix of equal parts water and sugar, brought to a boil, and then a handful of fresh (not dried!) bay leaves is dropped in, the syrup is removed from the heat, and left to infuse overnight. It matches with dark chocolate beautifully, and all the various spices worked quite well together, I thought.
—————
Amongst the various wines brought last evening, the most interesting:
Verget du Sud Vin de Pays de Vaucluse 2004, a Marsanne and Roussanne blend white from the Rhône Valley that has bright pear, apricot, and minerally flavors with a hint of wildflowers, quite good.
Benegas Chardonnay 2000, a well-aged, slightly oaky, but very rich and mellow Chardonnay; very atypical of Argentine Chardonnays, coming across in some ways like a decent white Burgundy with lots of hazelnut and baked apple flavors.
Achaval Ferrer "Dolce" Malbec 2004, Argentina's first passito Malbec, a non-fortified red dessert wine, with delicious ripe cherry and plum flavors, vanilla, and sweet, but not overly so.