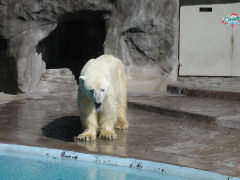 Buenos Aires – You can argue all you want about cruelty to animals, cage conditions, and all the rest, but I love the zoo. I've been wanting to go to the BsAs zoo since I got here and finally talked Henry into it. Just to validate your arguments, yes, many of the cages were in rough shape, the zoo is pretty run-down, there were lots of screaming children, though, unlike zoos I've been to in the U.S., I didn't see any throwing anything at the animals. (Children here, even when rambunctious, are just plain better behaved – combination I'd guess of the general nature of the culture, and also the lack of being able to sue their parents for the life-long mental trauma of being spanked…)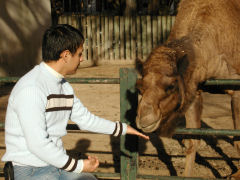 The zoo is also a bit more "open" than I'm used to. With the exception of truly dangerous animals, for the most part, you can get right up close and personal and pet them, feed them, and talk to them. Henry, despite his misgivings and resistance for the last six weeks, was like a kid in a candy store. I have roughly seventy photos of him petting or posing with animals, most of which I won't subject you to (maybe a link to an album later), and didn't want to leave when it was closing time. I also got to see some animals I've rarely seen elsewhere, like white tigers, white rhinos, a variety of llamas, and quite a few different South American birds and smaller animals that I was unfamiliar with.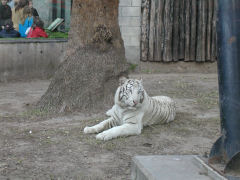 Like many zoos there is an admission fee. There are also add-ons, like the aquarium, dinosaurs (yeah, that threw me too… an entire dinosaur replica house in a zoo), the reptile house, the rainforest, and a few others. There are also shows (but only on certain days and at certain times) that cost extra. There are two "passes", the pasaporte which gets you into all the extra exhibits but not the show, and another that gets you the shows and a boat ride. Thankfully we decided on just the passport since it turned out once we were inside that the only show today was the sea-lions, even the boat ride was closed. Apparently most of the shows (and also chances to interact with guides at different exhibits while they talk about different animals) are only held on weekends and holidays. That's not posted outside the zoo…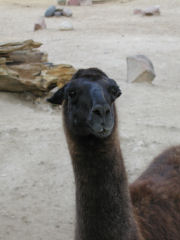 It's a pretty good sized zoo, and I have to admit to not having figured out its layout. Even with a map of the locations of all the animals, I don't see a particular pattern. In some areas animals that are similar (like alpacas and llamas) are grouped together, but in other areas they're not. Monkeys are spread throughout the zoo, providing, I guess, comic relief (someone apparently learned that chimpanzees really do "fling poo" and has erected a glass wall in front of the chimp cage – it could use cleaning a little more often…). Interestingly, there's a school on the premises, and apparently kids who are into animals and biology can attend classes there. (This isn't unusual in BsAs, there are lots of specialized schools in various places, like museums and the botanical gardens.) There's also a small farm where you can really get up close and personal with the farm animals.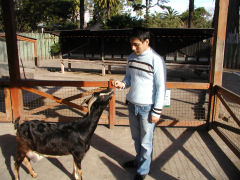 I don't know if it was all that time amongst the animals, but dinner just had to be meat; not to mention being quite hungry, the zoo only offering cold sandwiches and soda at its concession stands (officially they have hot sandwiches, like milanesas, hamburgers and hot dogs, but they're not hot, and they were out of most of the selection). Having spent the day on our feet walking, we didn't feel like venturing too far away, so down the corner where I'd noticed a couple of parrillas. At the first, we were told we were way too early (it was 7:30, yes, we knew that was a chance we were taking) and they didn't open until 8:30 or 9:00… The second was open, and though we were the first customers in, a half a dozen tables joined us within the next half hour – admittedly mostly parents with kids.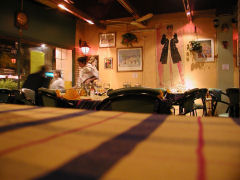 Pichi Huasi is located at French 2281, just off Azcuenaga, in the Barrio Norte district [As of July 1, 2006, they moved a couple of blocks away to Uriburu 1687]. When we asked, the manager told us he was fairly certain the name was of Quechua derivation (the language of the Incas), but didn't know if it had a particular meaning. It seems almost more likely that the Spanish translation, pichi meaning cheap and huasi meaning something that comes from peasants, has more to do with the choice of name. The restaurant itself is charming, someone with some great taste picked out some really good colors for the linens (all various shades of golds and oranges), the walls are decorated with posters that seem more French-bistro style than Argentine, but lend to the ambience.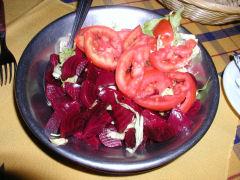 The menu is relatively extensive, though all pretty much related to parilla style food, i.e., steaks and other grilled meats and a few pastas (which seem to be there more for those who just don't eat grilled meat than anything else). There's also a pretty decent selection of salads, ranging from pre-composed offerings of both appetizer and main course size, to the option to create your own from a list of available vegetables. We opted for a mix of fresh beets, tomatoes and lettuce which arrived in a few minutes along with the question of what condiments did we want to mix with it (sounded like we had the choice of pretty much whatever spices and herbs were in the kitchen). We opted for simple lemon, oil, salt and pepper, which were all brought, and we tossed the salad together then and there.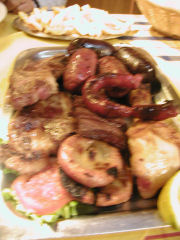 One of the specialties of the house that is displayed in the window (though not on the menu) is a mini-parrillada, or mini-grill, for two. That sounded perfect for our aim of the evening (and 15 pesos, or $5 was pretty hard to pass up) [Like everything here, prices keep going up, as of mid-2010 the price is now 50 pesos, or $13, still a great bargain. May as well track it – here in mid-2015 it's 175 on weeknights and 195 on weekend nights, or about $20, again, still a great bargain.], with a side order of french fries, of course. Side dishes were surprisingly limited given the extent of the main menu – pretty much french fries, mashed potatoes, and mashed squash. As you can see from the somewhat fuzzy photo, it was a pretty extensive platter – 2 each of three different sausages (morcillas, chorizos, and an unidentified "salchicha"), chinchulines (intestines… see my post on July 24th for a whole discussion), a couple of small steaks, a strip of hanger steak, and a chicken leg. Plenty for two people! Although a little underseasoned, there was salt, pepper, and lemon available on the table, so that was quickly remedied.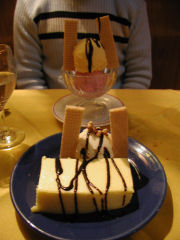 We still had a little room for dessert and they had quite a selection. One of the specialties of the house was a lemon tart "Margarita" (no one knew who Margarita was), and we ordered that and a bowl of mixed vanilla and strawberry ice cream. The ice creams were great. The tart was odd. It was a crustless rectangle of what I can only describe as grainy jello. The flavor was bright and lemony, but the texture was something like a sandy superball. It was drizzled with chocolate syrup (a combo I love – lemon and chocolate), and served with a quite good cream flavored ice cream and walnuts. I'm working on getting a copy of my favorite lemon tart recipe from a restaurant in New York. More about that when and/or if it arrives.