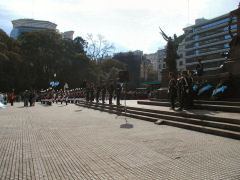 Buenos Aires – My friend Maureen arrived from California for a week or so's visit. Had a quick breakfast of my favorite eggs with vinegar sauce and then she settled into her hotel for a short nap. As an introduction, we did a major walk along Santa Fé's shopping district and then up through the Florida shopping district (she likes to shop), stopping off along the way to look at various protests and celebrations for the official date of Liberation Day (more was going on today than on Monday, which was really just an excuse for a long weekend).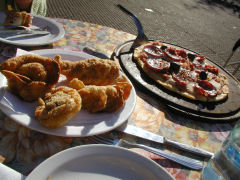 We ended up in the San Telmo neighborhood, sort of the East Village meets Tourism-Central, and yet charming in its own way. It was the neighborhood I stayed in the first time I was in Buenos Aires and of course has a special spot in my heart… We plopped down at a table in the central square, Plaza Dorrego, for a late lunch. Only two of the restaurants were still serving (a lot of open air dining, you sort of pick a spot and hope a waiter comes out from one of the places lining the square). We ended up with a selection of empanadas and a small pizza from Nefertiti, Humberto Primo 420. This was the first time I've been just served deep-fried empanadas rather than either baked ones or being asked which I prefer. They weren't bad, and although the pizza was a little on the greasy side, the flavors were good.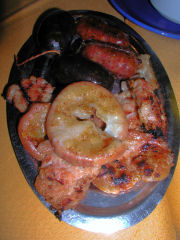 Wandered back along various side streets, just sort of exploring neighborhoods and letting Mo get a feel for the city. Returned her to her hotel for another nap and then met up later for dinner. She wanted to try out the Argentine beef, so we walked over to the place Henry and I tried last week, Pichi Huasi, for another mini-parillada, or mixed grill. This time I got a couple of better photos,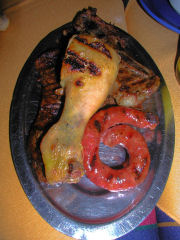 they split it up on two plates and added in some sweetbreads. Still perfectly acceptable, if not particularly exciting, somehow or other it seemed like a lot more food this time – probably because of the late lunch.
Had a bottle of Valentin Bianchi's Nuestro Borgoña, a blend of Malbec, Bonarda, Syrah, and Barbera that was a little high in alchohol but opened up nicely and was balanced out perfectly by having a lot of meat on the table. Not a bad little "table wine."