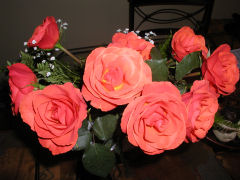 Buenos Aires – Couldn't resist picking up some gorgeous orange-pink roses after the visit to the rose garden…
Having been quite happy with the Rodas Tannat the other day, when I was at the market yesterday I decided to pick up a couple of the other varietals. Number 07 is the Bonarda, and Number 08 the Petit Verdot; both grapes that I tend to like a lot. We had friends over last night for a simple dinner of comida mexicana – I made a black bean soup, added some cubed pork loin, and served it over rice along with condiments of limes, sour cream, chopped green onions and chopped jalapeños.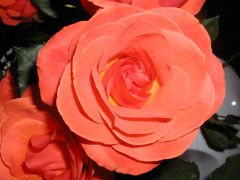 It was a good opportunity to pop one of the bottles, and Bonarda seemed the better fit.
Bonarda (a.k.a Croatina) is a grape that is best known in the Lombardia region of Italy where it often serves as a blending grape with either Nebbiolo (the mainstay grape of Barolo and Barbaresco in Piemonte) or Barbera. There are also some wonderful examples of single varietal Bonarda, especially from the region of Oltrepo Pavese, my personal favorite has always been Vercesi del Castellazzo's Fatila. Bonarda was transplanted to Argentina along with the numerous Italian immigrants and has become one of the primary red grapes of the country.
Once again, I was quite pleased with the Rodas version, it seems (from two examples so far) that Bodegas Esmeralda's winemakers have realized that emphasizing the fruit character of the grape is more important than sticking the wine in a barrel so that it ends up tasting like any "international red" wine. The fruit flavors listed on the label this time were Mora – Ciruela – Grosella, blackberry – plum – red currant. Once again, I think they've pretty well hit the mark, I might further narrow it down to a lighter plum, like a yellow or light red plum, versus the Tannat's black plum flavor. For me, the red currant really stood out, and made a great foil for my little black bean stew.
Our friends stayed late, so we slept in this morning. Headed out in early afternoon for just a casual walk, more or less just wandering back streets in the neighborhood. It's kind of fun just taking different routes and seeing what sorts of stores and parks and such we stumble across. Dropped in for a bite to eat at a little cafe called Clover Light, Rodriguez Peña 433, just off Corrientes. The menu is pretty simple, sandwiches, salads, and that classic of Argentinian lunches, the milanesa.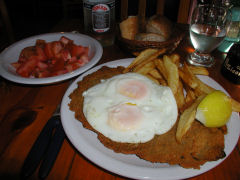 There was also a selection of dishes that are the "light" part of the moniker – things like a tempeh milanesa, and various compound salads.
Ordered a veal milanesa (ternera), which arrived pretty much looking like a weiner schnitzel from anywhere. The milanesa itself wasn't a surprise, the double fried egg on top was a bit unusual. French fries and a side salad that was easily two nice-sized ripe beefsteak tomatoes rounded out the meal, along with a small classic flan to finish things off. (Total, including a bottle of water, 14 pesos – just under $5). Clover Light may never win any awards for its food, which was decent but nothing special,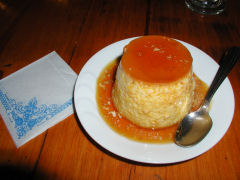 but the casual ambience and the friendliness of the servers makes it the sort of place that could easily be someone's regular neighborhood hangout for lunch. In fact, most of the clientele seemed to be regulars, a couple of them walking in and having food brought to them without having to order. The delivery boys, all three of them, have adopted the awful custom of the baggy jeans down around their hips with underwear showing, some fashions really just shouldn't get spread around.