It's like political memes, once they start, they just multiply unchecked. I knew I was nearing the end of the Chronicles of Shawarma. Not that there wouldn't be the occasional new spot to check out, but I'd searched, I'd received suggestions, and I was pretty sure I had as comprehensive of a list as I could. And then after I posted the last chronicle, more suggestions poured in, and suddenly the half dozen more spots to check out bloomed into seventeen and rising.
I knew the gourmet burger craze was just that, a craze, but even in a city like BA where people jump on any passing bandwagon, it's craze..y. A place where ten years ago I was hard-pressed to come up with four places serving what might even passably be called a real hamburger, I've now reviewed 77, most of them in the last two years, and have a list of 25 to go that seems to add a new one every couple of days – and of those, only half a dozen have even been open more than six months.
The 92 Bus Pizza Trek has more of a limit on it, but much of not having finished it is that I'm down to places that, for the most part, are only open days or hours that are less accessible to me, or only serve large pizzas, making them less practical to check out. Still, other than the occasional new opening on the route, that one will slowly dwindle down.
And then, there're just so many shawarma, burgers, and pizzas I want to eat, especially more or less right on top of each other. Waistline, health, and just wanting some variety. That, and I really want to get into a quest that's more about local food, or at least reasonably local – among my favorite searches have been things like the ajiaco de conejo (chili rabbit), sesos a la romana (brains, roman style), pollo maryland (chicken maryland), parrillada del mar (seafood mixed grill), and my all time mostest funnest one, revuelto gramajo (Gramajo's scramble), the only one that I've really continued on and off since.
So I'm going to do a mixed round-up of the three quests above here and now, and then leave them to much more occasional ventures. And hey, you can always see what's on my map of places to check out for different quests here.
A mini-chronicle of shawarma: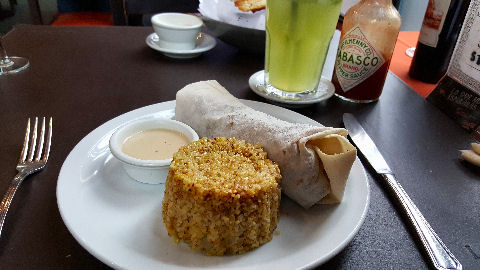 There was something, well, French kitchen-ish about the shawarma at Garbis, Monroe 1799, corner of 11 de Septiembre, in Belgrano. The meat was clearly sauteed in a pan, and there weren't exactly vegetables inside it, instead it seemed as if the meat had been sauteed with finely diced peppers and onions, and there was a hint of a mushroom flavor in the background, and the whole thing seemed to have been thickened with a touch of flour and butter, like a thick pan gravy. There were hints of middle eastern spicing of one sort or another, but very much background notes. Hot sauce was tabasco in a bottle from the bar. The shawarma was accompanied by a timbale of bulgur wheat and a little ramekin of what I think was salsa taratur, a blend of lemon juice and tahini, though a bit watered down. Tasty but not what I'd normally look for in a shawarma. It wasn't a fail in terms of eating it, which I did from one end to the other, but at the same time it felt like someone had tried to make a fancy dining shawarma and just sort of missed the mark, especially as it's the most expensive shawarma I've encountered, here, or probably anywhere, coming in at 210 pesos ($15).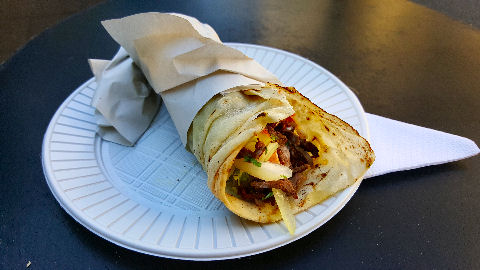 It's a hole-in-the-wall, that's what it is. Al Kamal, Uriarte 2306 in Palermo is basically a little take out spot. Sure there are a couple of high tables crammed into the space with barstools at them, but in order to sit at them, you practically have to singe yourself on the shawarma rotisserie, which is planted right in the room. Another one or two seem to find their way outside as well, which, as long as the weather is nice, is far more pleasant. The trio running the place are in their own head-space, and it can be hard to interrupt the constant conversation, but unless you do, no one will pay attention to you to take an order. It sets you up for an iffy experience. Khaled, the cocinero, will make your shawarma, but no questions asked, he just does it his way. A request for hot sauce was ignored twice from me and twice from another customer, until finally he rummaged around in a refrigerator and came up with a bottle of supermarket (Dos Ancas) hot sauce that wouldn't give cocktail ketchup a run for its money. The shawarma itself was good, heavily dowsed in what tasted more like allspice than the more traditional baharat. It's overall not bad, but nothing to get excited about. At least it's cheap, coming in at 45 pesos, or $3.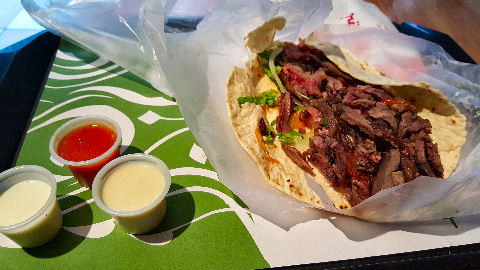 Shami, Gurruchaga 691 in Villa Crespo is, I gather, the standalone spot for a shop that's in the food court at the DOT shopping center on the city's northern border. And even setup as a eat-in venue, it has the air of somewhere that ought to be in a food court, from the way orders are taken at the counter to the pick-it-up-yourself on a plastic tray with condiments in little plastic cups. When you unwrap the shawarma you're hit with a note of smokiness, intense smokiness, that you only realize on biting into it is simply char. The meat tastes bitter and burnt, and is devoid of any seasoning whatsoever. The sauces don't help much, a watery yogurt, a tahini sauce that might have met a sesame seed once, and a hot sauce that tastes something like someone soaked a bell pepper in water. Pretty much an all around fail. Coming in at the midrange of prices on this trek, 70 pesos ($5), or 90 with a flavored water or soda (a 5 peso, (35¢) "promo" savings over the 25 pesos for a beverage separately).
And let's bash out some burgers: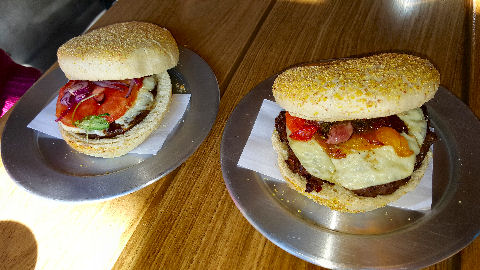 I first encountered Los Infernales, Carlos Calvo 492 in San Telmo, during the CARNE festival last month. I loved their beef cheek chorizo. And then I read a couple of reviews of their place, where they specialize in off-cuts and more unusual meats, and immediately put it on the list. I met up there with a friend to try a couple of their burgers – a "regular" one made with Angus beef, and a venison one. The former (on the right) comes topped with caramelized onions, bacon, smoked chimichurri, and, a provoleta rather than a slice of cheese, though rather a thin one. The latter, came with lettuce, tomato, red onions, "fresh cheese", and a squash based barbecue sauce. We ordered both rare. According to the menu, the beef one is 250 grams, more than half a pound, and the venison, is smaller (they don't specify). Simply… no way. I don't know when in the process these were weighed, but there's just no way that the beef burger was going on 9 ounces – it was a flat disc of meat that I'd be surprised if it topped six. And being that both burgers were thin discs, they didn't come out rare, not even close to it. Not a hint of pink to be found, these were completely into the well-done range, and dry. The toppings were good, the seasoning was okay, the buns were actually quite good. But the burger should be the star, not what accompanies it, and these weren't, and I'd find myself hard pressed to recommend them. Not cheap either, coming in around the 120-150 peso mark depending on burger, with no sides – a side of 10, yup, 10 yuca fries ran 30 pesos. I'd go back for the beef cheek chorizo though….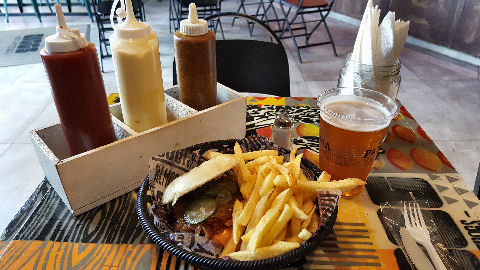 At a recent food truck festival I also encountered Diggs, who were offering up a variety of housemade hotdogs, including one that we tried called the chinga tu madre, made with pork, beer, cilantro, and jalapeños, that was rather good. I wandered across their spot at Serrano 1580, on what most people call Plaza Serrano, though officially I think it's Plazoleta Julio Cortazár, in Palermo. It's interesting, with their focus more on hotdogs, they have some really creative ones, including three different spicy ones, but their quintet of burgers are all pretty ordinary sounding, and none of them spicy – a shame. Still, the gringa burger, topped with decent pickles, caramelized onions, and bacon, was pretty good. Not great mind you, but pretty good, and was cooked only slightly past medium rare on a rare request. A very thin bun, that I was sure was going to fall apart, actually held together, and perfectly acceptable fries, putting this somewhere in the middle of the pack.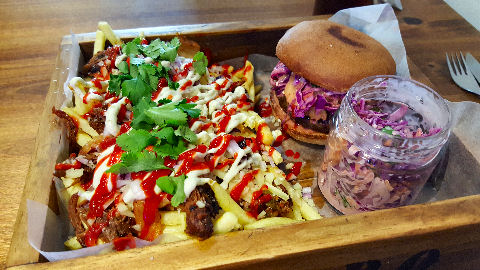 Behold. Is that a thing of beauty, or what? I saw some random post somewhere about "a really good burger at this cool little Asian bar in Floresta", and stuck it on the list to check out. Last week I figured, what the heck, even if the burgers don't look interesting, I can try something Asian-fusion-y. I'm not sure how to classify Kyopo BA, Dr. J.A. Aranguren 3053, other than maybe, Korean Street Food meets Gastro-Pub and has a love-child (kyopo is a North Korean term for a Korean who has moved to another country and "lost touch with his or her roots"). Let me describe what this is… Perfectly cooked sous vide 60°C burger, lightly charred, thick and juicy, lightly but correctly seasoned, with Korean bbq sauce, garlic chili mayo, and kimchi slaw on toasted brioche; thin, golden fries tossed with pulled pork, spicy kimchi, cilantro lime mayo, sriracha, and a side of more kimchi slaw. I don't thrown around acronyms like OMG lightly, nor often, but OMG. I could happily never have any other burger and fries but this one, ever again. This rockets to the top. And if the rest of the food on the menu (which is mostly burgers and tacos, fusion style, though they also have a ramen night now and again) is as fantastically good as this, it might just become my favorite place to eat in BA.
Two more stops on the 92 bus: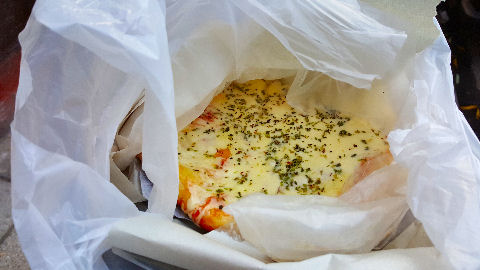 (69) The last time I passed by La Salteña, Mario Bravo 610 in Almagro on this trek, the guy at the counter of this take-out only spot told me they only made large pizzas. I'm not sure why, one day recently in passing, I decided to just poke in and ask again, but the woman at the counter told me they have three sizes, large, small, and individual. So although I was on my way elsewhere, I decided to order an individual mozzarella to go. Unlike the other two sizes, they don't pack the individual size in a box. They put a plastic food separator sheet on top of it, wrap it in butcher's paper, and stick it in a plastic bag. A little unwieldy. But I snapped a photo nestled in all the plastic and paper. It's surprisingly pretty good – I have to admit, I didn't expect it to be, but it's got a nicely browned, lightly seasoned crust, a rather good fresh tomato sauce, and although too much cheese, it was good quality, and at a mere 33 pesos, barely over $2, I was not unhappy.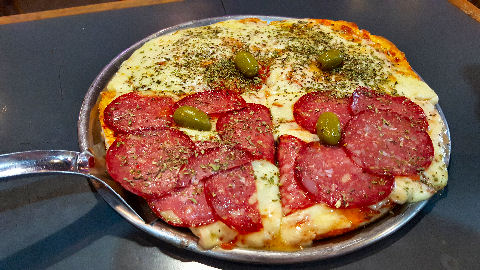 (70) Every time I'd gone past BaReK, Av Rivadavia 7328, in Flores, it was closed. I'd decided at some point it was simply out of business and taken it off the list. But there it was, open and with people inside one day. A sort of combo bar and pizzeria, with other food as well, it's a large space, all concrete, not particularly attractive, nor comfortable. Not the kind of bar I'd generally want to hang out in and have a few drinks. They only have small and large pizzas, so I ordered up a half and half mozzarella and calabresa (120 pesos). Good crust, well browned. Little to no sauce. Lots of cheese of dubious quality, same with the longaniza sausage. And way, way too much dry oregano covering it, just overwhelming any other flavors. That's a pass.
And that's the wrap-up for now. I just have to figure out what I really want to explore and line that up for the next series of adventures.