I was mildly miffed. Not seriously or anything, but mildly. The folk behind the Astrid & Gastón juggernaut weren't biting. Big, pre-opening lunch about six weeks ago with invitations out to pretty much all my colleagues here in town with food blogs, columns, etc. to showcase the opening of La Mar Cebicheria, Arévalo 2024, Palermo. Not a peep to me. I even sent a press inquiry, which they read and ignored.
Now, I was invited to the opening of the original A&G here in town, six years ago, and I admit, I gave them a somewhat lackluster review – impeccable service, but food that was good, but just didn't meet expectations. And then they changed both the management and kitchen teams and revamped, and I gave them pretty much a reversed review – delicious food but appallingly bad service. And then they promptly went out of business. But I didn't trash it either time, and it was on my recommended list throughout.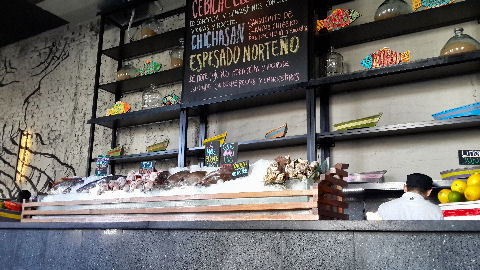 So I was mildly miffed to be ignored. Got it? Good. We can move on. On the other hand, while I don't mind reviewing a place via invitation once it's up and running, I wouldn't have reviewed it based on a pre-opening, specially prepared just for journalists lunch, anyway. I'd have no way of knowing if either food or service were reflective of the reality after opening. Two visits now to La Mar and I can say that I'm impressed. We both were. This is the food that A&G promised up half a dozen years ago and never quite delivered. This is the atmosphere in which it should be served. This is the service that should accompany it.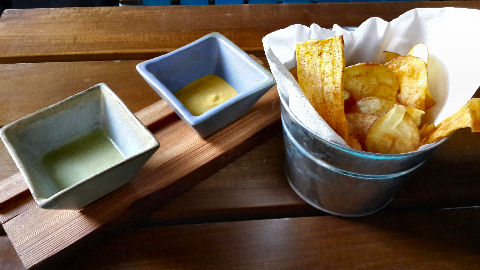 First visit solo, second visit with Henry. While perusing the menu, a nice little bucket of chips is delivered – the first visit it was potato chips and plantain chips only, the second visit, there were other vegetable chips in there as well – sweet potato, beet, and some other sort of root. Accompanied by an unctuous, creamy peanut sauce and a mildly spicy, vinegary "hot sauce" that could have used a touch more kick, but would probably be fine for most folk. I asked if they had something hotter, they did, and it arrived shortly.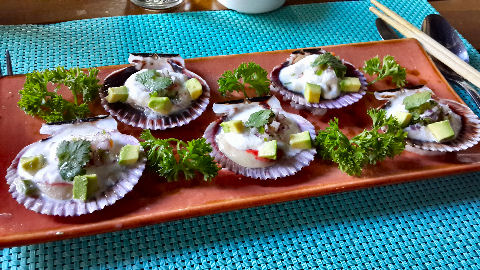 Service, attentive and friendly, very relaxed. If there's a misstep, it's in the reservation process. They're not really good at answering the phone. In fact, their facebook page is full of complaints about that, to which they've not responded, not once. I asked the hostess about it and her response was, "If we're taking another reservation or in the middle of doing something, we just let it ring." I mentioned the facebook page complaints, she said, "Yes, we know they're there, but we answer the phone when we answer it." Okie dokie. Back to the food. Beautiful sea scallops from the coast, served up raw as a tiradito with avocado and just ever so lightly cured with a lemony leche de tigre and olive oil emulsion.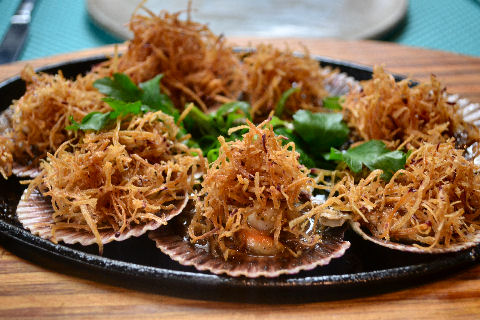 Another version of those pristine bivalves, here in a brilliant mar y montaña (surf & turf), bathed in a the rich pan juices from a lomo saltado, the classic beef stir fry of Peruvian chifa cooking. The thin shreds of fried sweet potato add a nice sweetness, but also are a trifle oily – they just need to be drained better.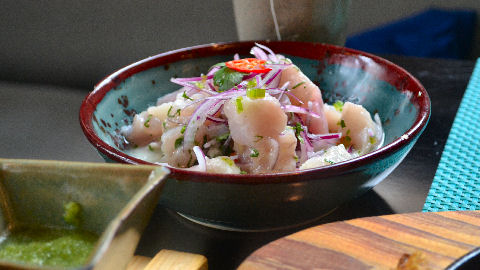 Delving into the classics, their ceviche clasico… just pretty much perfect. Well balanced, beautifully presented, the lenguado, sole, cured to just the right point, and even a nice hit of spice, though of course we added a little more from the vibrant green chili puree that had been brought to the table on request. We both agreed this was pretty much the best ceviche we've had in Buenos Aires.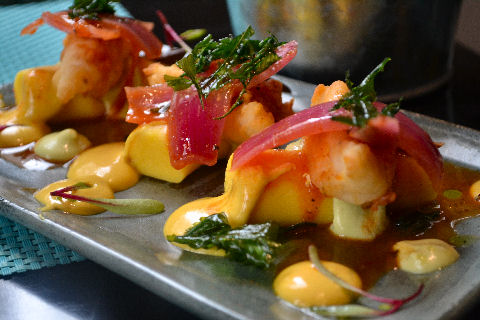 The causa barranco, a nice interpretation of a favorite dish. Plump, juicy prawns atop a mildly spicy potato puree "log", all with dots of avocado puree and huancaina sauce, and accompanied by cherry tomatoes. Gorgeous presentation too.

And, we couldn't not take a gander at the sushi side of the menu. Or, at least I couldn't on my solo visit. A trio of the nigiri criollo, with lenguado bathed in a lovely ají amarillo sauce and topped by thin, crackly shards of crispy fried calamari. The other, the nigiri chalaco, with delicate fillets of pejerrey, one of my favorite local freshwater fish, painted with a ponzu and rocoto chili sauce and a little "chalaquita", a chopped bit of red onion, herbs, and peppers.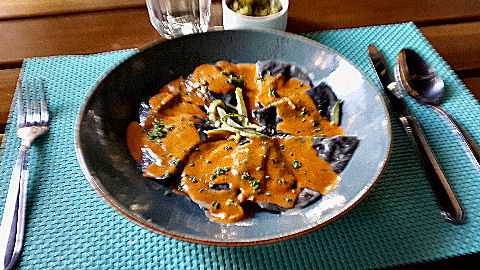 On to the main courses. I spotted the ravioles negros and just had to try them – it wasn't the squid ink pasta filled with the tender, chopped prawns that grabbed my attention, but the reduction sauce made from chupe, one of my two favorite Peruvian soups – a creamy shellfish broth tinged with miso and spices.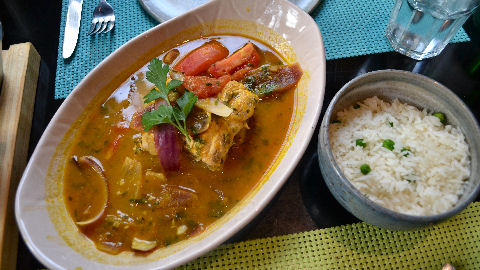 A somewhat soupy version of sudado de besugo, Henry's favorite Peruvian fish dish. The broth, beautiful, though perhaps a touch more vinegar than we prefer. The fish, a fillet of porgy, and potatoes cooked perfectly. No disappointment in the dish and we're glad we ordered it, but a minor point to our waiter who described it as having very little broth, just a touch. We spooned a little of it over the rice, but ended up not finishing most of the broth.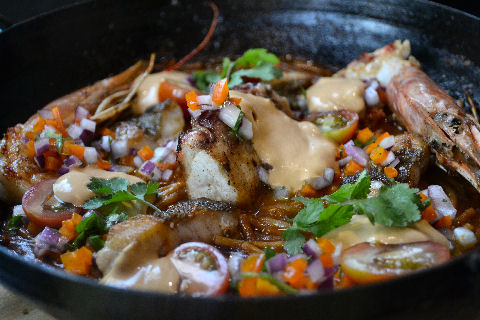 This was the only dish that we weren't excited over, and it's a dish not on the menu, but was one of the specials (they have 2-3 that change each week). It's a parihuela seca, parihuela being the other of my two favorite soups in the Peruvian canon. And the extracted tomato and shellfish flavors were intense and vibrant. The shellfish were dead on. The problems were two – the short lengths of spaghetti underneath were a great idea, but there's "al dente" and there's "al dente"… these erred too far on the undercooked side, at that point where the pasta kind of gets stuck as lumps in your teeth; and, they'd salted the parihuela a bit too much in advance so that by the time it was reduced down to a spaghetti sauce consistency, it was too salty. Not badly so, but noticeably so. Still, great idea, just needs some tuning on the execution.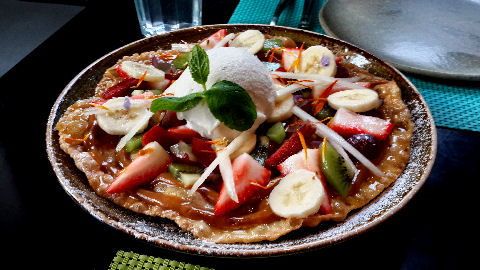 Could we pass on desserts? No. Not after food this good. Here, their version of a cachanga, a northern dessert I've not tried before. This is significantly reinterpreted – it's typically a delicate, crispy fried bread made from "just ground flour" – Henry's sister makes it, apparently (next visit, she's going to have to show me), and starts with whole, fresh as opposed to dried wheat grains that she grinds down to make the dough, and then it's dusted in chancaca, the raw, dark, molasses-y loaf sugar that is typical of the region. Here, it's a massive round of a bubbly, fried crepe, topped with dulce de leche, fresh fruit, and a creamy banana gelato. No complaints. It is huge, certainly enough for two to share.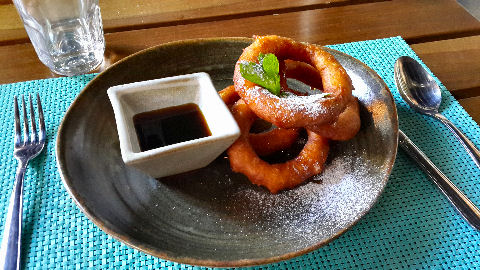 The star, the picarones. Easily the best that either of us have had. Sweet potato fried dough rings, bathed in fig honey, with more on the side, and flavored with a mix of aromatic spices. Even though I'd tried them my first time around, I had no objections at all to Henry wanting to order them again.
So, overall. Love the room, love the outside patio – it'll all come together a bit more in time – the restaurant is located in a building that's being converted to a hotel, and is still under construction. As such, there were some minor things – the first visit, the heat wasn't working because some construction worker had cut a line somewhere. The second, the power kept going out – during the day not an issue, at night it might have been rather annoying. And, of course, a bit of construction noise. No one seems quite sure when construction is due to be completed, but looking at the building, I'd guess it to be a ways off still.
The food, simply amazing. This is everything that nikkei cooking should be, and it's everything that fits what we've been reading and hearing about Gastón Acurio's food for the last many years, that the A&G branch here in BA just simply never quite delivered on. The service, love it. Handle the reservation line stuff. Really. Get a multi-line phone – or, just have Telecom turn off your "call waiting" – if you're not going to answer calls waiting, let us get a busy signal – we're more likely to call back from that than if you simply don't answer. (And who knows, that may explain why on two visits, the place was never more than about half full.)
It is pricey – appetizers run from just under 100 pesos to just shy of 200, and main courses run from the mid 200s to around 300, desserts around 100. But then, the same is true for the other high-end Peruvian fusion places – La Rosa Nautica, Olaya, Bardot, Sipan, Osaka/Osaka Puerto Madero. I'd say, in our combined opinion, La Mar tops the heap, for the moment.