Our trip continued with a long drive from north of Chicago to just north of Louisville and my parents' home, where Henry and I stayed for a couple of days. Mostly it was just visiting with them, a lunch with a couple of old friends, and a little bit of touring around, but not too much. I can't say that in terms of any of the sightseeing it was any great shakes, but we had a good time.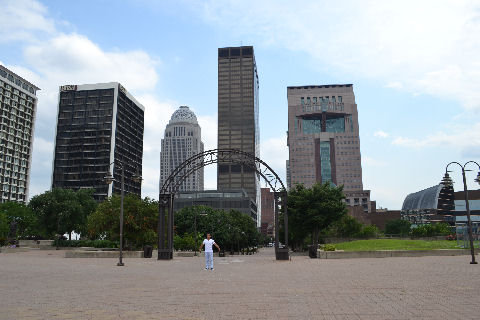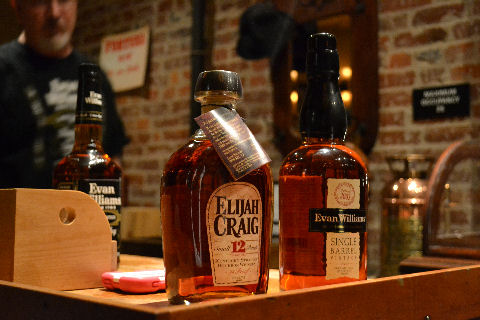 We toured the Evan Williams distillery, which unfortunately was on a day they were "polishing" – so no distilling was going on, just a lot of cleaning. We did sample a trio of bourbons. We visited the Mega Caverns, an underground system of caves that are being rented out as warehouses for businesses – I can't say it was all that exciting, and Henry wasn't a bit thrilled by being underground in the dark, though I found some of the history interesting. It was also a big shift from Miami and Chicago where, especially in the former, we readily found folk who spoke Spanish, here it was pretty much all in English, so he was feeling a bit left out. I did a fair amount of translating and he's gradually picking up more and more.
Maybe the most interesting thing we did was join the Louisville Country Dancers, a big social dance group that holds contra dances open to the public on Monday evenings (generally, see the website for schedule) – we were among about 40 beginners for a basic, half hour lesson, followed by a couple of hours of dancing. No question Henry picked it up better than I did, but I had fun too! The video's a bit long and covers three of the dances we participated in (Henry in the first two, me in the last). Henry even got asked during the intermission, to dance a tango by a local woman who is also a member of a local tango group (which unfortunately meets on Wednesdays, we'd left earlier that day).
Mostly our eating out was on the more casual side.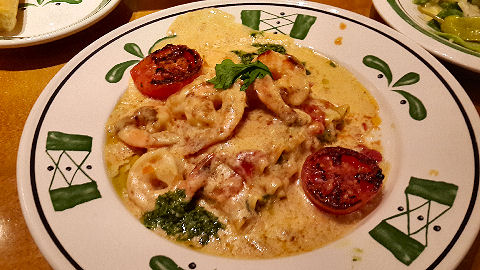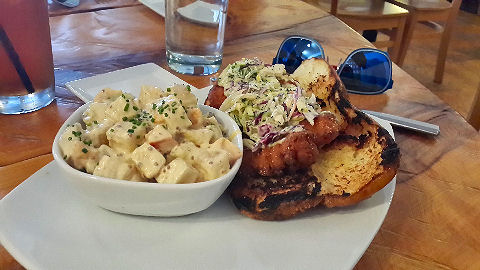 A return to
Goose Creek Diner
(decent crabcakes, quite good liver and onions), a lunch at Olive Garden (very good spaghetti bolognese, not quite so good vegetable lasagna with shrimp – mostly because the "sun-dried tomato sauce" turned out to be a parmesan-heavy, split cream sauce with a bare hint of the tomatoes), and a visit to the much touted Harvest, where, unfortunately they seem to have stopped serving a pared down dinner menu at lunch (which is what we were under the impression they offered at least) and are now just offering what turned out to be creative sounding but fairly mediocre sandwiches and burgers (like the fried catfish sandwich pictured – dried out, little seasoning, a nondescript cole slaw, and potato salad with potatoes so undercooked they still crunched, I thought for a moment that they were jicama cubes – "we don't like to overcook our potatoes" – right, bring us something else please – oh good, soggy fries with beet puree purported to be hot sauce). Perhaps most egregious – they charge for condiment usage, without saying anything – so hot sauce for Henry's fries (that, as noted, wasn't hot) and mustard for my burger, were upcharged – not a lot, 50 cents each, but that's just insulting.
But we did have two meals that are well worth noting: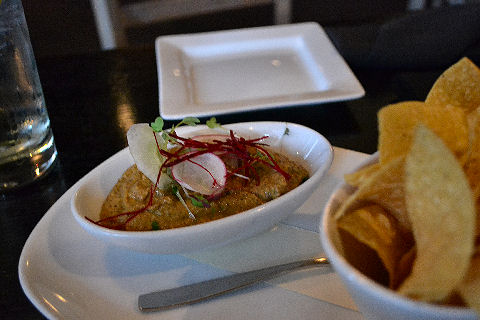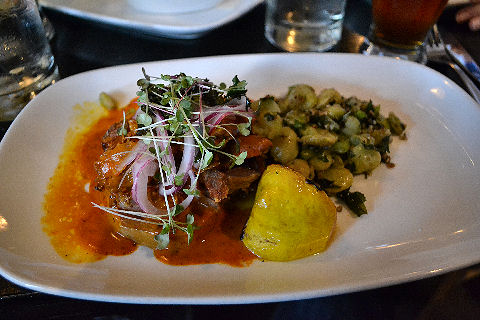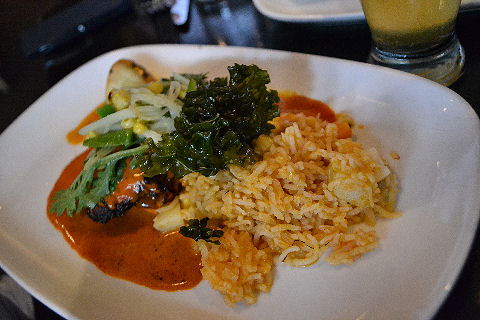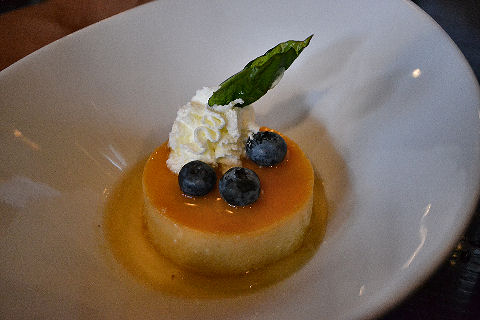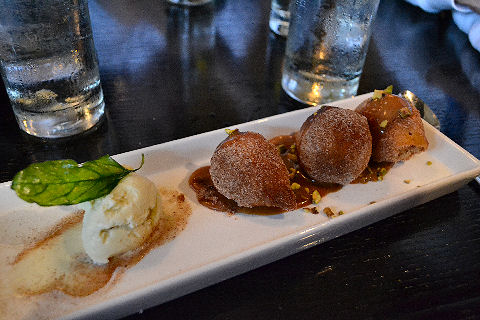 Just simply amazing modern Mexican cuisine (specifically Yucatan) at
Mayan Cafe
in the hot "NuLu" area of town. We shared a bowl of delicious
sikil pak
, a spicy pumpkin seed and roasted tomato puree; I had an amazingly good braised pork
"cochinita pibil"
served over an open tamál and with spiced roasted lima beans, Henry had a great sea bass
"tikin xic"
with a fiery achiote and lime sauce, chayote squash and rice. Great service, and both waiters were fluent in Spanish, which was a nice plus for us – in fact, both were far more fluent in Spanish than English. If you find yourself in Louisville, this place is a must. Only negative the entire evening – the chef had the night off so we didn't get to meet him as we'd hoped.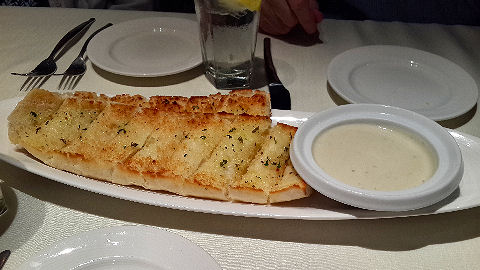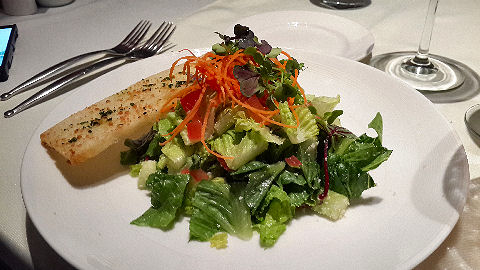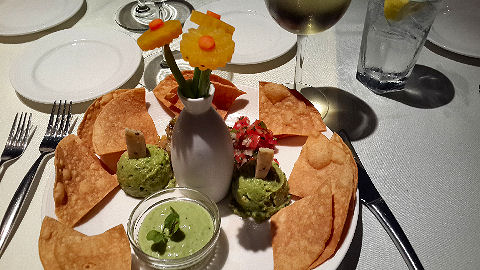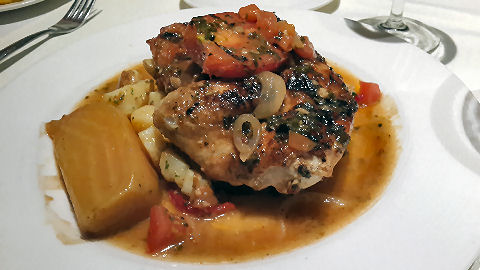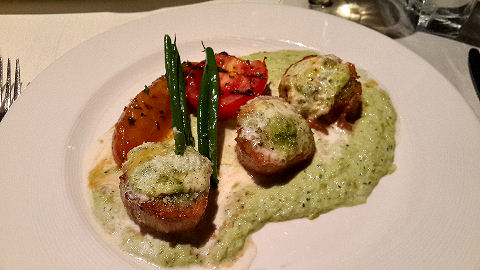 The other spot, which we liked quite a bit as well, had pluses and minuses.
Henry's Place
"pays homage to the
Brigade de Cuisine
", the traditional European style of chef training. Part of their intent is to recall the days of when people dressed for dinner and went out to an elegant, grand hotel sort of setting. That said, it seems strange that the place, while quite attractive, doesn't really have that sort of ambiance. It's sleek and modern, the waiters are in light blue shirts and casual pants, and ours was a bit abrupt and not exactly what I'd call pampering, as their website offers up. On the other hand, the manager popped by to say hello, sporting black slacks and open shirt, and was not only completely charming but even chatted with Henry in Spanish a bit. Patrons are mixed in terms of dress as well, though tending towards "nicely". 
[Closed]
The food does, in a good way, recall a sort of fancy, classic, old fashioned hotel, with some twists here and there. Good garlic bread with gorgonzola dip hits the table. Henry started with a delicious house salad, I with a weirdly plated but delicious mix of an edamame infused guacamole, pico de gallo, jalapeño onion salsa, and chips. The main courses were delicious. Henry had an amazingly good, perfectly roasted chicken in a tomato and green olive sauce with roasted fingerling potatoes while I had some fantastic seared scallops with a creamy edamame puree and grapefruit beurre blanc. Minor minuses – all the main courses come with the exact same vegetable mix, which our waiter said was asparagus, roasted beets and grilled roma tomatoes. Instead of asparagus what came out were green beans – not a problem – but, we did think it odd that a) he didn't know and b) every dish gets the same veg – let's face it, not everything goes well with everything else – that seems a bit more bistro style than the fancier fare they're offering. I thought the edamame puree was a little grainy, but it was still delicious. The grapefruit wasn't really noticeable. I'd still happily go back.