We're down to five contestants now after the last elimination. And away we go….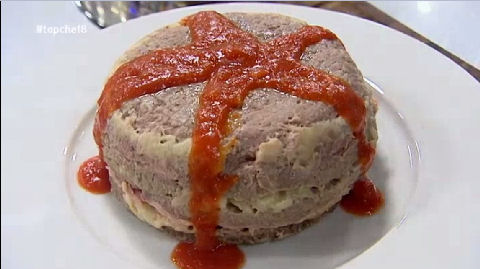 It's kind of a cool start. Each of them has a tray with a cloche over it and head judge Chicote tells them that they've got a very, very special task for their trial by fire. They lift the cloches and each finds a dish made by their own mother, accompanied by notes and photos from their moms – which pretty much puts them all into tears as they read the notes out loud.
The surprise guest, which Chicote doesn't know in advance, is his own mother joining the festivities. She's brought along a pot of his favorite childhood conejo frito con tomate – fried rabbit and tomato stew. And then comes the twist…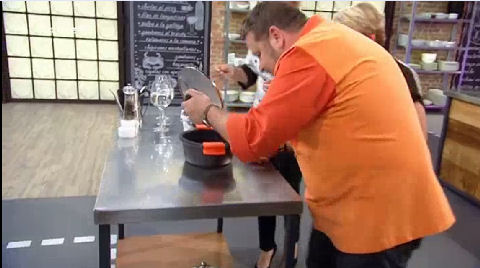 …they're not going to reproduce their own mother's dishes, they're going to have to reproduce his mother's dish in their own style, without having a recipe, just from tasting it, with the intent to bring on the same emotion he showed when mom showed up. And they have to do it in an hour.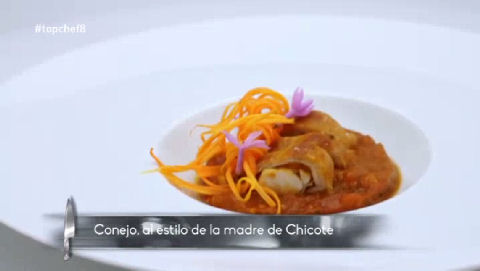 Chicote and mom taste them all and then discuss. Winner… Begoña. Mom takes off.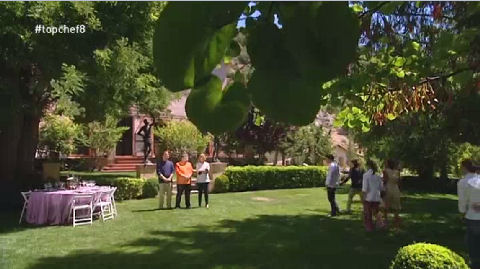 Chicote sends them out to a quintet of waiting vans and inside each one, they each find, no surprise here, their own mothers. The vans head out for a mystery location… which turns out to be Finca Monte de Cutamilla in nearby Guadalajara. We're told that the mothers are going to play a crucial role in deciding who goes home. Chicote tells them that the mothers will sit down at the table with the other two judges and they'll all be judging the food.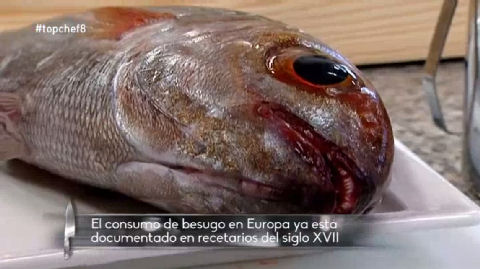 They're presented with whole besugo, what we would call porgy, and told that they're each going to have to cook one. They have an hour to cook for the five mothers and two judges. Begoña gets two privileges for having won the trial by fire – the first, she gets to decide what order the chefs present their dishes in and the order in which they enter the kitchen to start cooking. They all have a box of ingredients that they'll be able to use, and everyone gets the same. Begoña's second advantage, she gets to remove one ingredient from each of two chef's boxes – she takes away Barbara's olive oil and Miguel's vinegar.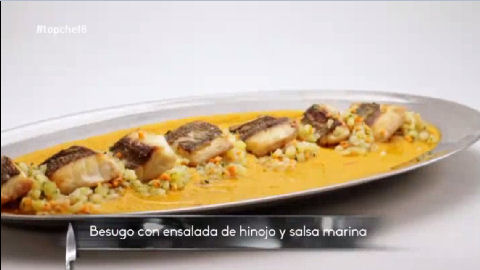 Begoña elects to go first and an hour later her plate is carried out to the table. A platter of crispy skinned fish over a warm fennel salad with a shellfish sauce. All five mothers look at the platter and say "no, not my kid". The general consensus is that the fish is overcooked (the contestants get to watch the tasting via closed circuit tv).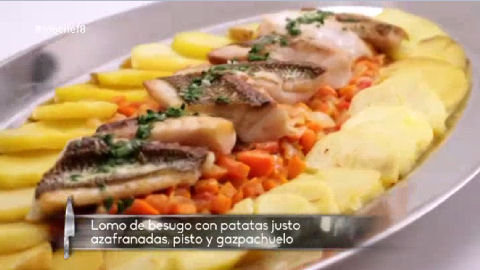 Javier next with a platter of fish over a vegetable medley, saffron potatoes, and a gazpachuelo, which is a sauce made from fish stock and a mayonnaise made from garlic, egg yolk and olive oil. The mothers are sucking down wine like they'll never get another glass – I'm not sure if this bodes well or poorly for the successive contestants. They like the flavor but not the presentation, and it's also overcooked.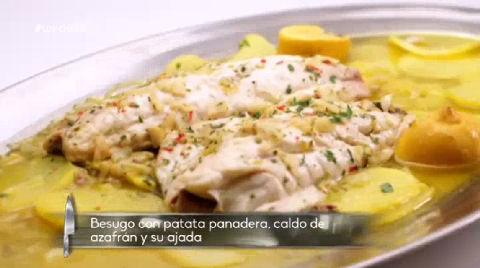 With less than a minute to go Miguel hasn't even taken his food out of the oven nor started plating. Chicote tells him the platter is going out at the end of the time regardless of what's on it. He pretty much throws everything at the platter in a big pile, and not surprisingly, doesn't finish. He's got fillets of fish just tossed on top of potatoes and lemons and a mess of other things, and then poured saffron broth over the whole platter at the last second. Miguel's mom tears the plate apart swearing there's no way her son made it. It's oily, disorganized, the potatoes are undercooked, and no one seems to like it.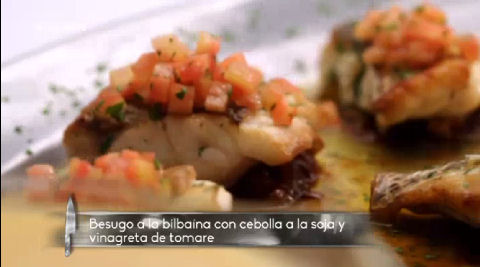 Antonio's platter is the fish "a la bilbaina" which is a garlic, chili and olive oil preparation, served with soy glazed onions, tomato vinaigrette, and a potato puree which is spooned over the top at tableside. They like it.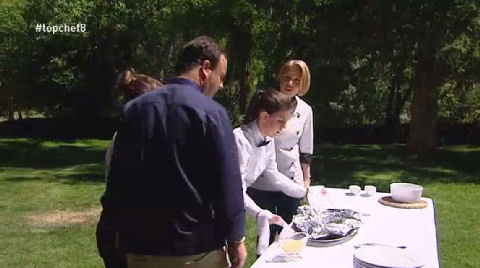 Barbara, coming up last, like Miguel doesn't have anything on the plate and her food still in the oven when there's only a minute to go. However, she's made individual portions cooked in foil and really only has to throw the foil packages onto the platter and put the hollandaise sauce next to it. We don't even get to see the plates after the pouches are opened, so we have no idea what it looks like, but we do know, everyone hates it.
The mothers write down the worst plate for each of them – the two who receive the most "worst" votes will battle it out to stay in the competition.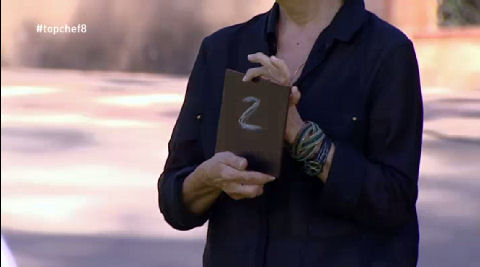 Javier's mom picks Javier's as the worst. Barbara's mom picks Barbara's plate as the worst. Miguel's mom picks Javier's plate. Begoña's mom picks Barbara's. And, finally, Antonio's mom picks Barbara's as well. So we know who's competing to stay. The favorite plate was Antonio's.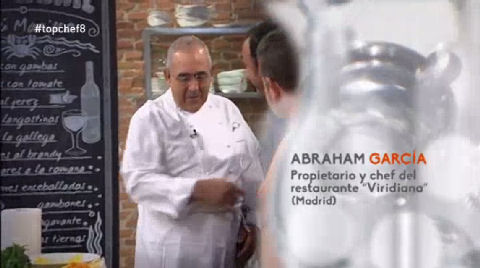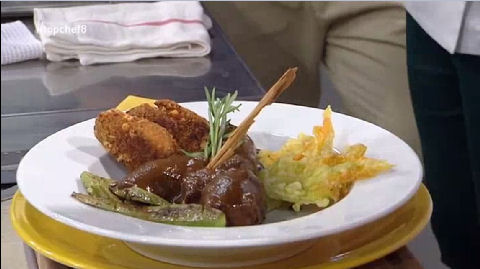 Chocolate and chicken is the theme of the last opportunity cookoff. The judges are joined by chef Abraham Garcia, owner of Viridiana in Madrid. He makes a plate of chicken drumsticks stewed in a mole sauce, fried zucchini flowers stuffed with a cooked wheat mixture, breaded and fried wings that have been marinated in tequila, lime and cilantro, and sauteed strips of nopal cactus. I'm not clear why he uses rosemary as the garnish since there's none in the dish, nor does it sound like a flavor that would blend well with what's on the plate, but he apparently thinks it looks pretty. He also shoves a cinnamon stick into the plate.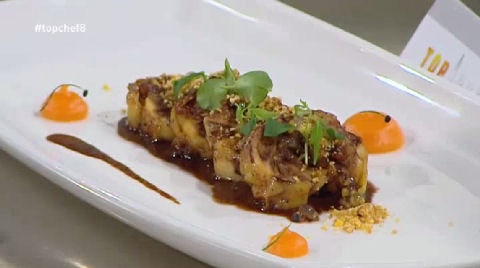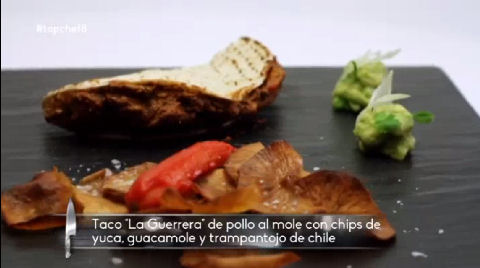 The contestants get an hour to come up with their dish. Javier makes chicken breast stuffed with caramelized onions and topped with ground nuts, frozen ginger spheres and a chocolate sauce. This is Barbara's fifth last chance battle and she's not going down without a fight. The judges find it interesting but find the sauce very sweet and chocolate-y, as Susi puts it, like something she'd want to dip a churro into. Angel says he expected a lot more. Chicote likes the look, but also finds it too sweet. Barbara makes chicken tacos with a mole poblano, guacamole and yuca chips. They find the mix of spices interesting, but the chips overcooked, a certain coherence to the flavors on the plate, but they hate the presentation. I'm getting the feeling she might have won, again.
I'd probably make a chicken version of our Sardinian bistecchine dish, or maybe a chicken version of Felipe Rojas-Lombardi's rabbit and chocolate sauce.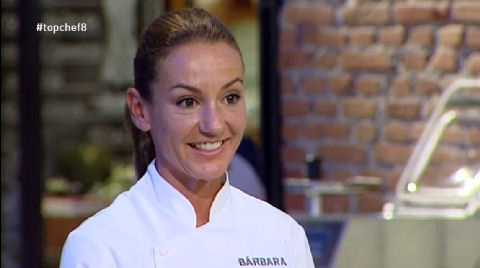 I was wrong. Barbara is sent home. The judges just don't feel like she's "top chef material", she tends to just copy recipes and her presentations are mediocre. But they also say she should be proud of how far she's come and to keep cooking. She says it was emotionally the hardest thing in her life, but professionally, the best thing she's ever done and she's learned a lot.