I'm starting to think that as our Casa S cookbook is coming together, and it really is coming together (in fact, while Henry is away in Peru the coming two weeks I'm taking a few days to do a short trip and then spending about ten days working on finishing it up), that I'm going to need a section on "weird things to do with vegetables". We have our savory cheesecakes – tomato, mushroom, zucchini, and now corn (okay, I gave it a shot once before, but it didn't quite work as I'd wanted it), and probably something I'm forgetting (and carrot coming up soon, in the works). There are our savory tarte tatins – cherry tomato, tomato, ratatouille, mushroom, cauliflower, radish, and various others. And, we have our vegetable based desserts – tomato custard, eggplant tarte tatin, chocolate-avocado mousse, and now, avocado pie. Hmmm, I may just have to make this "a thing".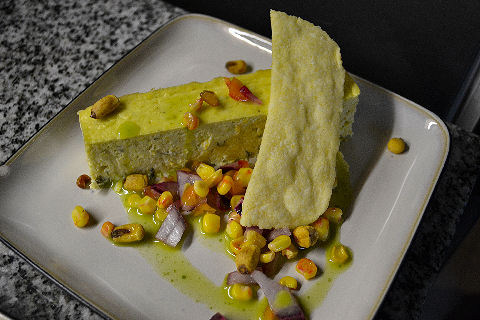 So let's dive right in to a corn and green onion cheesecake. This was inspired, way back, by one of my favorite Mexican street snacks, elote, grilled corn brushed with butter and lime and hot sauce – there was a particular stand in Mexico City years ago that used to then roll it in finely chopped grilled green onions, and of course, there's the side dish version of the same dish, esquites, where the corn is cut from the cob and mixed with the same various seasonings, often with a little cotija cheese added. So our savory cheesecakes, or "textures of" line of starters seemed a perfect spot to go.
Now, as I've said in the past, I'm saving the details of our cheesecake recipe for the book, but a couple of guests from last week have asked about this recipe, so here, at least the basics: I use our baked cheesecake base for all these savory cheesecakes, and you could probably use whatever is your favorite – I leave out the sugar and vanilla, which are pretty standard in most bases. In the case of this dish, I made a corn puree to blend into the base, plus some broiled green onions and a little merquén, the mild Chilean smoked chili, salt and white pepper to taste. Baked without a crust, just in a mold. On the side, a roasted corn salad – cut corn kernels from the cob, spread out on a sheet pan and broiled until they were just starting to brown (stirring them around now and again). While still hot I mixed the kernels with chopped red onion and rocoto peppers, lime juice and salt. The oil drizzled around the plate is just a puree of oil and blanched and shocked green onion tops, strained. Some deep-fried and salted dry corn kernels scattered around. And a polenta and manchego cheese crisp along the side (not my recipe, it's a tart crust recipe from Yotam Ottolenghi, just changing the cheese used).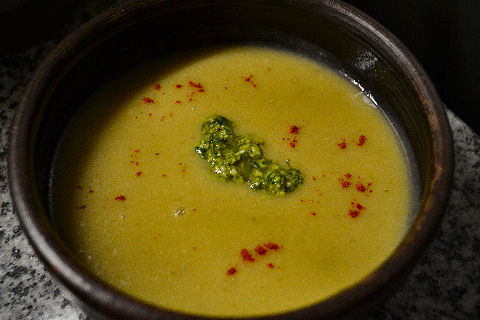 Playing around with a new chickpea soup, going for something a little lighter than our hummus soup. Sauteed onions and garlic until soft and starting to color. Added chopped rosemary, oregano and thyme, the zest of a lemon, and a lot of chickpeas, and a few slices of day old bread. Topped it up with a quick roasted vegetable stock (carrots, onions, celery, red bell pepper under the broiler for twenty minutes, then simmered in water with salt, pepper and bay leaf for another twenty). Simmered away for about twenty minutes, then pureed with the hand blender. A dollop of straightforward basil pesto (basil, pinenuts, parmesan, garlic, olive oil, salt and pepper), and a sprinkle of smoked paprika.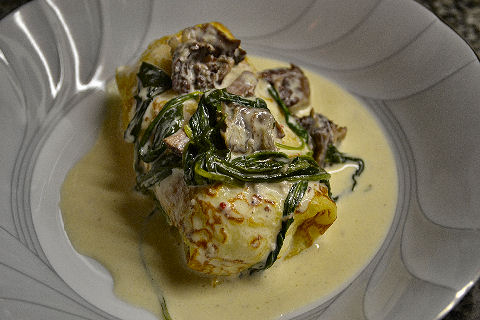 Brought back our roasted garlic and potato blintz topped with a sauce of Morbier cheese melted in cream, five-spice and red wine braised shortrib meat, radichetta (type of chicory), salt and white pepper.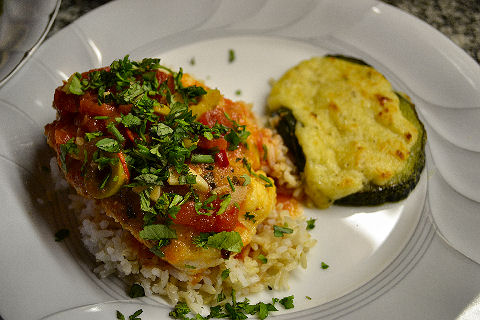 And also a return of our house favorite, spicy green olive chicken – chicken breast breaded in a parmesan crust, served over rice and topped with a sauce of tomato, green olives, garlic and chilies, then sprinkled liberally with mixed fresh herbs (basil, mint, chives, parsley, oregano, thyme were what I had in the house). Decided to accompany the chicken with a gratin of zapallitos, the globe zucchini that are so popular here – quickly sauteed slices, then topped with a bechamel sauce that has lots of parmesan and a couple of egg yolks added, and stuck under the broiler.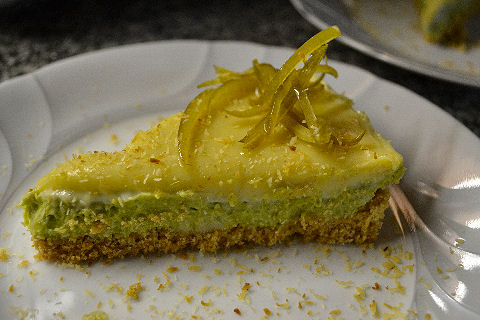 And, the aforementioned avocado pie. Coconut cookie crust. Crema de abacate, our version of the traditional Brazilian avocado pudding – puree of avocado, lime juice, confectioner's sugar, shredded coconut and cream – though since I wanted it firmer, I first heated the cream with some agar in it so that it would set the mixture a little bit. White chocolate ganache infused with cardamom. Candied lime zest. Toasted coconut.
Happy campers all around!