Sounds like an anime video, no? But, it's just a typical dinner here at Casa S….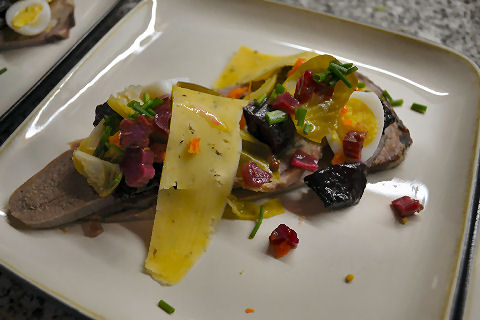 A reprise of our
recent poached veal tongue dish
, with fermented brussels sprouts, roasted beets, spicy beet stem relish, tapenade, quail eggs, and a local farmer's cheese.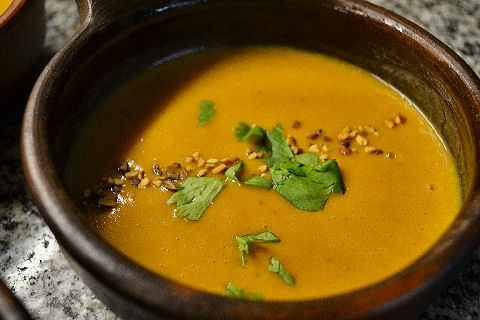 New soup making its appearance, based on a traditional Bolivian
Chupe de Maní
(there's that peanut sucking mentioned) – I'm sure it comes more or less from slurping it up, but a
chupe
is basically a thick pureed soup. In this case, sauteed red onions, garlic, cumin seeds and ají panca (dried red chilies) until softened, added in chopped tomatoes and continued a few more minutes, then added peeled and diced potatoes, lemon zest and juice, a big dollop of peanut butter, and some cilantro stems. Cooked that until the potatoes were soft, pureed, adjusted the seasoning, garnished with coarsely chopped cilantro leaves and crushed, toasted peanuts.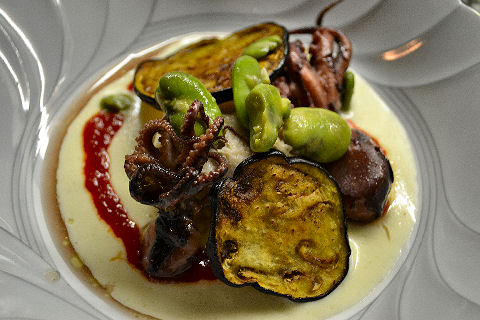 Another new dish this week. Quickly sauteed albacore tuna, confited baby octopuses, both sitting in a pool of
ajoblanco
(poach garlic cloves and almond meal in milk and cream until the garlic is soft, then whisk in some potato starch dissolved in a little milk and cook to thicken, seasoned with salt and white pepper), a drizzle of piquillo pepper puree, some eggplant chips and a scattering off fresh fava beans dusted with smoked salt.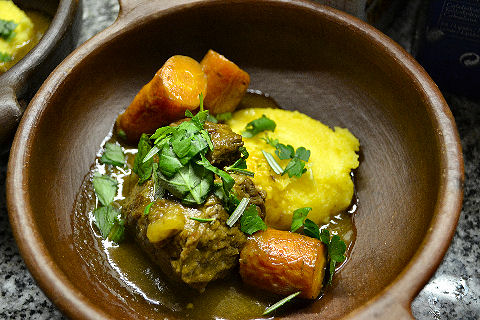 A minor modification to one of our favorite slow cooked dishes,
huatia sulcana
– beef braised in a chili, wine and herb stock – served with polenta, and, a change-up on the roasted carrots. I was listening to a podcast earlier in the week from
The Splendid Table
and really liked the sound of the coffee bean roasted carrots. Couldn't pass up trying them out – delicious, and the coffee is really subtle, but creates a remarkable flavor combination with the carrots. I did find that the carrots didn't get as soft and cooked through as I liked at the temperature they recommended, so I raised it a bit and roasted them at a pretty normal roasting temperature – it may simply be that we don't have the "pencil thin" carrots available here.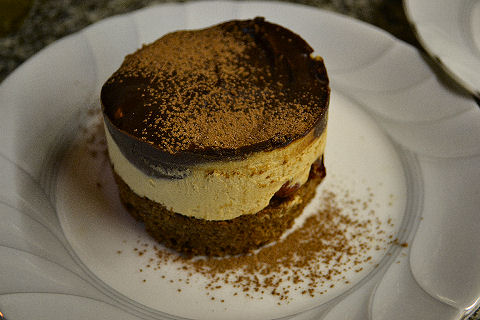 And just a new presentation for our
Torta Titano
– instead of a cookie base I went with a bitter cocoa sponge cake, brushed with Tia Maria (coffee liqueur), then topped with a layer of Nutella, some roasted hazelnuts, homemade cream cheese with sugar and espresso powder, and finally with dark chocolate ganache and a dusting of sweet cocoa powder.