I mentioned recently that there are a whole lot of new cafes and bakeries that have opened up all within a few blocks of home here in Recoleta. It's a conspiracy against keeping the weight off, I tell you. I do like my coffee with a little something sweet on the side. Or is it the other way around? And, it's a chance to take a look at some of Argentina's favorite little pastries.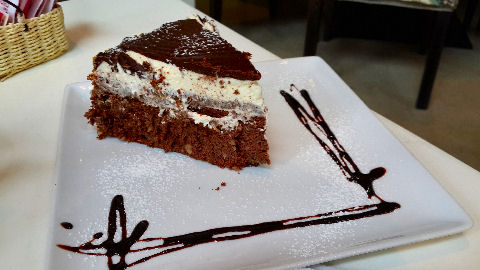 A closer look at the
torta bombon
that I mentioned in my quick write-up of
Tips Bakery & More
, Pacheco de Melo 2001. This is about as classic as it gets – the base is a flourless chocolate cake made with ground walnuts, chocolate, sugar and egg yolks, then a layer of dulce de leche, then a soft (or sometimes crispy, depends) meringue, and then a dark chocolate topping that varies from ganache to something more firm like this.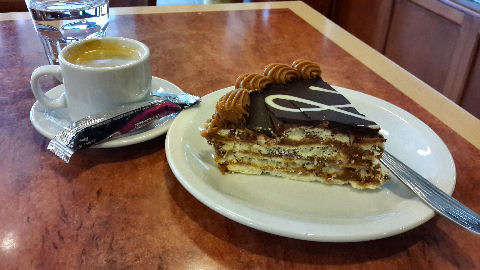 At the corner of our street, at Uriburu 1502, there was a little bakery that put out truly awful bread and pastries, and one of the worst excuses for a knish that has been known to mankind. Thankfully it's long gone, and the place sat empty for a bit before
Nuestras Delicias
opened up and aromas of fresh bread started wafting down the block. Here, I was prevailed upon to try their
milhojas
, layers of "rough puff" pastry sandwiching more dulce de leche than you'd best be thinking about, and topped with a layer of chocolate and decoration of more dulce. More. A great version of this pastry if you can deal with that much caramel, which I find tough going….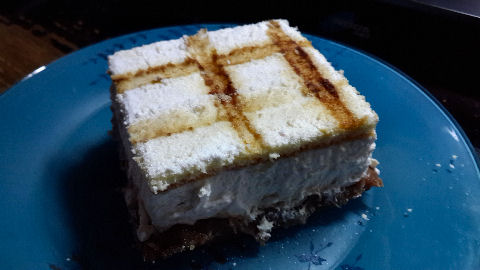 Suevia
is a four-outlet "chain" of pastry shops in Recoleta and Barrio Norte, with the closest one to me being at French 2279, just about 2½ blocks away. It's take-out only, so I picked up a square of their claimed "best dessert", a
Postre Balcarce
. The original, classic recipe is layers, starting from the bottom of a simple cake base, meringue, dulce de leche, whipped cream, grated coconut, vanilla powder, glazed chestnuts, praline, whipped cream, frangipane, and the whole thing covered with powdered sugar. When we made it in pastry school it was layers of a sweet biscuit base, whipped cream, dulce de leche, meringue and peaches. I've seen both versions, though the latter seems to be far more common – an evolution over the years or something. Suevia's version is also more or less the latter. I wasn't overly impressed with it – it was more or less like eating a pile of whipped cream with a pile of meringue on top, the rest of the flavors really didn't come through.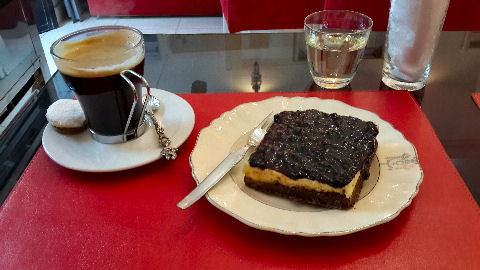 This cute little cafe opened around the block at Junín 1414 called
Chez Lupe
. It's really cute. It's also really red – on various surfaces. And there's a great display of pastries in the window, each one looking more mouthwatering than the other in an Escher loop. Unfortunately, if their chocolate marquise is anything like the rest, they're more taste sucking than promoting. The marquise, a flourless chocolate cake that's usually smooth and creamy, almost like a light fudge, was grainy and sugary, the layer of orange "mousse" atop was the texture of a well used sponge (as a guess, they thickened the mousse with gelatin and attempted to whip it while it was cooling to make it light, so it set as a weird, chewy layer that could be used as carpet padding), and the blackberry jam atop was a sugary mess, likely from a jar of cheap jam. Unpleasant doesn't begin to describe this mess, nor the watery excuse for coffee that accompanied it. 
[Closed]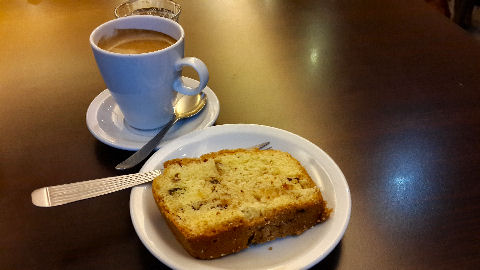 A block further away at Ayacucho 1563 is
Anastasia
, a combination pizzeria, sandwich shop and cafe. Good coffee. The pastries are limited, it turns out, to a trio of
budines
, more or less what we'd call pound cakes in loaf form. Given the choices of marble, orange, or walnut, you'd think that a request for orange wouldn't be difficult, but even after asking me three times which one I wanted, the woman behind the counter brought me the walnut. It was dry and uninteresting, but then, this is more pizzeria and sandwich shop than pastry shop, so maybe I shouldn't have included it at all.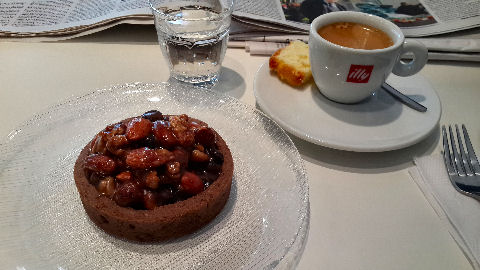 Even cuter than any of the above is the very new
Parnasse
at Arenales 2327. Illy Cafe, brewed right. Great selection of pastries. I couldn't pass up the mixed nut tart, especially after the waitress offered to warm it up to melt the caramel topping. Dead on delicious! The crust is a bit thick for a typical tart, especially the French style they're emulating, but was quite good, if a bit more cookie-like than pastry or tart-like. I'd eat it again.
Enough for now. I need a sugar and caffeine break. From, that is.