All over the world there's been this recent incursion of high end Peruvian cooking – either reworkings of traditional dishes to make them more elegant and refined, or fusing them with, usually, Asian ingredients or presentations. We do some of our own with our Mediterranean fusions and we've been talking about doing more of that, so one of the things we wanted to do on this trip was hit a bunch of places that are doing something of the sort and see what's being done. Plus, on my two visits to Trujillo, and Henry's long history living here and visiting every year since, pretty much all we've done is the traditional, casual, neighborhood kind of stuff. So, today's post, a bit of a compare and contrast on two spots we've hit over the last two days…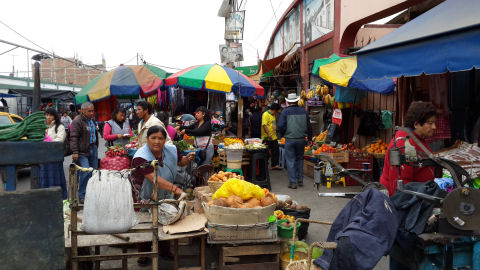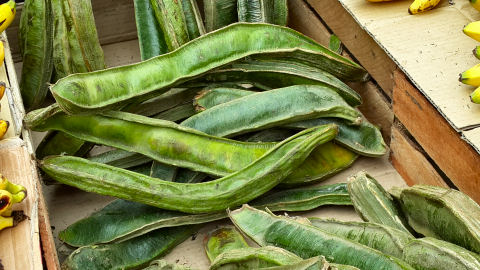 But first, a brief visit to the Mercado Palermo for some shopping (although this market has a decent food section, and we bought some huabas for a treat, more of the market is devoted to stuff like hardware, clothing, and household goods. We also hit Mercado Central twice in the last two days as I was drafted into giving a couple of pizza making classes here in the 'hood. If you see rumors about the strange advent of Chicago-style pizzas being served in restaurants in the La Libertad section of Trujillo somewhere down the line, you know where it started.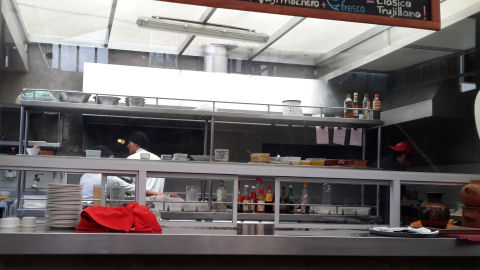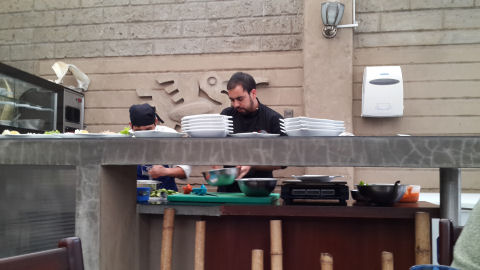 So the first place we went to was Puro Mar, highly recommended as one of the best places for fusion style cooking, particularly seafood. A more or less open kitchen, behind glass, and a side station where they make all the ceviche style dishes that's out in the dining room. I'm pretty sure that's the chef helping out at the ceviche station – after getting out the dishes for a table of 13 he headed back into the main kitchen and left the other guy on his own.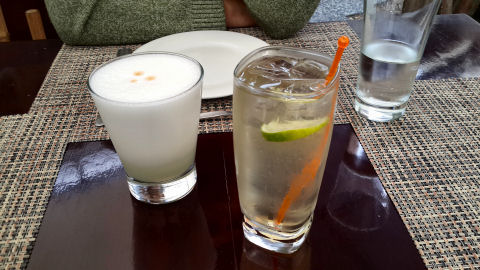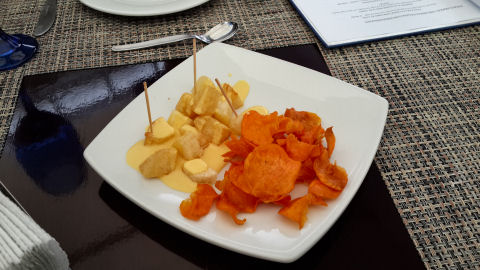 We ordered a couple of cocktails – well made, if nothing particularly creative (we asked, no house specialties, a surprise). A little plate of fried yuca and fried sweet potato chips with a mild yellow chili sauce came with them.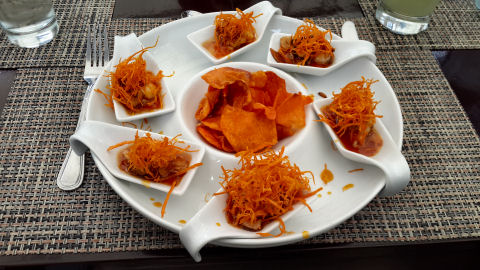 Like so many places we've found in South America (and which I've discussed before) we just couldn't get a straight answer for recommendations – it's always "everything's good" – so Henry selected a plate called maracocuna (I think), which was small seared scallops (unseasoned) in a very reduced and syrupy sweet passionfruit sauce, topped with fried sweet potato shreds. It was so sweet it could have been dessert – we asked for salt, and added some fresh chili sauce just to give it some balance and make it savory. Interesting idea, but seasoning, please.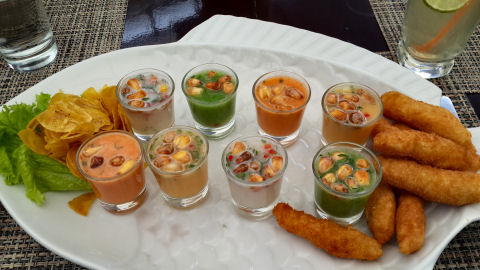 When I asked about this dish, which sounded interesting, a piqueo de shots – or selection of shots – the waiter said that it came with eight shots of different flavors of ceviche curing liquids, along with panko crusted fried prawns for dipping. What he didn't say was that it wasn't eight different flavors, but only four, with two of each flavor (traditional, cilantro, passionfruit, rocoto), designed to be shared by two. Nor that the breading wasn't really panko (though he probably didn't know that), unless they'd ground it to a fine powder. We liked the cilantro and passionfruit ones, the traditional one was completely lacking in salt to balance the lemon, while the rocoto was the reverse, it was so salty it was difficult to even try. The prawns well cooked but unseasoned on their own – beginning to sense a pattern here – someone's not paying attention or tasting – actually, that's not totally true – I saw the ceviche guy taste things a couple of times – he did it by spooning a little liquid from whatever he was making onto the back of his hand and then licking it off, kind of like doing tequila shots. Bizarre, and not a good way to get a proper sense of what something tastes like, nor particularly sanitary.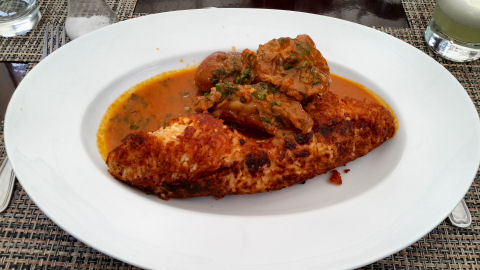 Henry went for something off the seafood menu for his main course – a tacu tacu with baby goat. The tacu tacu is one of our favorites, fried up leftover rice and beans, and this was decent, though again lacking in seasoning. On the other hand the cabrito was cooked perfectly and the sauce was rich and delicious – similar to a "seco" but with different herbs.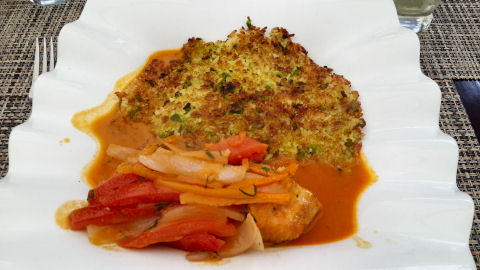 My main was probably the most interesting and most successful dish. You know that bit of crusty rice that sticks to the pot and gets all golden brown? In many parts of South America it's considered a dish in its own right, and in northern Peru it's called concolón (there are other names as well – cocolón, cucuya, pega – among them). Here they've turned it into a sort of tasty fried rice pancake with peas. It's served up with a fillet of corvina that's got sauteed peppers and onions, and a sauce that is a reduction of the broth from making sudado. Delicious!
Overall – Like the space. Service friendly and efficient though not particularly helpful. Of note, both in this place and the next, in both cases they knew who we were as we'd told them when setting up the reservation, and while the waiters and floor managers in both places came over to chat with us about our restaurant and the business in general, in neither place did the chef or anyone else from the kitchen – which is unusual in the industry. But I've been finding that here – other than at Central in Lima, I haven't been able to get a single chef to respond to an e-mail or talk about what they do in their kitchen – a sharp contrast from the eagerness to meet and greet I'm used to in BA, and my advance responses from folk in La Paz where I head next week, where I've already got some kitchen visits and plenty of recommendations for things to see and do. Back to Puro Mar – food – interesting ideas, though based on what we sampled, the execution falls a little short, particularly in seasoning, most of which was simply under or not seasoned at all. Main courses definitely better than the appetizers, which seem almost like bar food, though that could be simply what we chose, without the benefit of staff guidance. Good sized portions, pricey but not outrageously so – the total for our four plates, two cocktails, and two bottles of water came in at 172 soles plus tip – one note, they declined to add tips or allow tips to be added to credit card bill – has to be paid in cash. Oh, and in all my decades of eating out, I've never been charged in a nicer restaurant for a to-go container – at Puro Mar they tack on 1 sol for each container. Really?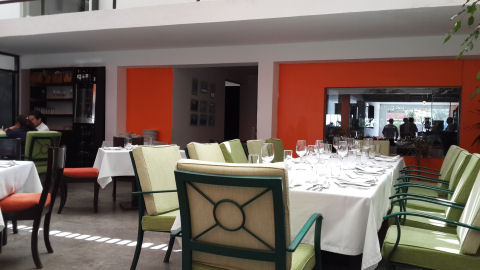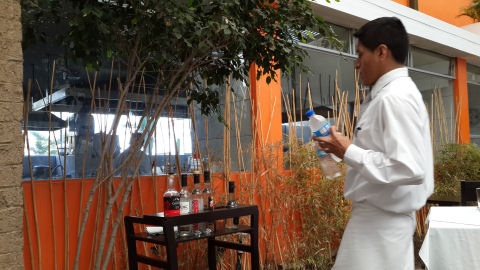 Back in Lima when I'd had lunch with Greg from Central at La Picanteria, he'd told me about the chef's "chain" of higher end restaurants, and when I saw one was in Trujillo, we added it to the list. So yesterday found us at Fiesta Gourmet Trujillo (also in Chiclayo, Lima, and Tacna). Beautiful room, again, a glass walled open kitchen. Very attentive and friendly staff – a little bit on that obsequious side like I talked about at Central.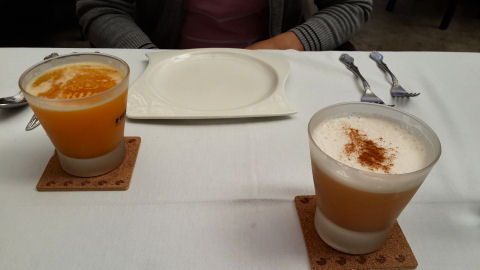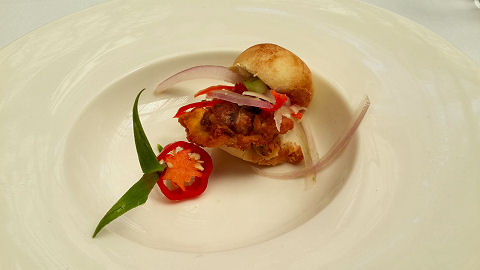 Completely different from other experiences here in Peru, the staff here were delighted to talk about the food and make recommendations – great training whomever is behind that. The bar has a range of infused piscos and we shortly found ourselves with a passionfruit version and a cinnamon version of pisco sours. Stealing the latter idea. In contrast to the above, the nibble to go with the cocktails was a bit more than some chips, a little fried mero (grouper) sandwich with chilies and onions on a mini-brioche sort of roll.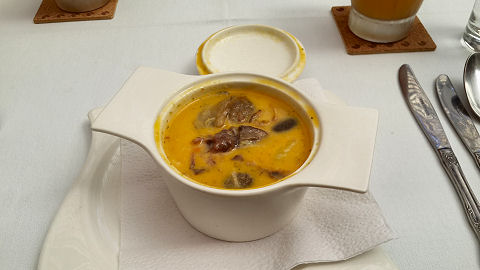 Waiter and manager insisted we try out a special of the day, a chupe de mariscos, and promised that if we didn't like it, it wouldn't be on the bill. They brought us two lovely little closed pots of what was easily the best version of this seafood soup either of us had ever had. Chock-ful of different seafood, an amazingly rich broth, I want the recipe.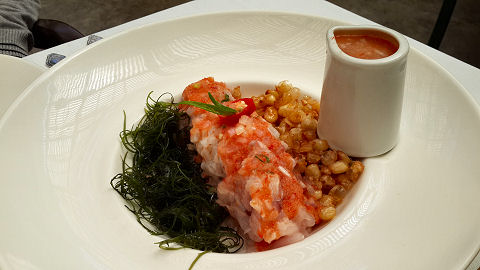 Classic ceviche to share – interesting presentation, with the curing liquid poured at tableside and then the waiter mixing it all together – kind of like making a steak tartare to order. Normally Henry doesn't like the last minute cure style ceviche because the fish is too raw, but they'd finely chopped the fish, almost like a steak tartare, and it cured within a couple of minutes. Great flavors, a little lacking in picante, but fresh chili puree served on the side to add to taste.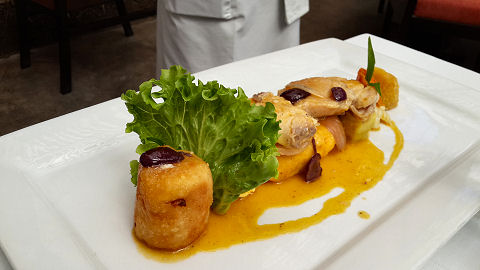 We're pretty familiar with the classic causa limeña, the chilled mashed potato dish flavored with lemon and yellow chilies. Neither of us knew specifically what makes a causa chiclayana different – online searching today suggests that the potato is only very lightly flavored with those, if at all, and that instead the potato is served warm with a sauce made from lemon, yellow chilies, and onions, which is how this seemed to be done. A fillet of fish on the side, another portion of potato, this time fried, plus sweet potato. It's an enormous portion – as was the ceviche – we were full by the time we finished this, and we finished every last bite. Yum.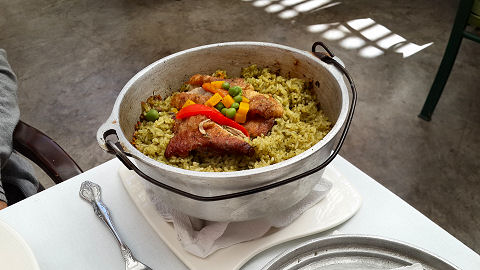 In fact, we were so full we decided to just taste our main courses and then have them packed up to go (no extra charge in contrast to above). Henry's arroz con pato was amazingly good, but a huge portion. The rice was so flavorful we had to stop short and think about all the flavors in it.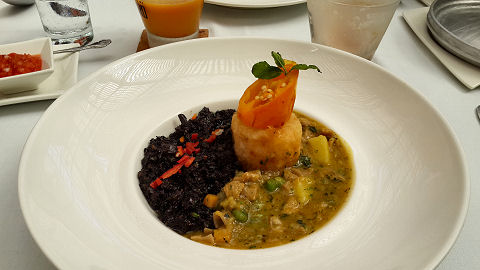 The one other time I tried chirimpico it was when we were in Chiclayo a few years ago. It was a slightly dry style stew of baby goat offal thickened with blood of the same, and while it's certainly not everyone's cup of tea, we loved it. Interestingly, in doing some research this time around, because the dish was quite different, what I had back then was actually sangrecito ("little blood"), because chirimpico is more of a tripe stew – very much like the more common Peruvian cau-cau, a tripe and pea stew – only with the tripe of a baby goat. And that's what I got this time, accompanied by a sangrecito. Now I'm not normally a tripe fan, but both these dishes were so good I wouldn't hesitate to order the plate again. It ranks up there with probably the top five offal dishes I've had in my life. If you find yourself at one of the four Fiesta Gourmets, and are an offal fan, order it. Period.
Overall – I loved the room, and fantastic service, as good as the service we had at Central, though slightly less formal – and while both were completely friendly, this place's was more helpful, the staff being willing to make recommendations and suggestions – that alone was a treat. The food, creative but still showing a solid grounding in tradition – elevated versions of classic dishes rather than fusion style, which gave it a certain comfortable familiarity with some zing. Definitely more expensive than Puro Mar – our bill for three appetizers, two mains, two cocktails, two waters, and two coffees rang in at 268 soles. On the other hand, I'd go out of my way to return to Fiesta Gourmet, and I'd probably not make a big effort to get back to Puro Mar unless I lived here, in which case it might be a place to visit occasionally for something a little different.
Side note, we found ourselves both days seated at a table next to the same two guys trying both places out – nods and smiles of acknowledgement – was tempted to ask them where they were eating today….