Continuing with our little vacation remix cycle, this last weekend we hit the north of Peru with Trujillo and Calamarca taking center stage. There was less new here, given that I've been to that part of Peru several times now, and of course, Henry grew up there, so it's ingrained into his soul. But it was fun to pick from both new and old dishes and take a look at what we could do with them.
Started the evening off with a welcome cocktail of cinnamon infused pisco, thyme simple syrup, lemon juice and a drop of Peychaud bitters.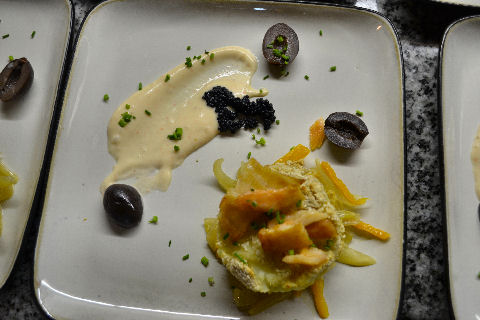 Our discovery at one of our fancier lunches out of a different style of
causa
, from Chiclayo (where
we'd spent time a couple of years ago
but not tried this dish), I did some research into what made a
causa chiclayana
 different from a
causa limeño
, and they are quite different. The Chiclayo version seems to generally be served warm, uses fresh local fish, and has a sauce made from onions, ají amarillo and lemon versus the versions we see from Lima with their layers of cold lemon and chili infused mashed potato with avocados, tomatoes, olives, and then topped with a tuna or chicken salad of sorts. Here, I lightly seasoned the mashed potato and added a touch of mascarpone and milk to the mix, cooled it, formed the potato into disks and coated them in egg and breadcrumbs, and then brushed them with butter and broiled them. Served up over a warm sauce of onion, chili and lemon rind. To the side, a chili infused taramasalata (a natural Mediterranean match it seems to me – potato, lemon, olive oil…), with a little lumpfish caviar (I've been forbidden, after doing a quick search to find out just exactly what lumpfish are, from referring to this as "lumpsucker spawn"), and black olives. Some lightly browned smoked salmon and chopped chives complete the dish.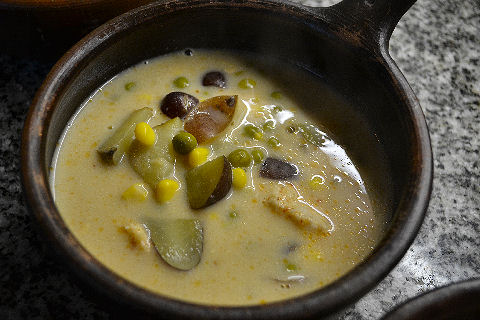 My take on the rich chowder-like
chupe
we had a
Fiesta Gourmet
– a mildly spicy fish and prawn stock base filled with Andean potatoes, corn, peas, sole, and prawns, and then thickened with evaporated milk and potato starch. Admittedly not near as delicious as the one we had in Trujillo, but still really good – this will take some research, or a cookbook by Hector Solis.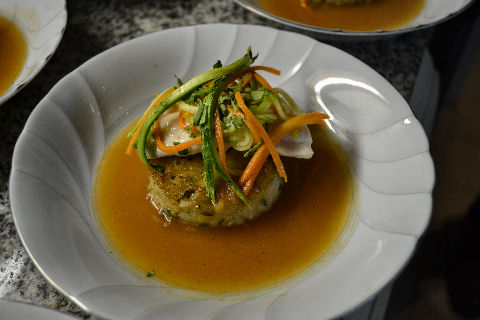 At Puro Mar in Trujillo (same link) I'd had a quite good reinterpretation of
sudado
, and basically put my own spin on it. Instead of the
concolón
thin crusty rice pancake, I made a classic risotto using fish stock and a mix of herbs, chilled it down and then made it into risotto cakes (realizing in mid-dinner that it meant I had two "pucks" of presentation given the potatoes in the first dish, c'est la vie). The fish,
chernia
, a type of sea bass, topped with sauteed zucchini and carrots, and the whole thing finished with a rich, reduced sudado stock that will likely become a staple around here.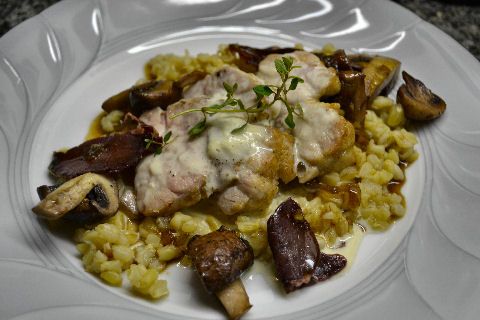 Where to start with this one, other than that it may be the best sweetbread dish I've ever cooked, and it will be coming back? It's telling that basically every single person we served dinner to near licked their plate clean from this dish, including the two Italians who ate it with gusto, and then asked if I knew what sweetbreads were called in Italian (
animelles di vitello
), and when I told them, looked they were going to be sick, until they realized just how much they'd liked it. It's a mashup of ideas – we always like our
mollejitas al ajo
, a traditional Trujillo dish of chicken giblets in garlic sauce, or
al sillao
, in soy sauce; and in Calamarca I'd really liked a couple of dishes made with
mote de trigo
, peeled wheat that's been treated the same way that hominy is treated in the states, with vegetable ash, to alter its texture and flavor. I didn't want to go the chicken giblets route again, and thought it might be cool to try something similar with veal sweetbreads – which evolved into this dish:
The sweetbreads are first soaked and then poached, and then chilled, then dusted in seasoned flour and pan roasted until golden brown on the outside. Served over the mote cooked with veal stock. Mixed mushrooms sauteed with thyme. Two sauces: a roasted garlic cream sauce (reduced cream, a head of roasted garlic, salt, pepper, nutmeg) spooned over the sweetbreads; and a soy caramel drizzled around the plate for some sweet and salty contrast. That's going into the permanent file!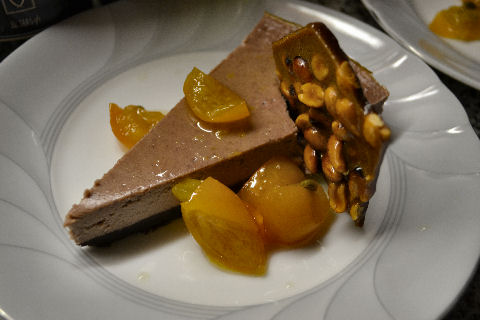 The classic snack/dessert of the area is the "King Kong", a sort of "ginormous" sandwich cookie of dulce de leche, peanuts, honey, and either chocolate or carob. Carob is actually quite popular in northern Peru, often more so than chocolate it seems. Here a carob cheesecake with cocoa crust, a honey peanut brittle, and kumquats cooked down in syrup (I'd have loved to find some
aguaymantos
– cape gooseberries – which are quite popular there too, but couldn't find any).
This week, on to Lima and some playful fun.