So when I posted last week that I'd be playing around with the bacon wrapped boga for this weekend's dinners, I really meant it. Starting from the same idea, I took it a fairly different direction that worked out, thankfully, as a great dish. But we'll get to that… first you have to sit through me droning on interminably about the other plates. It was a bit of a strange week reservations-wise. We were full-up on all four nights until pretty much last minute. Wednesday and Thursday we had long waiting lists. Friday and Saturday folk started cancelling left and right just hours before the dinners – no idea why, and all varied reasons – sometimes it just happens, we were able to eke back a few folk and ended up with seven and five for those two nights. Such is life.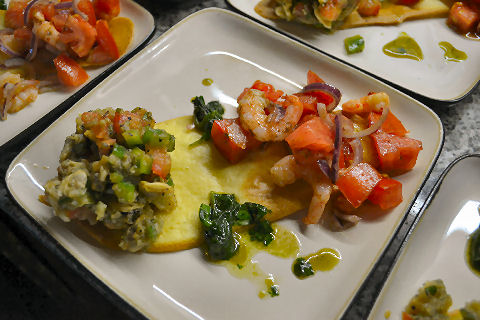 Brought back my versions of a couple of middle eastern style salads, but gussied up a bit – the salatit banjan and salata banadoura. The former, a charred eggplant mash that's folded with a bit of green bell pepper, tomato, garlic, parsley, cumin, smoked chili, salt, lemon juice, and, in this case, some cockles – not a normal part of this vegetable salad but I was looking for some fresh seafood salad ideas and the flavors work. The second is a chopped tomato and red onion salad with lemon juice, aleppo chili, baharat, and olive oil, and in this case, fresh prawns. Served over a camembert cheese tuile and dressed with a little orange vinegar and basil vinaigrette. The first night I tried making the tuiles into little cups, but it was too much tuile in ratio to the salad, and this kind of tuile doesn't hold its shape well unless you cook it until it's crisp which would have been, well, a pain in the backside – partially cooking them, shaping them in molds, finishing cooking them until crisp. I decided that it would just have to do as a base instead.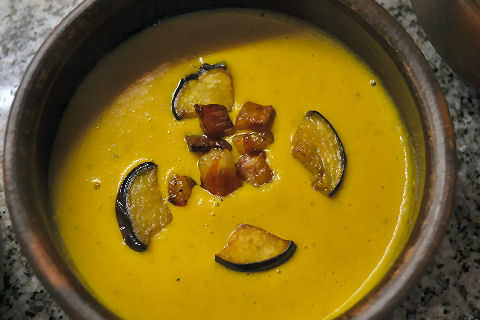 And, the cheddar and ale soup from our recent hobbit dinner made a reappearance. Since there were no vegetarian folk coming this last week I went back to a hearty beef stock – it really does have a richer, deeper flavor with that.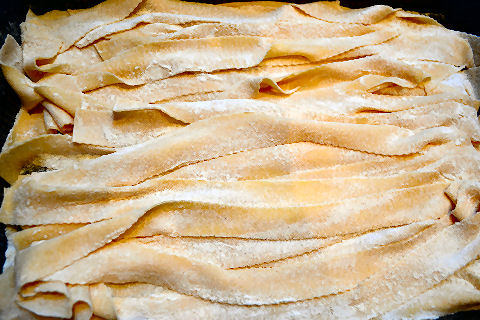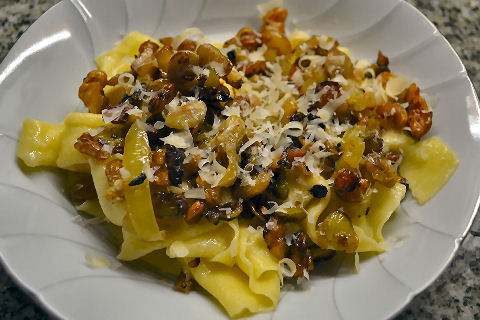 I just love the look of freshly made pasta, and pappardelle are one of my favorite types to make. Here, topped with a saute of frying peppers, butter beans, walnuts, lemon zest, garlic, rosemary and olive oil.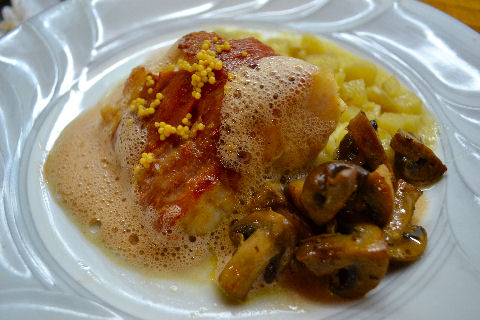 We're finally there, the fish. Doesn't that look purty? I used a type of sea bass in English called either stone bass or wreckfish, in Spanish, chernia. As noted in my little step by step linked above, the bacon made it all a bit greasy, so here, I wrapped the fish in Serrano ham, which also added some nice paprika spice to the mix. The potato risotto stayed the same. Instead of the tangle of vegetables (which admittedly were quite pretty, but I wanted a more earthy flavor to the whole dish), I sauteed a mix of white and baby portobello mushrooms. The little seeds are the new round version of "mustard caviar" using the technique I linked to that I said I was going to try – came out as a tasty little crunch that just had a hint of mustard – interesting, and I can see using them again, though all the kerfuffle on the internet about them seems a bit overboard to me. The sauce, a reduction of Malbec (one bottle cooked down to about half a cup) blended with a reduced (by half) fish stock, a small spoonful of soy lecithin and a knob of butter, then foamed up with a hand blender (that's what the lecithin is for, it helps the bubbles hold). All around, I thought it turned out a great dish and I'll definitely be doing it again in the future.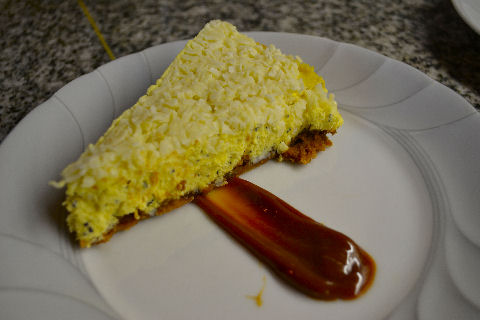 Not quite as pretty as the last dish, but totally delectable, a passionfruit cheesecake with a coconut crust and a coconut and white chocolate ganache topping. A little dulce de leche on the side, just because, though in retrospect I think maybe a rum caramel sauce might be even better.