No, I haven't changed orientation, not to worry, or speculate – in fact, you'll see that at the end of this post. Originally much of this last week looked devoted to Google. Yes, Google. They were having some sort of international team-building event hosted here in BA for their engineers, apparently an annual happening. Upfront, they contacted us about doing a series of dinners for their attendees, ten at a time. Then it whittled down to two nights, and finally to one. So we opened up the schedule for a trio of public nights, filled quickly, and then got a request for another private event and we filled in another night. The two private events had some restrictions that didn't fit the now planned public menu, so, it all got a bit fun.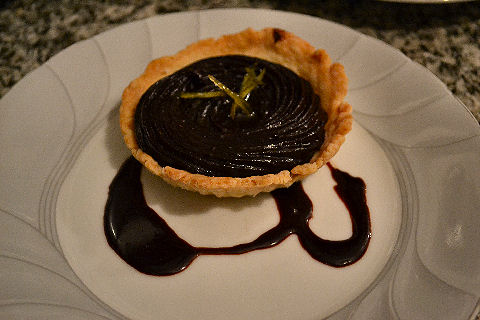 The Google evening came off, more or less, without a hitch. Perhaps a hiccup – in that two of the attendees were basically vegan (one vegan although he eats honey, and then when he was at the dinner said that actually "regular vegetarian" would have been just fine, another vegetarian who doesn't eat eggs, and a third, as it turned out, who preferred vegan even though he hadn't let the coordinator know about that). So, we planned a vegan menu with the exception of the main course, for which we had a vegan substitution for the two we knew about. That wasn't the hiccup, which was that the other attendees hadn't been told it was going to be a vegan evening other than the one course. But they took it in stride and had a great time.
As all the dishes are ones from our past repertoire I'm not going to post all the photos, etc. – we started off with the mushroom mini-pizza that we'd done the previous week, just leaving out the little bit of butter in the mushroom filling and making the almond crust without the egg. Then on to a broccoli lemon soup with coins of caramelized broccoli stems, and sans the yogurt; heart of palm fritter using flaxseed egg replacer to hold it together, which is actually the original way I'd created the recipe for one of our vegan classes – served over an avocado puree; for the main course a moqueca of fish and small shrimp – the two vegans got a moqueca of eggplant; and, finally, a cocoa mousse tartlet.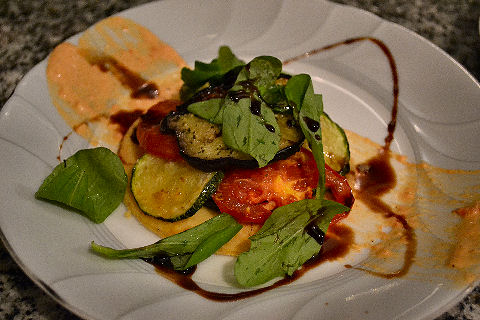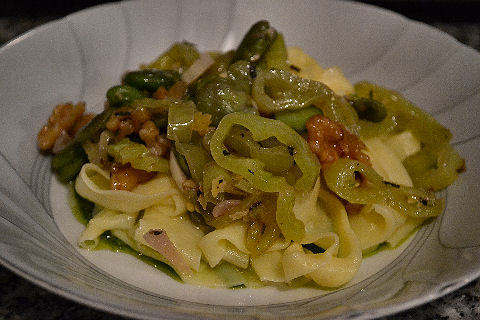 The next night, a group of six friends for a private dinner, the only restriction that one person requested a pescetarian option. We started off with our ratatouille galette; then on to a caldillo de congrio; then fresh semolina pappardelle with a saute of frying peppers, fava beans, walnuts, lemon zest, garlic and rosemary; for the main course our spicy green olive chicken, though with cauliflower mash instead of potato; and, finished up the evening with a bittersweet chocolate ganache tartlet.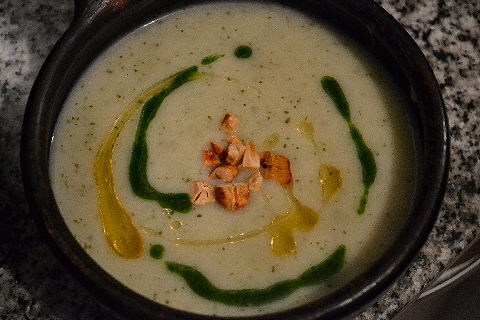 On to the main public events of the week, a trio of nights in which the only restrictions were several requests for no seafood – one whom let us know that her dining companion couldn't actually be in the same room as seafood without an allergic reaction – thankfully not scheduled on the same night as either of the two pescetarian requests or we would have had to pick and choose. We started off with a chilled cauliflower soup flavored with mint, garlic and onion and drizzled with sesame and cilantro oils, and garnished with some chopped, toasted cashews.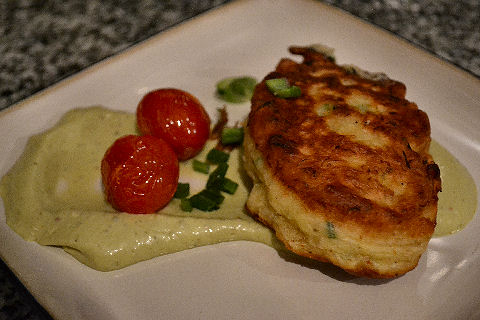 On to our heart of palm fritter, this time the non-vegan version, so the fritter contains egg and the dressing contains some mayo in place of the tofu.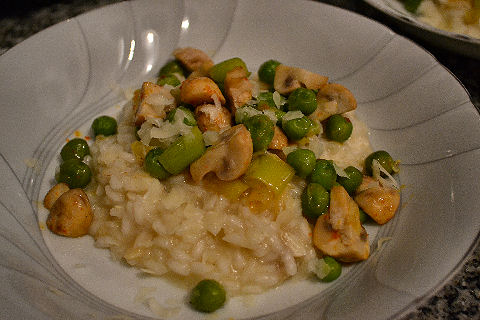 A spring vegetable – fresh peas, leeks and mushrooms sauteed with smoked paprika – risotto flavored with roasted garlic and a touch of goat cheese inside, and some shaved sheep's milk manchego on top.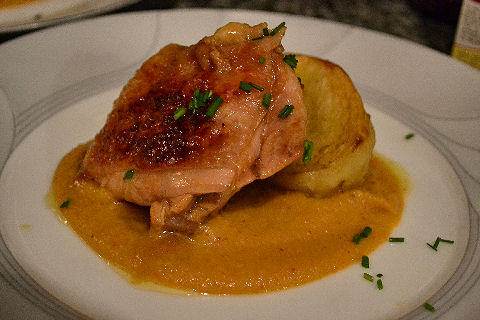 Chicken thighs glazed in a reduction of fresh orange juice, smoked balsamic vinegar and rosemary. Served with a fondant potato (cooked in veg stock for our pescetarian folk rather than the usual chicken stock), and a spicy hummus sauce with the addition of pureed carrot to the mix. For the pescetarians we did the same with "steaks" of salmón blanco.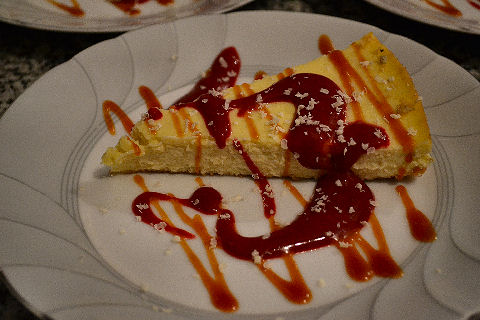 The finishing touch, a white chocolate and pear cheesecake topped a Torrontés caramel and a puree of blackberries with Chinese five-spice and port.
And that was the fun-filled week!
Now, off to the Registro Civil – Henry and I are making it official this afternoon (not that it wasn't in our eyes anyway, but after nearly eight years this makes it all legal in the eyes of Argentina). Keeping it completely casual, just a couple of friends as testigos, and then Henry's off to the university for the afternoon. Not, perhaps, the way I'd always envisioned things, but so be it. We'll have a party soon.