Another week of multiple menus – we had two private events and two public dinners this week, and, for the second week in a row, a huge number of folk on the waiting lists for the latter (43!) – actually, we even had someone try to bribe his way into one of the private events he was so desperate to eat here. Very strange. Wondering if we got some piece of press somewhere that I don't know about. We did get a nice piece with one of our recipes (along with friends at Casa Mun and another place in another country) in the Globe and Mail in Canada, which led to a sudden surge in requests from Canadians, including quite a few attempts to ingratiate by claiming close personal friendships with the author of the article, Lucy Waverman. Hi Lucy! (I have no close personal friendship with her, we've never met, though we did correspond by e-mail several times and she almost came to Casa SaltShaker while here in town.) If only you knew how many close personal friends across the great white north you have?!
Thursday we started off with a dinner hosted by the BA Expats forum, a half dozen folk for whom we pulled out a menu of some favorites, followed by, well, a group of eight longtime Canadian friends and two pet Australians they met while on vacation (they actually booked long before the article, it was just happenstance) who opened the field with a "no restrictions, no requests" menu, followed by this week's latest and varied groups over the two nights – Saturday a mix of people from the US and Canada, Sunday adding some Finns to the mix (there was also a Dutch woman who planned to be here, but she cancelled in the afternoon after deciding to go to the Boca game instead, we filled her spot with… a Canadian gentleman who's living here). These things happen in waves, particularly when there's interesting press notes out there.
Rather than write up all three menus, I've picked out what I thought were the most interesting dishes, and what we heard the best comments on: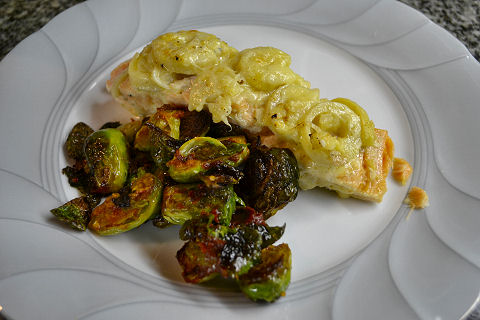 Salmon with palm heart gratin, a new dish for us, and one I wrote up a lowfat version of for the BA Herald recently (2/12/12). This is the full fat version – we're not a spa, you know? Charred brussels sprouts finished in a touch of spicy mustard and tomato reduction complete the dish.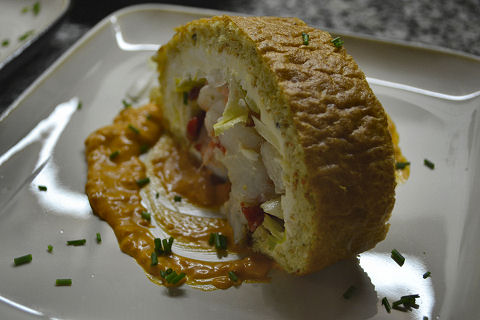 Spicy prawn pionono with homemade salsa golf – another one that also got an article and recipe in the BA Herald (2/26/12).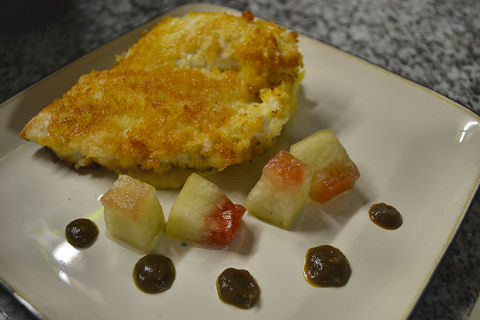 A new fried chicken dish. I've been missing fried chicken and this is still a work in progress, but I like how it's progressing – spiced panko crusted chicken breast, fried, served on top of a sweet potato mash spiked with merguez spices and accompanied by watermelon rind pickles and black fennel puree. Revisions to come….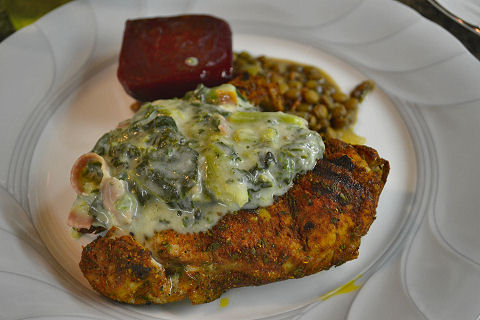 Some changes to the recent pork loin dish, went to a spice rubbed and grilled pork chop instead, adds more zest to the dish. And some stewed lentils (recipe at that Globe and Mail link above, just without the fried eggs and arugula) under the glazed beet as well.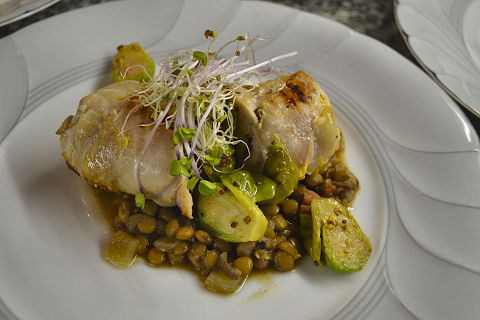 Grilled rabbit loin (coated inside with spicy mustard, salt and pepper and then rolled and tied, served over stewed lentils, with brussels sprouts finished in a whole grain mustard and sweet wine – a different combo of some of the ingredients above. Henry even tried it and he hates rabbit (psychological, not the taste – one I never quite understood as he has no problem with guinea pig, cuy.)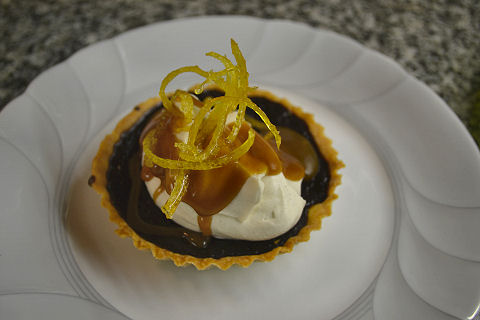 Dark chocolate tartlet – almond crust, dark chocolate filling with a touch of mace, whipped cream, five-spice caramel, candied lemon zest. Is there more that needs to be said about that?