"A highbrow is the kind of person who looks at a sausage and thinks of Picasso."

– Alan Patrick Herbert, Novelist
Buenos Aires – I decline to enter the debate, and yes, there is a debate – well, more like hotly contested opinions – as to what constitutes a true merguez sausage. Given that merguez simply means sausage – actually, the French adaptation of the Arabic word mirqāz – one could suppose that the word refers to any kind of sausage one likes. Traditionally, I think, when people in the food world think of a merguez, however, they think of a lamb or mutton based sausage that's a bit on the spicy side from the use of harissa, a fairly fiery spice blend from Tunisia, Morocco, Algeria… northwestern Africa. But a quick google search will reveal all sorts of things, from arguments over what sort of meat can be used, to the spice combinations, to the origins, to the accompaniments – even, oddly, a British site that offers up a recipe for merguez sausages with chimichurri and refers to it as a traditional American dish???
I've mentioned before having worked at one point in Tom Colicchio's first New York kitchen, Mondrian, and talked a little about what it was like to work for him – but hadn't ever mentioned any of the other folk there. Strangely, it was one of the few restaurants I've ever worked in where I didn't make any real longterm friends – I never quite fit into the whole macho boys atmosphere in the kitchen – not my style, ya know? However, I did become friends, at least casually, with one of the sous chefs, Bill Rogers, who went on to become chef at the NoHo Star, and may still be there – we lost touch a few years ago, though as of 2004 he was still there (his "British Burger", with stilton, bacon, and cucumber, was one of the best burgers in the city). He shared a recipe at one point with me for a chicken and sweet potato merguez sausage (now that we know the derivation, I suppose it's redundant to say "merguez sausage"), which no doubt would cause some sort of apoplexy amongst those who think they're defending some sort of time-honored tradition where merguez are only made from mutton and harissa… In fact, almost two years ago I made a tofu and sweet potato version, more or less, for one of our vegetarian dinners. Now, however, with the kitchen stocked full of sausage casings and grinders and such… and they were on my mind when I was planning this weekend's menu, which I'll get into in, probably, the next post, but for now, the whole sausage making process revealed (avert your eyes if you're squeamish).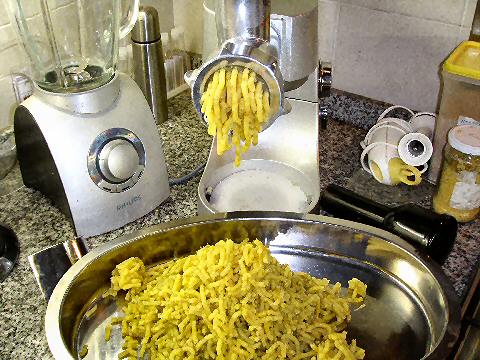 Second thing I did was roasted about 3 kilos, 6½ pounds, of batatas, or yams along with half a dozen garlic cloves. When they were semi-soft, but not mushy, I cooled them, and ran them through a medium grinder, along with the garlic cloves.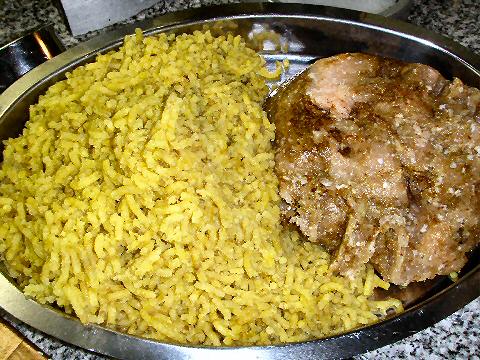 The first thing I did, however, was the evening before, when I ground 1½ kilos, or a bit over 3 pounds, of chicken breast, skin and fat included, through a fine grinder and then added a blend of "merguez" spices (jump to the bottom for that mixture) and curing salt (mix of common salt, sodium nitrate and nitrite – in reality probably just plain salt would have been fine since these weren't really destined to be cured, but I had some mixed up curing salt on hand).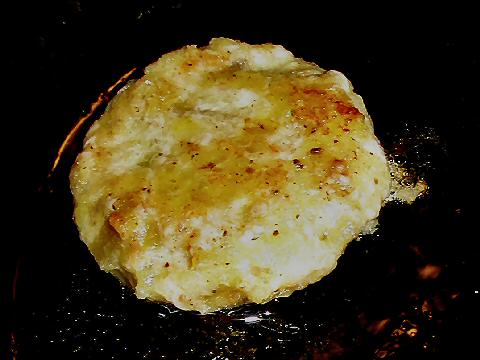 The next day, after grinding the yams, I mixed the two together, along with four beaten eggs to help hold it all together, it needed more fat than what was provided by the chicken – I happened to have some rendered duck fat on hand and added about ¾ cup of it to the mixture – I could just as easily have ground some fatback or bacon along with the chicken the evening before – and, in reality, the original recipe that Bill gave me used softened butter and heavy cream in the mixture – to be experimented with I suppose. I fried up a small patty of the mixture to check the seasoning – reallly, it's important when making sausages to do that – the last thing you want to do is put all the time into mixing and stuffing sausages, curing them, and cooking them, only to find that they're bland as can be or too spicy or salty to eat (always start with less salt and spice than you think you'll need and add to it, until you get the proportions down right). Come to think of it, if there's anything I can recommend in the world of cooking that most people seem to forget, it's "taste your food before you serve it to guests".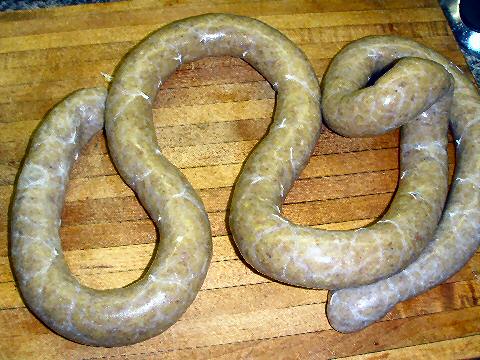 Okay, too late if you didn't want to see this part – let's face it, a sausage casing is an intestine – in this case, a section of small intestine from a pig – one can also buy lamb and beef casings, and small or large intestine, or even the colon, rectum, or, going other directions, the bladder – and depending on what animal and what part, can end up with thin, vienna sausage sort of sausages on up to a nice fat mortadella or bologna. I suppose this picture just makes it pretty graphic just what you're dealing with. Sometimes, perhaps, it's best not to think about such things – or perhaps it is better, to truly have a connection to what it is you're eating?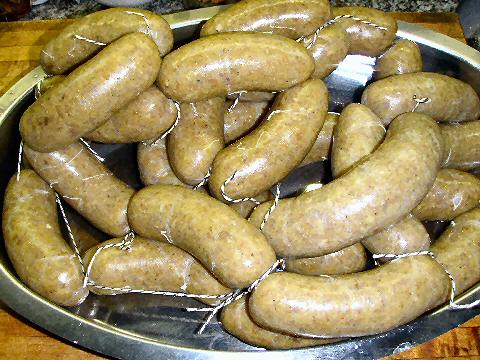 I tied them off in links – since I wasn't going to hang these to cure, I decided not to do the whole double knot and strings holding all the links in a daisy chain – I just used short pieces of sausage twine and tied them off into 10cm, or 4″, links. I immediately poached them in simmering water for about 10 minutes, just enough to lightly cook them through and set them firmly. Then, into the refrigerator until I needed them – half of them later the same day, half of them the next.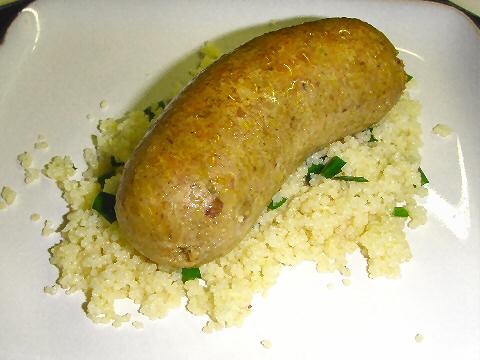 Once the links had been poached and the filling was firm, they could be simply cut apart at the string ties, lined up in a baking pan and tossed in the oven, drizzled with olive oil, to brown. These could also have been grilled, or cooked in any other way one might make sausage – in the original recipe, Bill simply boiled them up like a hot dog. I wanted the bit of caramelization from the browning. I served them atop some couscous flavored with chicken stock and chopped Chinese flat chives.