About a year ago I wrote up a post on a series of fun little alternative tourist tours/events, including the fun, if slightly sales-pitch oriented wine tasting of Anuva Wines. A couple of weeks ago I was invited to attend a new offering in the local wine tasting world from local magazine publisher Time Out Buenos Aires.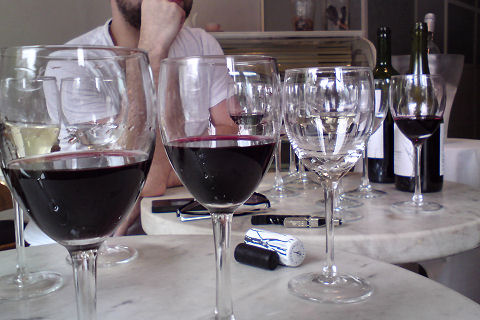 There are definitely some differences between the two, though both are aimed at the tourist trade. While Anuva is showing off a selection of their own wines, with the intent to sell them to you back in the States at a discount (and, currently, I believe, only in the U.S.), Time Out is aimed more at a simple introduction to Argentine wine. Anuva is based these days out of their own tasting space, Time Out uses a quartet of restaurants to create a sort of progressive tasting.
We met up at Don Julio, my favorite steakhouse in town. One of TO's editors/marketing people, who invited me, was on-hand. The other attendees were a food and wine writer whom I know who was also attending on the dole, and a friend of hers who was paying full freight. And shortly after arriving, our wine and tour guide for the afternoon arrived, a pleasant, perky British lass who is in the early stages of the process of training to become a Master of Wine (a side note, and just a personal peeve, TO claims their guides as "sommeliers", a term that while not under legal restriction, is a putatively certified profession that takes a lot of hard work and study – and not that the track to the MW doesn't also, but it doesn't confer the title of sommelier, and the focus in the training is significantly different – I've studied in both).
Now, the process of the wine tour is that, at least as it was explained to us, we would start off at one restaurant, and then move on to three others in succession, tasting one wine at the first and then two each at the others, along with food nibbles to pair with the wines served up by each restaurant. Upfront we were told that the fourth restaurant was closed that day for fumigation and so we'd only be going to three, and we wouldn't be tasting seven wines in total. Given that I was attending for free that wasn't a concern, but although he didn't seem to mind, I kept thinking that for the person paying the full charge, it might feel a bit of a cheat.
The next 2½ hours or so passed pleasantly as we chatted about wine and social stuff. There wasn't any real structure to it all, no introduction to wine in general, and only a cursory intro to wine tasting. We tasted six quite good wines – really high quality actually – though the selection seemed odd for an Argentine wine intro (for example, no Malbec was tasted (Pinot Noir and Cabernet Sauvignon instead), and the featured whites were a Pinot Grigio and a Mendoza Torrontés, plus a rosé blend – actually I think all the wines were from Mendoza), nibbles were only provided at one of the three locations (which again, I think, would have felt like a cheat if I'd shelled out the bucks for the tour), and had nothing to do with the wines – in fact our young guide stated that it's always a surprise what they get served at each place, it's just random (a difference from the Anuva tasting where there's actually a chance to compare the wines with different foods and see how they combine).
So, overall? A bit disorganized but enjoyable tour. A chance to taste some excellent wines and see a little bit of Palermo as you wander, particularly for those who are new to the city, and get at least the vibe of four different restaurants. At us$45/ar$190 it's a little pricey, particularly if there's not food being offered along with the wines. You can book it through Time Out by e-mailing winetour@timeoutba.com or calling 15-3256-3554 (cell) or 4831-1539 (office).