"Do not go where the path may lead; go instead where there is no path and leave a trail."

– Ralph Waldo Emerson
Not everyone comes to Buenos Aires to sit in a cafe and watch the world go by, or to see the Casa Rosada, or to follow the Evita trail, or, amazingly, even to tango. Here, a trio of unrelated ventures for visitors (and locals) that may start you on a different pathway….
I've been peripherally aware of Anuva Wines for several years now. I've been in contact with the owner, Daniel Karlin, many times by e-mail, and we've met twice – once for coffee and once he came to Casa SaltShaker. And on and off we discussed the possibility of some sort of connection between our businesses, but there has never seemed to be a direct fit. However, through one of his associates I was invited to attend one of their wine tastings and wanted to share a bit about it.
There are many types of wine tastings out there, ranging from those that introduce you to wine and wine tasting in general, to something with a theme or specific winery involved. Anuva falls somewhere in between. First off, they're a company that sells wine, for now just in the United States. One of the most common problems visitors encounter in regard to wine is that it's prohibitively expensive to ship it back home – Anuva sidesteps this by showcasing the wines through their tastings here in Buenos Aires and selling them in the States. This gets around the cost of shipping individual bottles or cases, and allows them to offer various types of discounts, from one time buys to monthly "wine club" selections.
And, they represent some very good wineries! The particular tasting I attended included a quintet of vinos, some which I've had before, and a couple I'd not – including a truly standout Syrah from San Gimignano winery that I'll be looking to add in to our Casa SaltShaker pairings at some point in the near future. The tasting itself was geared towards a level that I'd put at semi-novice – there was no introduction to how to taste wine nor general intro to wines or even Argentine wines, and at the other end of the spectrum there was no real discussion of anything other than taste. It focused irectly on the wines in front of us and pairing them with preselected snacks that were served up alongside. It's a great sales technique, and there's nothing wrong with that – neither of the two other people at the tasting were under the impression that it would be anything else, and that's actually what they were there for – the opportunity to try some good wines and be able to buy them without the usual hassle.
The cost is not bad at US$46, about in line with other tourism oriented tastings, and gives the advantage of some free additional bottles if you sign up for one of their wine club memberships, or extra bottles for those who order wines on the spot.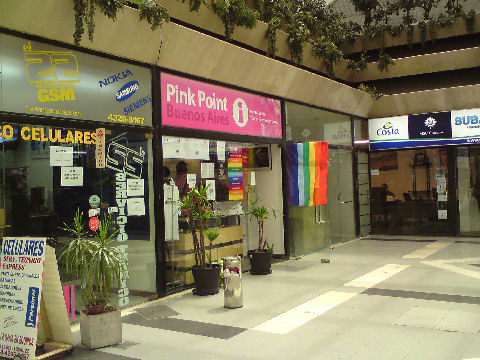 On the gay front, a recent great addition to the tourism world here is Pink Point, an information and tour guide service that caters to the gay and lesbian community. Now, I've visited the shop, conveniently located in the downtown area in a galeria, which has more literature on various activities than I can begin to enumerate – though it includes public and private tours, restaurant and bar information, shopping, and pretty much anything you can think of. At some point it would be interesting to accompany them on one of their gay city tours which at US$40 is a steal for a four hour tour that not only introduces you to the key sites and sights in the city, but gives it a gay historical and modern day spin. They also offer what sounds like a beautiful tour of the Delta that culminates with a partial day at the well known gay resort spa Favela. In addition they work with other tour guides to offer bicycle tours, walking tours, special dinners, and more. More one day when I've had a chance to sample some of what they offer. [Closed.]

I've known Ernesto Yattah, a local rabbi and historian, for several years via Facebook – we originally connected through the old "who's your neighbor?" application that's no longer there. And it turned out we have several common interests, are roughly the same age, and, indeed, live just a few blocks apart. We've met for coffee, he's been for dinner, and he's referred many people to us, and I a few to him for his private tours. But, I hadn't had the chance to go on one of the tours until this week – when Ernesto set aside a day to spend giving me a taste of what he offers.
His tours are private, for individuals or small groups (and the pricing is based on 1-4 people), and are hourly, with numerous options for how extensive you want to get. He offers a general city introduction tour, which given his passion for local history is bound to be fascinating in and of itself. But the tour I went on with him focused on his specialty, which are tours for the Jewish community. We spent roughly five hours out and about, and I think I learned more about the community's history and current status in those few hours than I have in six years here. We covered everything from the earliest settlement days to modern politics, visited a couple of synagogues – one for the Sephardic and one for the Ashkenazic communities, and covered ground from the Plaza de Mayo to Retiro to Once. And he has more to offer for those who want to continue – on into Palermo and Belgrano with more in-depth looks at other facets of Jewish life here in town.
Bluntly, I've been on tours with all sorts of guides and in all sorts of places, both here and in my travels in other parts of the world and this had to rank in the top three for most fascinating, engaging and enjoyable guided visits that I've ever been on. It's a don't miss! Just send me an email at the link above and I can put you in touch with Ernesto directly. (Do Not Leave Your Request As A Comment, I Will Ignore It.)