After quite the heavy lunch it was back to the apartment to collapse for a while and then get some work done. Mid-afternoon, headed out to the pretty little Museo Gurvich on the neighboring Plaza Matriz, free to visit on Tuesdays, just for your planning. Interesting stuff (no photos allowed, not surprisingly), reminds me a bit of Xul Solar's work and museum here in BA.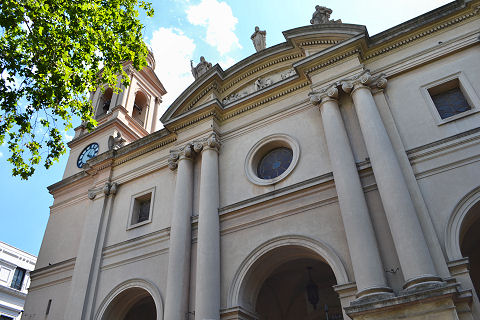 Right next door to the museum is the Metropolitan Cathedral, which, interestingly, like the Buenos Aires one, from the outside just doesn't have that soaring, spired image that I associate with cathedrals (like, say, the neo-gothic one in La Plata).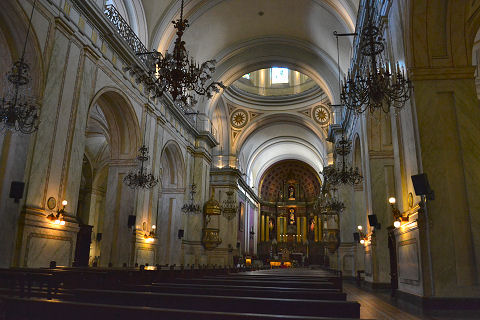 Inside, however, they manage just fine.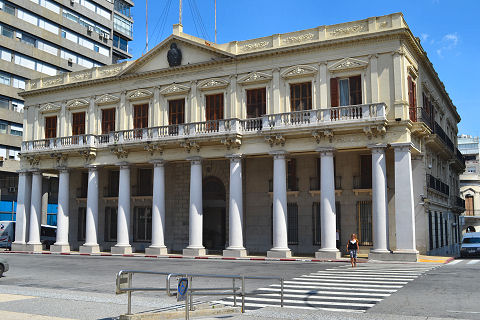 Continued on to Plaza Independencia and a visit to the Presidential Museum.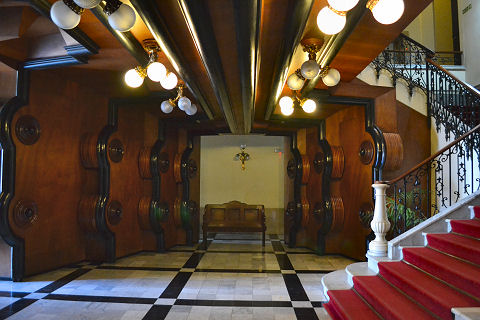 I'm not sure why, but they only allow photos in the downstairs lobby. Upstairs, you find yourself on a little meandering walking tour of a maze of rooms that take you from Uruguay's first president through the last one before the current one, whom I guess will get wedged in at some point (there's not a whole lot of space left). Not knowing much about Uruguayan history it was interesting, but I found myself having no idea who any of the presidents were, and there was little explanation to go with the exhibits – there were labels on various items associating them with the president at each step of the way, but almost nothing about the presidents themselves – probably fine for locals, but for a visitor, it would have been nice to learn something about each president.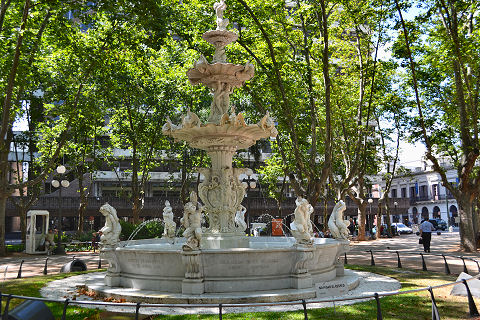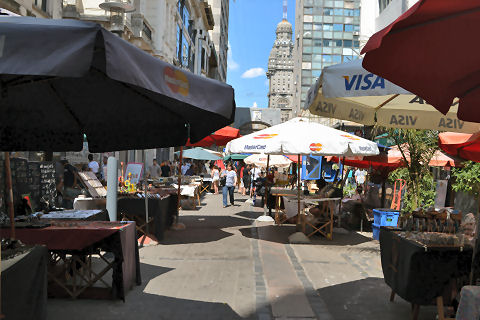 After that, I just wandered a bit until dinnertime, did a little shopping, poked into a few galleries. Didn't even take many photos. My goal, to end up at the top-rated Tandory restaurant in the Pocitos area, so eventually I wound my way there.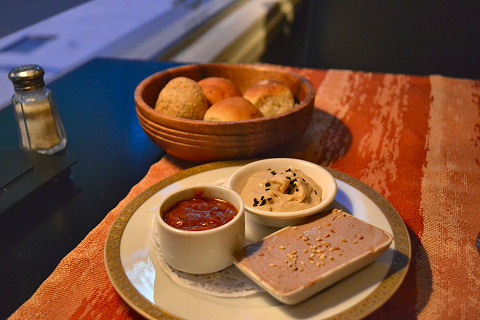 So upfront, Tandory was probably the best dining experience I've had in the last year. It's too soon this year to start talking about "best meal of 2012", though, to date, it was. And it wasn't that each and every dish was a stunning wow or that service was impeccable or that I was blown away by the decor. In fact, none of those things occurred. It was more just the whole package, there's something just so, perfectly, right, about the place. It's a charming, sort of converted house, with only about 30 seats, maybe not even that many. The decor is pretty, but not anything special, it's just comfortable. Two waiters take care of the room when it comes to delivering and clearing things, but the chef, Gabriel Coquel, visits each and every table to discuss what guests would like to eat, after they've had a few minutes to peruse the menu, and takes the food, and wine, orders. It's unexpected and just a special touch. He and I ended up chatting a good portion of the night about our respective careers, our current restaurants, food, wine, etc. Can I say that without that it would have been my best dining experience of the past year? I'm not sure – probably not, but it still would have been up there.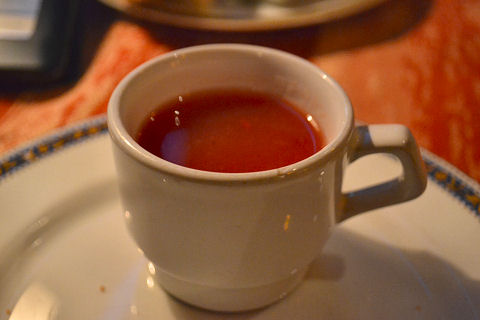 Along with the very nice little bread service above (I like the trio of spreads, though there was a bizarre service moment that, had I not been done with bread, would have had me objecting – after my appetizer was served, the waiter removed the spreads – not the bread, just the spreads – this, by the way, happened the night before at Francis, and happened again on the next two meals that I'll get to – is it an Uruguayan thing? Is there an assumption that bread becomes something to now eat just with whatever's on your plate and no longer with the spreads, dips, butters, etc. that are there at the beginning? Inquiring minds, or one of them, want to know.), a little amuse of a sweet gazpacho. Quite good, very refreshing – might have even been watermelon rather than tomato based, or at least a mix. By the way, despite the name, this is not an Indian restaurant, Coquel works in a French-based style, with spicing from various parts of the world.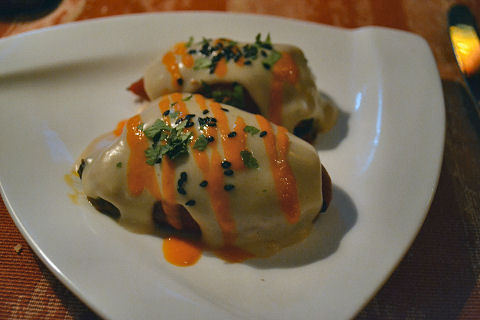 Whole piquillo peppers stuffed with lamb and spices. These rocked. The lamb meltingly tender, the spice of the piquillos a perfect foil. The chef suggested two different appetizers and made half portions of each so that I could try more than one. When it came to wine, as we looked at the three dishes he'd planned, we both said, near simultaneously, that it needed a rich sauvignon blanc, and the Pizzorno "Don Próspero" leapt off the page. Worked perfectly throughout the evening.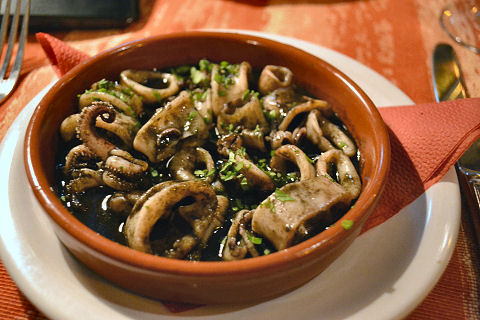 Fairly classic – calamarettes (baby squid) stewed in squid ink, olive oil, herbs and garlic. Truly nothing that you probably couldn't find in a zillion Mediterranean restaurants, and so right in the setting. Bring me a full portion of that, or two, for my whole dinner!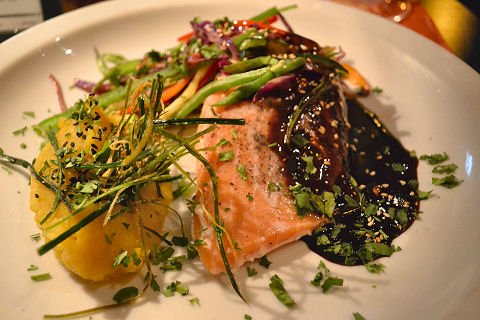 Sous-vide cooked salmon, perfect texture and temperature all the way through. I'm of two minds about the whole sous-vide thing. It does result in a great texture and even cooking, but there's something for me about the uneven cooking of something that's been seared on the outside – that meld of two textures where the outer edges are cooked completely and the inner part is still a bit rare – that I like in a piece of meat or certain fish like salmon and tuna. Still, absolutely tasty, served up with a medley of vegetables, some sweet potato puree, and a very good teriyaki style sauce that wasn't overly sweet.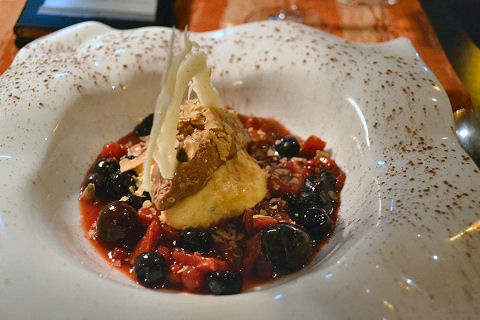 And, a simple but elegant dessert of just slightly cooked (5 minutes in syrup) and then chilled mixed berries with a cream ice cream, chocolate mousse, white chocolate shard, and some grated chocolate.
As I said, nothing wow or out of the ordinary, but just a really special night out. It's kind of like what I hope to provide at Casa SaltShaker – the food – not five-star but honest and good and cooked right, the wines complimenting the food, and something that's just special about the whole package together, including the surroundings and fellow guests. Tandory achieves all that. Pricing – fairly expensive but worth it, had I paid full price (the chef very kindly gave me a 12% "colleague's" discount) it would have been 1570 uruguayos, or $82.