"History is the version of past events that people have decided to agree upon."

– generally attributed to Napoleon, though likely far older
I'm not a fan of arguing with guests, but if someone asks me my opinion, or why I've done something, I'll likely tell them. So, without trepidation I waded in when one of our guests this past weekend challenged my assertion that there had been a Franco-Thai War, or a previous Franco-Siam War, or that France had, at any point, occupied any part of Thailand. It's all pretty well documented, so it's not like some fantasy I had. But, it could be also seen as a matter of semantics. It is true that no part of Thailand as it exists today was ever occupied by the French. But Thailand as Siam, the historical kingdom that the Thais consider as their own history, was. It began during one of the expansion periods of French Indochina in the 1890s, up to which point that colony consisted primarily of part of what was later to become Burma, parts of China, and South and North Vietnam. The Kingdom of Siam, to that point, consisted of what we consider to now be Thailand, Laos, and Cambodia.
In 1893, King Chulalongkorn (remember him?) was finally forced to cede parts of the kingdom to the French – the parts that are now Laos and Cambodia – and which were swallowed up into French Indochina. The convenient fiction on the part of Thais (and my guest) is that because the French didn't occupy any of what later became Thailand, therefore Thailand was never occupied by the French. Great logic, no? Though, even that isn't true, because that was the Franco-Siam War. The Franco-Thai war was started by the Thai military at the beginning of WWII, when France was spread too thin to defend Indochina, and resulted in, on January 29, 1941, 70 years ago, the Thais taking back portions of the lands that they'd lost (and which therefore had been occupied by France), and in the end, the creation of separate kingdoms of Laos and Cambodia when the French finally withdrew down the road. Then again, in 1946 they had to give those territories back to France, when that country threatened to veto Thailand's membership to the United Nations if they didn't. And that's enough history! On to our fusion of French and Thai foodstuffs for one of our weekend's dinners.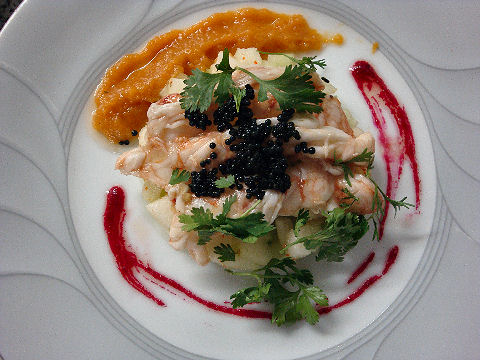 I've made a similar dish to this prawn "ceviche" before. This time, using layers of summer pears dusted with spices, salted cucumber, cured prawns, caviar, cilantro and surrounded with a bit of beet vinaigrette and a chili-papaya jam.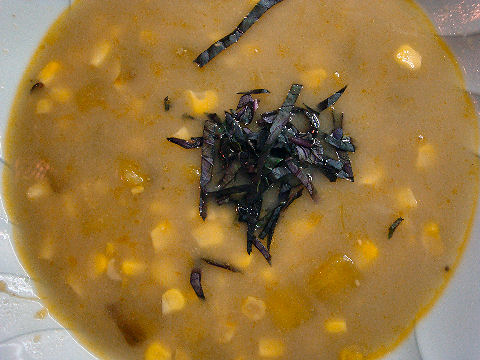 A "chowder" style soup – the broth a relatively straightforward brown chicken stock flavored with corncobs and smoked bacon. Into the stock, the kernels of corn from the cobs, some additional creamed corn, sweet potato, chilies, fish sauce and coconut milk. A little thai basil atop to garnish.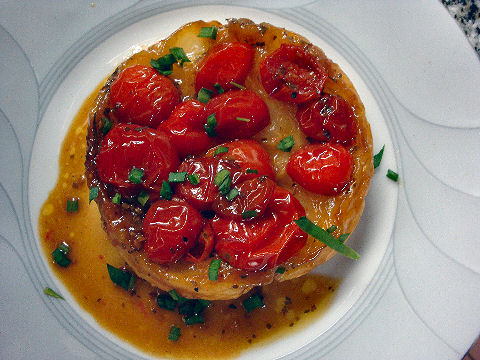 A reworking of my tomato tarte tatin using cherry tomatoes and caramelizing them in butter, sugar, salt, pepper, and fish sauce. As good or better than the plum tomato version with anchovies….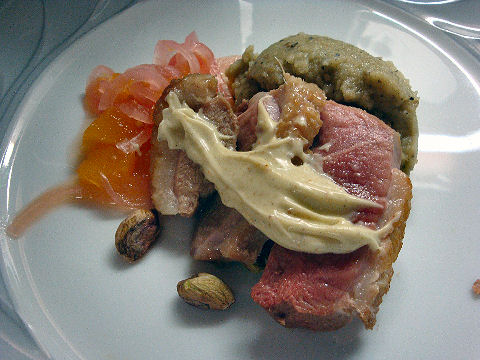 And a very slight reworking of my favorite duck magret dish, still with the garlic-mint charred eggplant puree, mango chutney, and toasted pistachios. But no piquillo peppers to be found and in the end I made a tamago-no-moto, Japanese egg yolk sauce, similar to mayonnaise, spiced with smoky chipotle peppers. Tough call, both sauces work.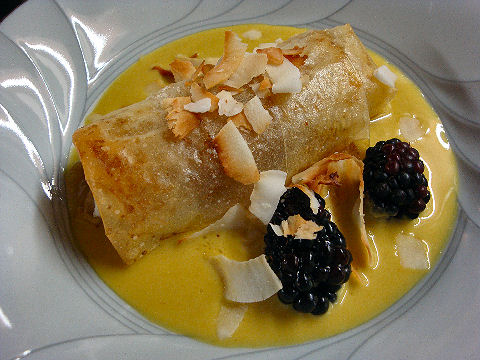 And, minor changes to our banana springroll – strudel dough instead of phylo, and the addition of some toasted coconut flakes and fresh blackberries to the mix.
Next up, a little more history, from the entertainment world….