"It is always surprising how small a part of life is taken up by meaningful moments. Most often they're over before they start even though they cast a light on the future and make the person who originated them unforgettable."

– Prince Chulalongkorn, in The King and I (1956)
Although of questionable historical accuracy in terms of detail, the novel Anna and the King of Siam by Margaret Landon (1944), was the somewhat fictionalized story of Anna Leonowens, a British widow who was invited by the King of Siam, Mongkut, to be the governess and tutor for his children. The book was made into a movie of the same name in 1946 starring Irene Dunne and Rex Harrison, and remade several times thereafter, first in 1956 in the well known The King and I starring Deborah Kerr and Yul Bryner, again in 1999 with Jody Foster and Chow Yun Fat at Anna and the King, also in 1999 as an animated The King and I, and in a thankfully short-lived sitcom in 1972 (only 13 episodes), with Yul Bryner reprising his role and Samantha Eggers taking Anna's position.
At the very least, from the popular '56 version, the part of Prince Chulalongkorn, the eldest son who is not happy to be thrust into the position of being the first crown prince to be educated in western style, but later comes to blend the two cultures when he succeeds his father, is memorable. And, in fact, the prince was real, and the succession as well, and Phra Bat Somdet Phra Poramintharamaha Chulalongkorn Phra Chunla Chom Klao Chao Yu Hua, better known simply as Rama V, or Chulalongkorn the Great, ruled as one of Thailand's historically most beloved kings from 1 October 1868 to 23 October 1910 – best known for saving Thailand from being colonized by western expansion in the region. Each year, on the 23rd of October, his reign is celebrated with Chulalongkorn Day, and we decided it was as good an excuse as any for a Thai-inspired meal here at Casa SaltShaker.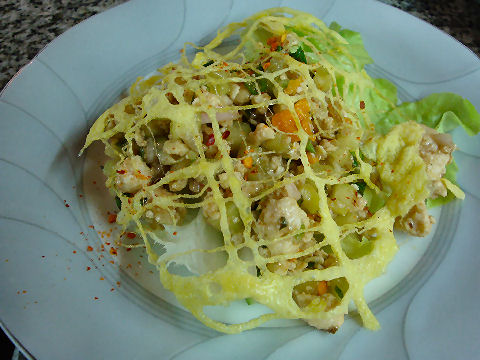 The very first time I ever had Thai food was after moving to NYC to go to grad school in 1982! It wasn't exactly a common fare in Ann Arbor. I met someone online – this was before the days of the worldwide web, back when there were what were called BBSs, or Bulletin Board Services – basically you signed on, left a personal message or added to a conversation – much like one would do in a forum setting today, but this was dial-up, and since most of the BBSs were run by individuals out of their homes, you often had to wait for the phone lines to be available to dial-in! Usually no more than a few people were on at any given time, and you couldn't see each other, you just left messages – anyway, this person asked me out, and suggested a restaurant in the West Village called, appropriately, The King and I. The very first dish I ever tried was called laap gai, and it remains one of my favorites – the owners, Jackson and Nancy, who last I heard had moved on to Connecticut to open a different Thai restaurant, gave me their recipe at some point over the years, and I've kept pretty much to that over time – ground chicken, sauteed in a mix of neutral and sesame oil, then tossed with toasted brown rice powder, lime juice and soy sauce, and plenty of finely diced cucumber, shallot (or red onion), hot peppers, green onions, and mint. Pretty simple actually. It's served cold over lettuce leaves. When I make it for ourselves I make it extremely picante, but for the dinners I toned it down a bit – you never know. I like putting egg nets over the top because it looks pretty. One night, with a pescetarian guest, I made a batch of this with some finely chopped smoked tofu. Oh, and the date? We enjoyed each other's company a lot but had no interest in anything beyond that – we became good friends and have remained so for 30 years now!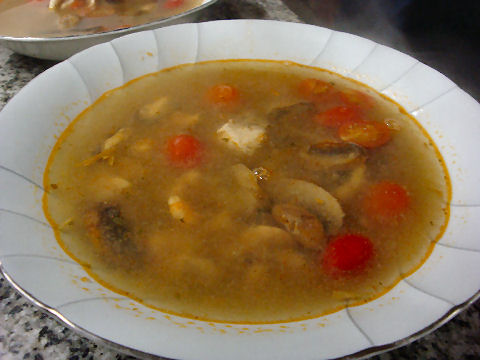 This is one of those soups where the broth is the key – what you put in it after that is up to you, but it's an intensely flavored liquid… Lightly brown shrimp shells in oil. Add into the pot lots of sliced green chilies, lemongrass, ginger, kaffir lime leaves, shallots, and cilantro, including stems and roots. Lightly cook those, then add a basic vegetable broth to it (or add in the standard vegetables for that – onions, carrots, celery and garlic), and a good chunk of tamarind paste. Let it cook for about 40 minutes until intensely flavored. Strain. Add in sliced mushrooms, halved cherry tomatoes, and a mix of seafood – I used small shrimp, cockles, mussels, squid rings and some diced albacore tuna. Cook until mushrooms and cherry tomatoes are just softened and stir in a bit of a chili-garlic sauce called nam prik pao, to taste. I make my own – I lightly char a handful of garlic cloves and an onion, let them cool and then remove the skins. Meanwhile in another pan I cook a little shrimp paste, dried and fresh red chilies, some palm sugar (or brown sugar if you don't have it), for about 3-4 minutes to just lightly toast the flavors. Everything into the blender along with some tamarind molasses or concentrate and blended with just enough oil to make a smooth paste.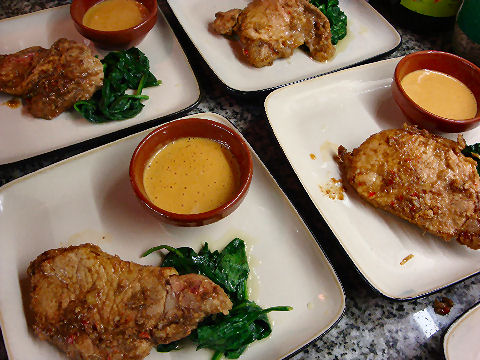 I happen to love satay, or saté, marinated and grilled meats with a spicy peanut sauce. Here I used slices of pork loin, marinated for the day in a puree of lemongrass, ginger, red chilies, sriracha sauce, red onion, dark brown sugar, lemon juice, coriander seed, oil and salt. Then seared the pieces in a hot cast iron pan, and finished them in the oven. The dipping sauce, a mix of creamy peanut butter, soy sauce, sriracha and dried red pepper flakes, brown sugar, lime juice, rice wine vinegar, ginger and garlic. A little sauteed spinach on the side for color, and yum! For our pescetarian guest, the same with an albacore tuna steak.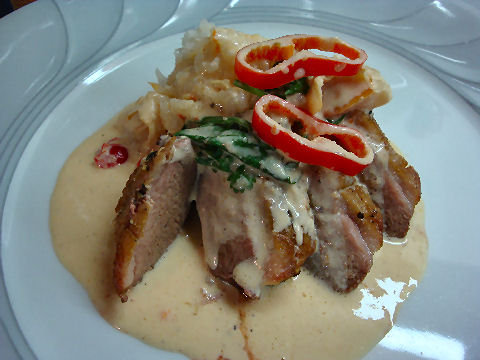 I think this was the majority favorite over the weekend. I ended up having to modify the dish from my original plans, as three of the folk coming between the three days were allergic to all tree nuts, including coconut (though a common flavor in Thai cooking, conspicuously absent from this menu). It's actually a reasonably simple dish – pan roasted duck breast, sliced. White rice. The sauce – a mix of cream, sour cream (in place of coconut cream and coconut milk), chopped up lycheese, red sweet peppers (Italian frying peppers, but red ones), kaffir lime leaves, fish sauce, red curry paste (my own), and at the last minute, lots of coarsely chopped basil and cilantro – hot, and ladled over the duck and rice. The red curry paste – I use this recipe, but spike it up a bit by substituting habanero chili powder for the "American chili powder", and in this case, left out the coconut milk, using just a splash of cream to smooth it out, though I'd normally put it in.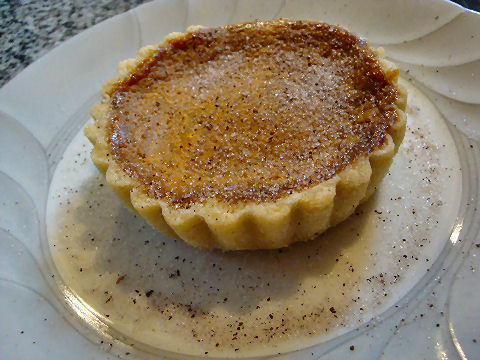 There's a traditional Thai dessert of a coconut custard baked inside a pumpkin, usually served in slices. I decided to make a pumpkin custard tart, and then for the same reasons as above, left out the coconut – the filling is a roasted butternut squash roughly 2&#189′;-3 cups worth, a cup and a half of cream, half cup of brown sugar (I used half light and half dark), a teaspoon of salt, a small knob of ginger, a teaspoon of cinnamon, a quarter cup of brandy, and four eggs – all blended together and poured into small tart shells, baked, cooled, dusted with cinnamon and sugar, and consumed with gusto.
And that, folks, was The King and Us Dinner.