Blackadder: "Well saddle my horse then."
Baldrick: "What d'you think you've been eating for the last two months?"
Blackadder: "Well go out into the street and hire me a horse!"
Baldrick: "Hire you a horse? For ninepence? On Jewish new year in the rain? A bare fortnight after the dreaded horse plague of old London town? With the Blacksmith's strike in its fifteenth week and the Dorset horse fetishists fair tomorrow?"
Welcome to the year 5771. Yes indeed, already shaping up to be an interesting year, particularly starting out with a delightful little Casa S holiday fête to celebrate. Most of the folk attending last weekend's dining were looking for a home away from home where they could still have a little bit of tradition, at least of the gastronomic sort. "Yes mom, I went to a Rosh Hashanah dinner…". We even gave things a bit of our usual twisting and turning about with a little international flare, and a touch of spice….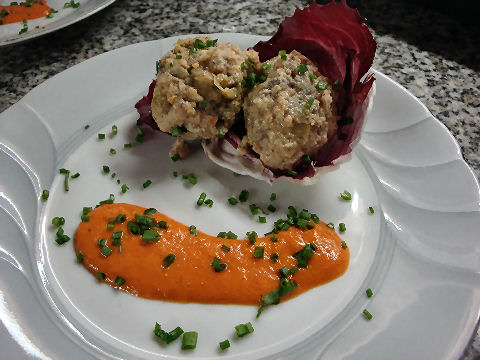 We had to have gefilte fish. I know they're not particular to Rosh Hashanah, but somehow, they're particular to Jewish holidays for me. They started us out on our world tour in Eastern Europe. In this iteration, I used salmon and a distant relative of the tuna family that is found in the Mar del Plata area. And, of course, I spiked them with some chilies to give them some zip, and served them up with a roasted piquillo pepper sauce. Not like mom used to make – then again, I'm pretty sure mom used to just take them out of the jar….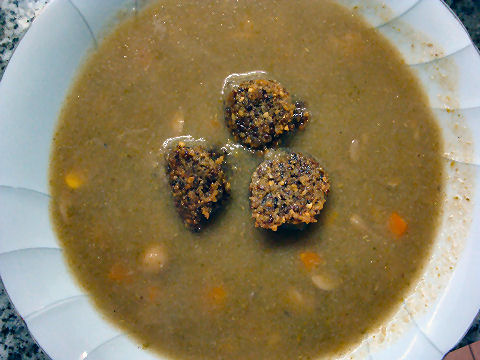 Moving to the Middle East, in general, I wanted to get in some falafel, and where better than as croutons in a soup? A roasted vegetable broth, then cooked broccoli and cauliflower in the broth, pureed that, and added in carrots, fennel, corn and mushrooms and cooked until they were just softened. Finished off with the freshly fried falafel.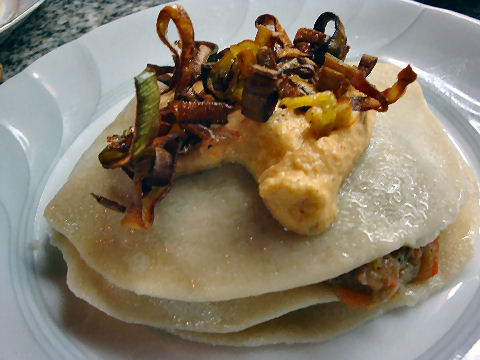 I'd originally been thinking about doing something offal-ish and lamb-y from an Argentine tradition, but no lamb offal to be found other than lamb's tail. That still worked, though it changed my original dish plan. I braised the lamb's tails in red wine, olive oil, salt, pepper, bay and cinnamon until falling off the bone, then shredded the meat. Meanwhile, made a simple egg yolk pasta, boiled up large rounds, charred some eggplants and made a puree with garlic, olive oil, and parsley, and then layered the pasta with the meat and the eggplant. To top it, a "pesto" of almonds, green olives and fresh orange juice. Then some crispy fried leeks atop.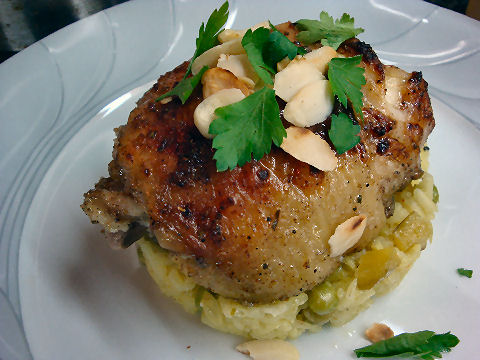 I kind of hated to do roast chicken a second week in a row, but other than the fact that it was chicken, the rest of the dish was completely different. I marinated the chicken in apple juice, mint, cinnamon, and chilies and then roasted it. Served it over a rice "pilaf" of sorts, studded with peas, and diced sweet potato and apple, and flavored it with a little cumin and curry. Topped with toasted almonds.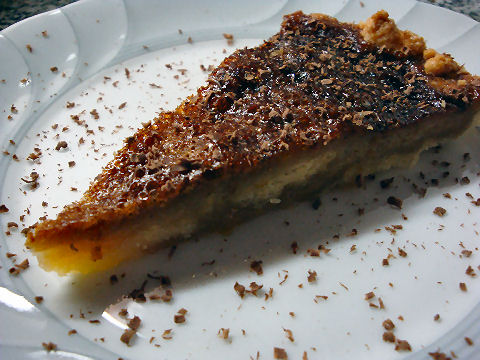 Apples and honey are a traditional start for the New Year, and I'd gotten in the apples with the chicken, so had to get the honey in during the dessert. I made a honey tart, which you may remember from our Beatles dinner not all that long ago.
Happy New Year!