"Most modern calendars mar the sweet simplicity of our lives by reminding us that each day that passes is the anniversary of some perfectly uninteresting event."

– Oscar Wilde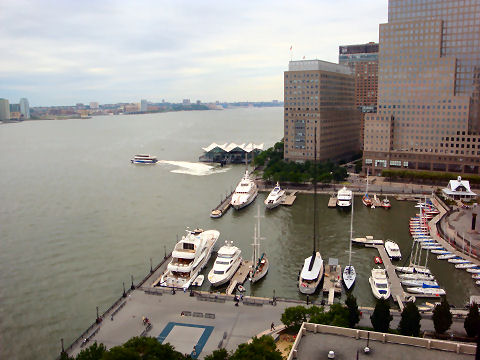 …Fifth anniversary that is… of this blog. It's odd, it seems as if I've been writing it far longer than that, and as this date approached I kept going back and looking at the archive calendar and thinking, "really? just five years?" At that point I wasn't even in Buenos Aires fulltime – I was enroute the following day from New York City, where I was spending my last days in the apartment that I had sold but not closed on, to Key West, where I was negotiating for a small building in which to live and open a small restaurant. I spent a few days there, then back to New York for the closing, staying with some friends the last few days of the month during which time the particular building I was looking at got put on hold, and I up and decided to go spend a few weeks exploring more of Argentina. Of course, I called Henry when I got back there, and, well, the rest is the history you've read about on these pages for five years running. I never did get around to exploring all the places I'd planned, and, on occasion, Key West still beckons. But, for the moment, it seems fitting that I'm back in New York for a week, staying in a sublet apartment in Battery Park looking out on a pretty spectacular view of the Hudson.
The flight here was tedious, with delays in both BA and Sao Paolo, and amazingly snail-like traffic coming into the city – the trip took me 23 hours door to door. But I hit the ground running, so to speak, I had little choice, I had some appointments to keep, and food to start ingesting. My first lunch was an invite from my ex- (don't tell Henry) who was passing through NYC on his way back to California, out to Momofuku Noodle Bar where the service has vastly improved since my first visit, and we caught up on ten years of "so what have you been up to?" sort of stuff. The food, just as good or even better – those same roasted rice cakes, steamed pork buns, and big, steaming bowls of ramen. David Chang may come off as obnoxious and short-tempered, but damn he can cook. I even bought his book later in the day – I see some things I want to play with.
Dinner was a meetup with some old friends and neighbors at Kanoyama, still, as far as I'm concerned, the best reasonably priced sushi bar in the city, and even vying for one of the spots among those that are stratospherically pricey, without the price. We inhaled a massive platter of assorted sushi and sashimi that more or less left us gasping for air, though we still slurped down a last little tidbit of fresh California sea urchin (they were out of the Japanese ones, none had come in). The sushi chef even remembers me and insisted I come back at least once more while I'm here. And, a tweeted/facebook plan to meetup with local folks for tequila drinks at Mayahuel went by the wayside as I waited in front for half an hour and then gave up – then again, no one had actually said they were coming, though I did get a facebook message and a couple of phone calls to my skype number from one friend who says he was there at the same time period. No idea how we missed each other.
On to yesterday and a visit to friend Cesare Casella's newest project. I've mentioned Cesare before, and since I last had the opportunity to see him, he's gone and moved on to a new project that is going great guns – Salumeria Rosi, 283 Amsterdam – which, as he puts it, "izza grocery store" – not exactly true, it's more of a near shrine to cured meats. I can even excuse Anthony Bourdain's overused "porky goodness" quip from his visit to the salumeria…
…and I'd have a hard time making it seem any sexier than he does, me being without production crew and all. We'll have to hope the pictures speak the thousand words they're meant to. I didn't set out to eat all this, once again no one had responded to the meetup idea, and all I planned on was a sampler plate and a glass of wine…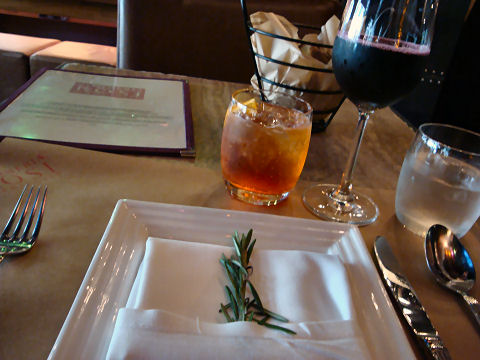 And so I ordered those, first, a lovely glass of Ceci's La Luna Lambrusco 2008 – tasting of blueberries and licorice, very dry, slightly sparkling, and a perfect accompaniment to cured meats. Cesare felt I needed a little aperitif first, a bit of prosecco and Aperol mixed together – goes down just a little too smooth, especially on an empty stomach.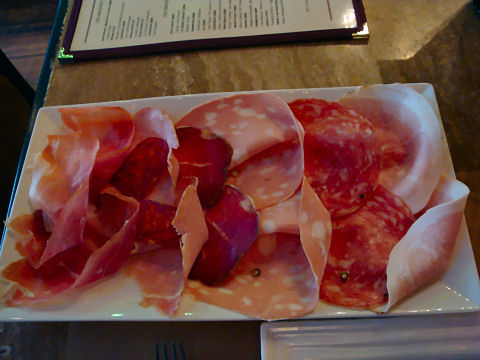 In short order my sampler plate arrived, a couple of slices each of seven different meats, from the ethereal parmacotto, which is likely the best slice of cooked ham I've ever put in my mouth, to mortadella, arista, various salami and sausage slices.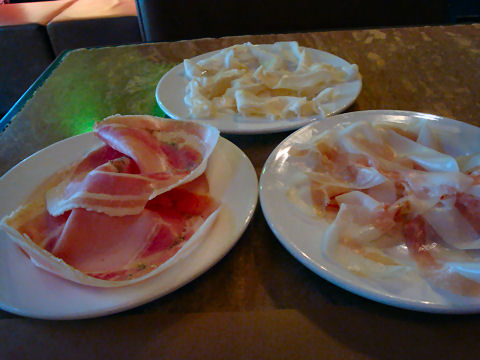 But there were also plates of guanciale, lardo, and porchetta toscana…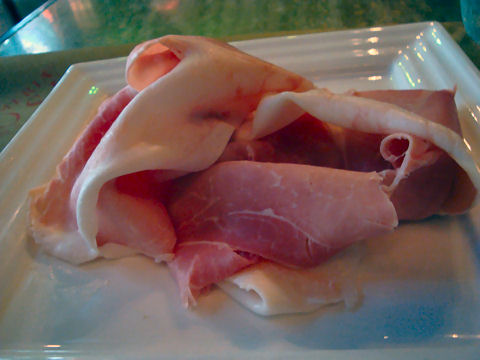 …and the truly amazingly flavored hand-massaged culatello.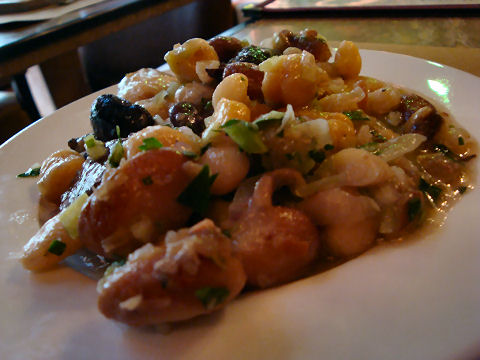 And, his famed seven bean salad.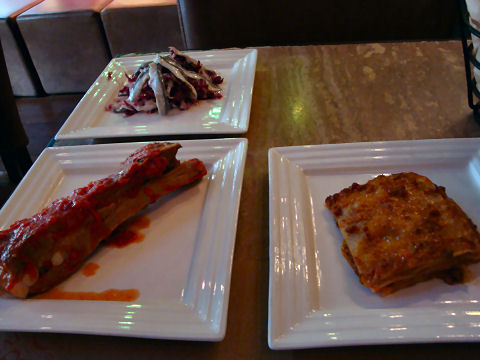 White anchovies over red cabbage, a mildly spicy barbecued rib, lasagna…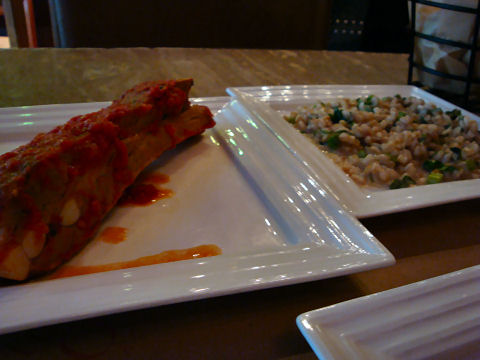 Farroto – a wheat grain dish flavored with parmigiano and asparagus.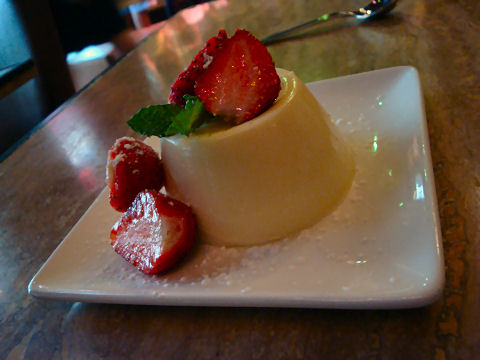 And two desserts, only one of which got itself photographed, the lemon panna cotta with fresh strawberries, and an amazing semifreddo with hazelnuts.
And just to remind you, I was lunching by myself! Porky goodness, indeed. I'm feeling like Adam Richman by the end of the meal… MvF… and a truly special thank you to Cesare for the opportunity to try it all, regardless of what it did to my appetite for the rest of the day, and for making it a gift for my visit. Come to think of it, to this point, I'd been someone's guest at all three meals so far in town….