New York City – I have had a connection with chef Cesare Casella, of Beppe, through a couple of friends who have managed the restaurant since its inception, and he's become a friend of mine as well. He's been talking for the last year about opening his own place and making food that is a little more "comfort" level – what he calls Tuscan Cowboy food. Tuscany, and more specifically the area of Maremma, was, and to a certain extent still is, the wild west of Italy. Although he maintains his position as executive chef at Beppe, his focus is clearly now at the aptly named Maremma, which has recently opened at 228 West 10th Street, former home of the piano bar 88s. [This place has closed and Cesare has moved on to open Salumeria Rosi.]
When reviewing a friend's restaurant, there's a need to balance the desire to want to like everything with both a critic's eye and the urge to tell your friend just what he's doing wrong. After all, it's going into print, or at least out onto the internet. We tasted through a range of dishes, both appetizers and pastas, and followed them up with desserts. I'll talk about each, but I culled through the pictures to pick out a couple that I think are representative. The restaurant overall has a comfortable feel to it, with lots of light wood and bold colors. There's a long bar just past the entrance, followed by a miniscule dining room at the back near the kitchen. The larger dining room is up a level, and is graced by four skylights… a slight oddity only in that Maremma isn't open during the daytime… except now for Sunday brunch. There are just a tad too many steers horns gracing the decor for my personal tastes, even if that does fit the cowboy them, but then, one would be too many.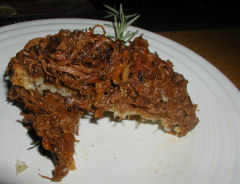 The menu is pretty straightforward in terms of the actual content. It tends towards slightly upscale takes on rustic Tuscan fare. The descriptions are great. The titling tends towards what I want to call whimsical, but instead reminds me of something that might pop up at a theme restaurant in an amusement park. And so, we began our meal with a trio of appetizers that were listed as Coyote, Jack Rabbit, and the oh so wrong Sloppy Giuseppe (pictured here). The first of the trio is made with an unusual pasta called testaroli – essentially a very thin crepe that is cut in wedges, and then simmered in either water or the sauce it is to end up in. This causes it to bubble up a bit like a sponge. It's an odd sounding pasta, but it's damned good, and at Maremma it's topped with a fresh basil-walnut pesto.
The Jack Rabbit is a simple loin of rabbit that has been cooked to medium rare and is served atop julienned radicchio. The rabbit is good, but it clashes a bit with the cold shreds of salad. I think I'd have liked it better with something like grilled radicchio. The Sloppy Giuseppe is, as you might surmise, a take on that old Key West classic (made famous by the Manwich folk), the Sloppy Joe. A large part of the charm of a Sloppy Joe is that it's sloppy – soft bread, a filling that's oozing all over the place. At Maremma the filling is replaced by spicy barbecued rib meat and sits on toasted bread – essentially a bruschetta. The spicing and flavor is fantastic. It's missing the sloppy. The filling needs to be juicier, the bread needs to be softer – maybe stuff it in a foccacia…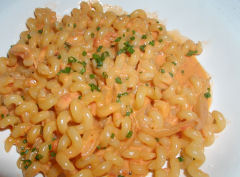 We moved on to a couple of pastas – Moonshine and Tumbleweed (aren't those Frank Zappa's kids?). The first was a dead on perfect dish of fusilli (corkscrew) pasta in that old favorite, "a la vodka" sauce. Except at Maremma, the vodka is replaced by bourbon, which adds a whole new dimension of flavor to the dish. Absolutely delicious! The Tumbleweed fared a bit worse. I wasn't clear what the cowboy connection was, but essentially it was "Tuscan spiced" pork ragu over spinach fettucini. The pasta was limp as could be, the Tuscan spice mixture was dominated by enough allspice to clear sinuses at 10 paces.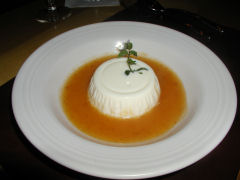 We'd had enough food, so it was time to sample some desserts. Thankfully, the desserts do not come with whimsical names – in fact their isn't a written dessert menu. Maremma has the waiter recite the dessert selection to you. We ended up trying three. The mint pannacotta with peach sauce sounded delicious to me – I'm a big fan of mint and peaches together. Unfortunately, the mint was a bit overpowering. The mascarpone cheesecake was light, fluffy, and flavored right, though the accompanying "caramelized banana topping" consisted of four paper thin crunchy banana slices. The chocolate and espresso semifreddo was fantastic. Flavors perfect, great texture. But then, how can you screw up chocolate and coffee?
I have to admit, I enjoyed my dinner at Maremma quite a lot. It's a nice, casual take on some of the similar food over at Beppe. The setting is more relaxed, and hopefully, for their sake, the whole menu thing won't be a deterrent for folks coming in and checking the place out.
Wine for the evening: I Campetti "L'Accesa" Malvasia de Toscana, 2004 – I've liked this wine since I first tried it half a dozen years ago. It's got all the great minerally notes and fresh peach flavors that I like in Malvasia without some of the cloying perfumey notes that creep in in many versions. Crisp, clean, and perfect for a hot summer evening.
A final note: Happy Birthday to Me! (And, I found out last night, I share a birthday with my lovely and talented friend Mario Batali… So, Happy Birthday to him as well! I think I'm older…).