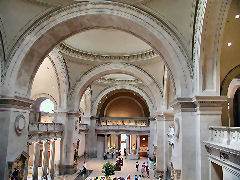 New York – It has been a whirlwind of activity the last two weeks here, and now it draws to an end. The SuperShuttle will be here in a few hours to whisk me away to the airport, and it's off to home, hearth, and Henry. The first time I came back for a visit, last September, I had barely been gone from the city, and nothing had changed, it was if I'd just not seen my friends for a short while and life more or less resumed it's normal pace and feel – I had numerous bits of business that I hadn't concluded before leaving that needed completion, so I was busy. The second time, back at the beginning of January, I was here specifically to finish training, test for, and receive my blackbelt in Kenpo. This time, it was truly vacation – I had no preset plans, nothing that needed to be accomplished – it gave me a chance to relax, visit with friends as they were available, and see New York through fresh eyes – colored by the experiences of the past year.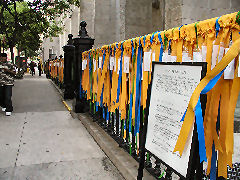 For me, it was in many ways, quite enlightening. The general level of stress, rapidity, and unease is something that over a 23 year period living here, I just got used to it. It pervaded daily existence and was, virtually, unnoticeable. The sort of thing that I'd remark on after returning from a week's vacation and forget about an hour later as I took things back in stride. It truly amazes me, in many ways, the adaptability of human beings to their surroundings – my bet is that if someone were to pose a fictional environment with the parameters that are Manhattan, no one would believe it. The noise, the rush, and the expense certainly stood out, the latter highlighted by several newspaper pieces this last two weeks on how unaffordable NYC has become for anyone but the most wealthy; not to mention the dent it put in my credit cards – I ate nowhere "fancy", yet easily spent more over these fifteen days than I have in the last several months back home. What passes for being poor here would seem like endless wealth to many of the people I've spent time with over the last year.
I'm sure I'll be back. I have too many friends here, too many connections, not to. But this is the first time I can truly say I won't miss it, and I don't wonder if the whole thing was a colossal blooper on my part. New York played its part in my life, and I in its, but it's time to sever the ties and move on with my relationship to my newly adopted city.
A bit of a roundup of the last few days of zipping about:
Above, photos of the main gallery at the Metropolitan Museum of Art, where I spent several hours wandering the halls, getting up close and personal with the artwork. It's a magnificent collection, and it's a wonder to come around a corner or enter a new gallery and spot a painting or sculpture that you've read about or heard about, and suddenly find yourself face to face with. I was surprised to find that photography is allowed throughout the museum, sans flash, but they have no problem with folk snapping away or videoing. Interestingly, the only exception was a special exhibit of English fashion – the classic and the catastrohpic. Also interesting after visits earlier this year to the Museum of Modern Art, and this trip to the Frick Collection, that the Met's entrance fee is completely optional. The other photo, the railing that surrounds the Marble Collegiate Church in midtown – draped with yellow ribbons (and some green and blue) for those currently serving overseas in Iraq.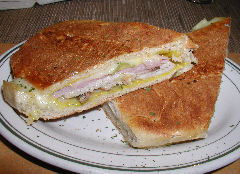 I couldn't just accept that the cuban sandwich I reviewed the other day at Green Kitchen was the best in the city. There are too many other contenders, including the much rumored one from La Rosita on the Upper West Side, which I didn't get a chance to try. This is from my old "standby", Havana Central, 22 East 17th Street, off Union Square. Good empanadas – including some interesting ones like the filling of a cuban sandwich inside a deep-fried version, a spicy beef picadillo, and a delicious chicken sofrito. The sandwich itself is different in many ways from the one at Green Kitchen. Havana Central's has less roast pork and more ham, more pickles, and more cheese. It's served on a classic pressed and buttered bread. It's served with a bottle of habanero pepper hot sauce. Pluses and minuses, a tough call, leave it up to the neighborhood you find yourself in.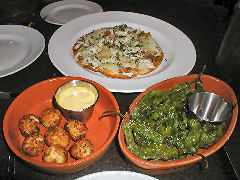 One of the newest additions to the roster of venues in the huge B.R. Guest restaurant group is Barça 18, 225 Park Avenue South, in the Gramercy Park area. With a Barcelona inspired menu that is put together with the partnership of famed chef Eric Ripert (Le Bernardin), this place has all the makings of a hit. The food is delicious – we sampled delicate salt-cod fritters with garlic mayo, blistered grilled peppers, a coca, or small pizza, of crabmeat and vegetables, perfectly grilled tuna and asparagus served with romesco sauce, and a wonderful lobster salad. The room feels open and airy, with earth-tone colors, though strange murals on the walls that seem to have little to do with the theme. There's a bit of a soccer bent to the whole thing – and not just because it's World Cup week, but I'm told that Barca 18 is named after Barcelona's soccer team – though I won't swear to that. The New York Times reviewed it half a year ago giving it a mere 1-star, with criticisms of some of the cooking, the loud pounding music, and the attempt to blend casual tapas with a formal service style and garb (to quote Frank Bruni – "black turtlenecks, egad!"). Possibly Steve Hanson, the restaurant genius behind BRG, was paying attention – the cooking is dead-on, the music, while still modern and with a beat, is subtly in the background (though, we were there at lunch), and the servers are dressed in gold soccer shirts. Of course, the latter might just be a paean to the World Cup… [Closed]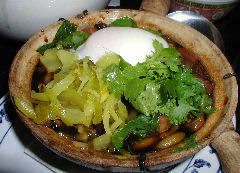 If you name a restaurant Fatty Crab, 643 Hudson Street, West Village, will the foodies come? Especially if the chef and owner has come from a place called the Chickenbone Café? Well yes, and, it turns out, especially if the chef, Zak Pelaccio, comes from the Chickenbone Café, a Williamsburg hotspot that was one of the key draws to that neighborhood's food scene. Zak has an intense love affair with intense flavors, which, if what I've heard is true, seems somewhat missing at his other venue in Manhattan, 5 Ninth (other than, I'm also informed, a "killer cuban sandwich"… now I have yet another one to check out on some future trip). But, we're back to the chef, and in this case a mere rising pup of a chef, good as he is, trying to oversee the kitchens of more than one restaurant. Luckily, he's got a good, solid kitchen crew at the Fatty Crab, and they're churning out flavorful reinterpretations of classic Malaysian dishes, with good results. Finger-licking good spicy barbecued chicken wings, an amazing watermelon pickle and crispy pork (more or less huge cubes of bacon, deep-fried) salad, black-peppered mussels flavored with garlic and onion as well, this dish of lo si fun – rolled rice noodles with shiitake mushrooms, chinese sweet sausages, and herbs. The only miss, the beef rendang – a bit of fatty and bony short rib meat covered in too much dried coconut, and not enough spice. The room – all expenses spared on decor – minimalist and dark would be an overstatement. I do like the strange spinning ceiling fans… but, forget the room, just go eat!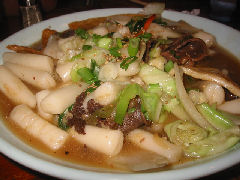 In the east 30s, is of course, the area known as Koreatown – home to many a Korean bbq joint or late night hang out. Over the years we've sampled many of them. One of the newcomers on the strip, Kun Jip, at 9 West 32nd, is touted by many as the most authentic Korean food in Manhattan. A group of us headed there a few nights ago, prior to heading off to a rollicking performance of Broadway Bares. The selection of dishes was left to Andy, our Korean maven at the table, and he quietly discussed the menu with the waitress and we soon found ourselves surrounded by a dozen or so dishes, many of which I've never seen before. Rumor has it that you get better food and better treatment if you're with someone Korean, as we were, or if the owner recognizes you as a regular, a couple of the folk at our table had that distinction. Hard to say, I'd have to go back and try it incognito, so to speak. The food – amazing. I tried things I've never tried before – wraps that were wrapped in sesame and pumpkin leaves, an array of sauces that ranged from sweet to fiery, this dish of rolled rice noodles (remarkably similar, but bigger, to the ones used at Fatty Crab – and I've never seen them before these two places), here topped with barbecued beef and vegetables. All around yum. The place is packed with Korean 20-somethings, all having a good time, which I think, is a good sign.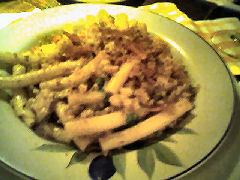 Okay, now I know this rolled noodle thing is the current "in" trend in Manhattan. At Beppe, 45 East 22nd Street, Gramercy Park, it may not be rice noodles, but it's still rolled up noodles about the size of a fat cigarette. A year ago, there was concern on the part of many that Beppe would lose its way and flounder, when founding chef Cesare Casella left to open Maremma. Thankfully, the concerns have proved unfounded, and new chef Marc Taxiera has taken over the kitchen, and the menu, and made it his own. He smartly kept several of the long time favorites on the menu, but has added his own selections. This noodle dish is an example (sorry about the photo – only had the camera on my phone with me) – the rolled noodles tossed with meltingly tender cauliflower that's been roasted with anchovies, fresh parsley, and shavings of bottarga (dried tuna roe). Simply delicious! [Closed]