"[T]he diversity of the people, the landscape and the history — occupied or colonized by the Chinese, the Spanish and the Americans, with Mexican influences from the Acapulco-Manila galleon trade — is reflected in the haphazard etiology of the food. The cuisine can seem a jumble of indigenous fruits and fishes, with calamansi limes and bottles of vinegar that spike the stews and soups. Many native dishes trace to Indonesia and Malaysia (biko, suman), others are fused with the traditions of China (lumpia, pancit), Spain (escabeche) or Mexico (the trade routes brought tamarind, chiles and chocolate), coupled with the military legacy of America (hot dogs, spaghetti and Spam).

– Amy Scattergood, LA Times
A last dinner writeup before I start in on my week-long New York adventures – our celebration of Philippine Independence Day at Casa S this last weekend. This time, unlike the last, I didn't get all the negative vibe about the food in advance – that's a step in the right direction!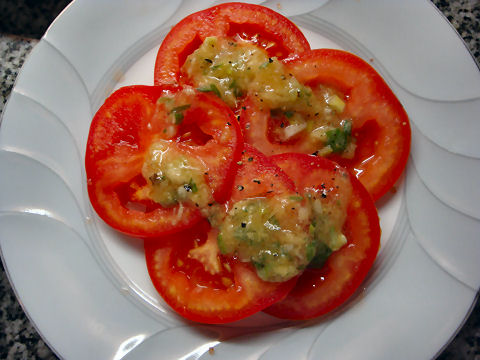 Inspired by a traditional tomato dish called
sawsawang kamatis
, a simple tomato salad with a dressing of ginger, green onion, green mango, dried shrimp paste, salt, pepper and a little olive oil.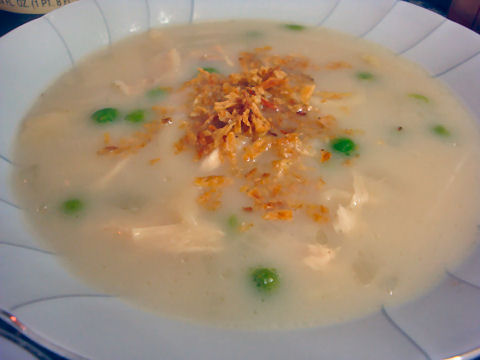 And, from the traditional soup/stew, chicken binakol, a rich chicken and coconut soup – first made a white chicken broth, then added coconut milk and fish sauce, the shredded chicken from the one used to make the broth, onions, garlic, ginger, peas, and finished it with fried shallots.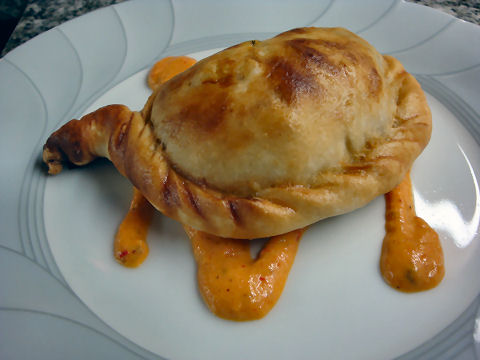 Setting aside the origins of
sauce ravigote
in France with its shallots, herbs and mustard, at some point it migrated to the Philippines where apparently it became part of a dish called
prawn ravigote
that bears little, if any, relation to that sauce. Instead it is a grilled prawn that's been split open and stuffed with an herb mayo, chopped celery and sweet pickles, and served up as a canape, more or less. I took the idea further afield, filling empanadas with sauteed shallots, shrimp, sweet potato, sweet pickles and celery, and then cooled that and bound it all with a bit of mayo made with tarragon vinegar, and a mix of chopped herbs. The sauce is a spicy roasted red pepper and chili sauce.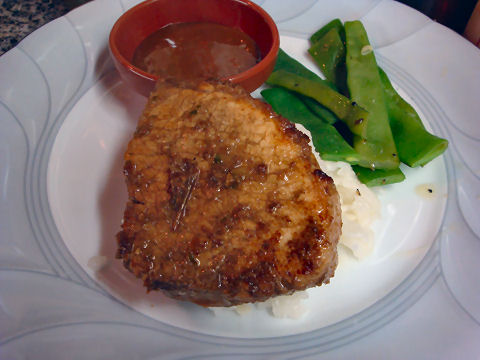 On to a favorite dish, though presented differently, pork saté. The pork loin sliced and marinated for 5-6 hours in a mix of lemongrass, ginger, chilies, shallots, brown sugar, lime juice, coriander seed, salt and oil. The spicy sauce a mix of peanut butter, soy sauce, chilies, brown sugar, lime juice, rice wine vinegar, ginger, garlic, and enough water to smooth it all out. Butter sauteed green beans on the side.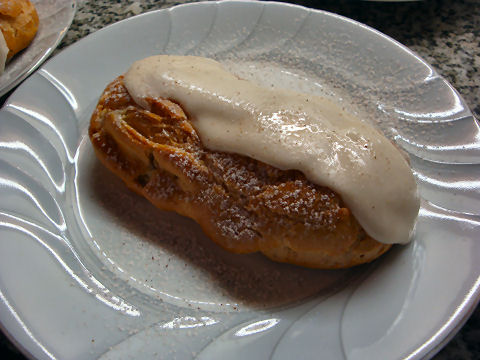 For dessert, inspired by several caramel desserts, I made eclairs that were filled with a mix of dulce de leche and mascarpone, both homemade, then topped the eclairs with vanilla glaze and five spice powder.
All in all, a successful dinner!