"Filipino cuisine could easily be the original fusion cuisine. After all, more than 400 years of Chinese, Hispanic, American and various other influences have blended together in perfect harmony for a very individual, very unique cuisine that is simply sarap (delicious)."

– Datin Hjh Zainah Bujang, General Manager of the Sheraton Utama Hotel.
Buenos Aires – In nearly three years of Casa SaltShaker dinners I don't think I've had such a contentious response as to this last weekend's dinners. Apparently, Filipino cuisine, or the idea of it, inspires quite a reaction amongst many diners. I received several e-mails from people who wanted a reservation at Casa S, but found the idea of our theme anything from "unpleasant" to "completely unacceptable." More than one person informed me categorically that they "don't like" or "hate" Filipino food. Really? All of it? What about the cuisine is it that you don't like? One woman even responded to my query (more politely worded) that she'd never tried it, but was flat out certain that she wouldn't be able to stomach it.
Now, having spent a good portion of my adult life in the East Village in NYC, home to several Filipino restaurants, one of which was where I spent Sunday brunch probably twice a month for many years, I don't get it. I have no idea what it was these folk think the cuisine consists of. I've mentioned in these posts having lunch a couple of times at Grill 28 in New York – and sure, we had dinuguan, a pork liver and blood stew – but is that any further off the charts than, say, a morcilla sausage is here in BA? We also had vegetable springrolls, chicharon (which is a common enough dish in Latin American cooking, or chitlins in the U.S., braised pork belly, and shrimp and green beans in coconut milk. There's a whole lot of variety in the cuisine – and even for folk who might be worried that we're going to serve something "weird", let's see – we've served pasta with intestines at sold out Italian meals, veal tongue at Romanian dinners, lamb's tongue at our Doctor Who dinner, sweetbreads at more than one event, kidneys, heart, gizzards… from various animals – it's worth remembering that we serve dishes "inspired" by various cuisines, not necessarily traditional dishes.
Still, it was a visceral reaction from potential customers that was surprising. On to the food, and what they missed….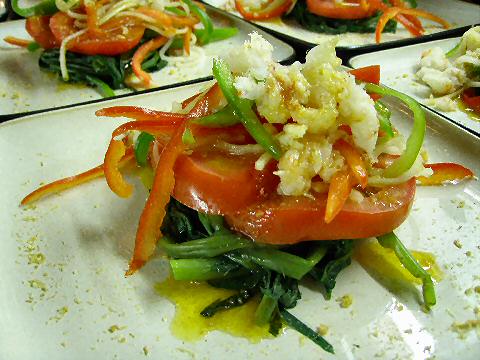 We began the evening with a tomato and water spinach salad. The latter green is not a well known one outside of Asian cuisine, sometimes called convulvus, other times empty heart vegetable because of its hollow stalks. It has a texture and flavor similar to spinach, though it's not related – here I simply blanched and shocked it (the stems are a little tough to eat raw), then coiled them under slices of fresh tomatoes, topped with a salad of finely julienned green and red bell peppers, daikon radish, and chopped shrimp, then sprinkled with dried shrimp. French dressing is popular, apparently, in the Philippines, and my own version of it – red wine vinegar, olive oil, sweet and hot paprika, roasted garlic, salt and pepper – drizzled over the salad seemed to go over big.
From there, I'd looked at a "chorizo and bread soup" – but the recipes and descriptions I found seemed a little anemic… or just not quite what I wanted – simple beef broth with sliced onions, sliced chorizos, and croutons atop. Instead, I made a panade, a slow cooked bread and caramelized onion soup that I've made made many times before – with a twist – I pureed the soup without the onions, leaving them as a textural component, and then sauteed three kinds of chorizos – loganizas, cantimpalos, and candelarios, drained them, and added them to the soup. Cooked them all together for another half hour or so to meld the flavors.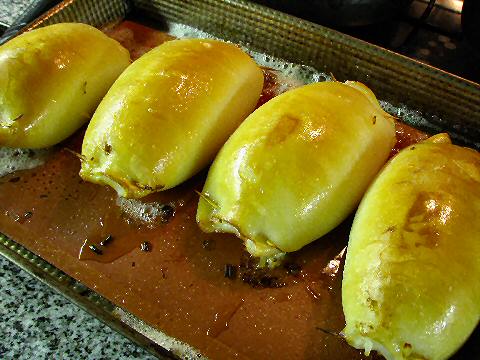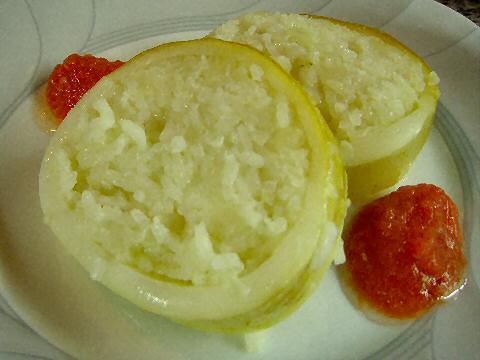 This was my favorite dish of the evening. It just turned out as I imagined it would. The original dish called for small squid to be stuffed with rice, garlic, onions, chilies, and tomato, and then charcoal grilled. I had this sort of white on white vision of the dish instead – I filled large squid (roughly 8-10″ long) with a mix of partially cooked jasmine rice, garlic, onion, and water chestnuts, then broiled them in the oven until they were a glistening, golden brown. I sliced them, and served them with little spoonfuls of hot sauce made from equal parts tomatoes and jalapeños with a splash of lime juice and salt for zip. Also on the table were cruets of garlic vinegar, a common accompaniment with Filipino food, and it really added a nice touch to the dish.
The main course, a simple, hearty braised bondiola, or pork shoulder, in a blend of soy sauce, garlic, bay leaves, onion, tomato, sugar and salt. I braised it for about 5-6 hours, until it was so tender it was falling apart, then sliced it and served it with potatoes that had first been boiled, then sliced and broiled with some olive oil. A little of the reduced cooking liquid from the pork over the top and we were all set.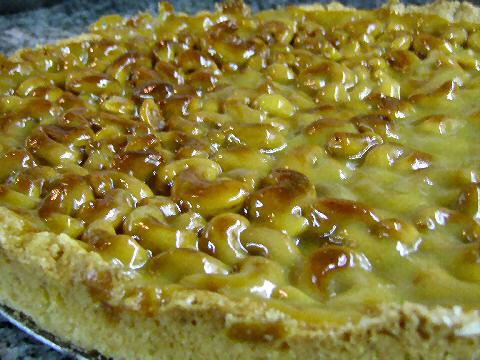 For dessert, a non-traditional, at least for the Philippines, cashew tart. Most of the recipes called for a custard style tart – I decided to emulate the wonderful Swiss walnut tart, without its top crust, which is quite similar to, say, a pecan pie. The dough a simple flour, sugar, butter, and egg yolk crust, pressed into the bottom of a springform pan, the filling a mix of caramelized sugar, lemon juice, vanilla, cream, butter, and, of course, the cashews.
Need I say anything more about Filipino inspired cooking?