"France has more need of me than I have need of France."

– Napoleon Bonaparte
I realize that the majority of my posts over the last couple of weeks have focused on Casa S and my pastry classes – it's not that I'm not getting out and doing other things, but I've been using a borrowed camera until I get my own replacement for the one stolen, and I'm being, perhaps, overly cautious about taking it with me when I'm out of the house since it's a particularly expensive one. I'll have my new one as of later today, so, back into the streets!
So, Napoleon's "100 Days" began 195 years ago this last weekend, and it seemed as good a time as any to head in a vaguely French direction, though in the end, I went a bit Italian with things as well.
Le Bonaparte is a double cream cheese that is particularly delicious. In style it is similar to Brie. Here in BsAs, I wasn't going to find the former, but the latter, and decided on a simple Brie tart, using a mix of goats' milk Brie and my own homemade cream cheese. I'd note, by the way, that the pastry class is having its effect – the tart shell came right out of last week's class and is a definite improvement on my past efforts, though I can see it's a matter of practice with this technique. A few sprigs of watercress dressed with a pecan vinaigrette on the side complete the plate.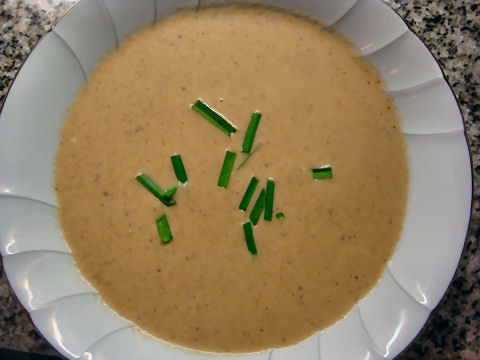 There is a famous story about Napoleon as a young lieutenant, at his favorite cafe, Le Procope, finding himself short of cash, he left his military hat in the care of the maitre d' until he could return with payment. Le Procope still exists and is known for various dishes, including, I gather, though I've never tried it, their Mushroom Velouté, a thick, rich, creamy soup. Here I cooked shallots in butter until soft, then added chopped white button mushrooms and dried porcinis to the pot, along with fresh thyme. Cooked that down until the mushrooms had given up most of their water. Added a double shot of port and let it cook until absorbed. Then topped off with freshly made brown chicken stock, a splash of wine vinegar and a little sugar. Let it cook until the flavors were well developed. Pureed the soup, added a little cream, and served. It was a great match with some of Jofre's Gran Chardonnay 2004 which I was able to pickup at a Winery liquidation sale last week – delicious!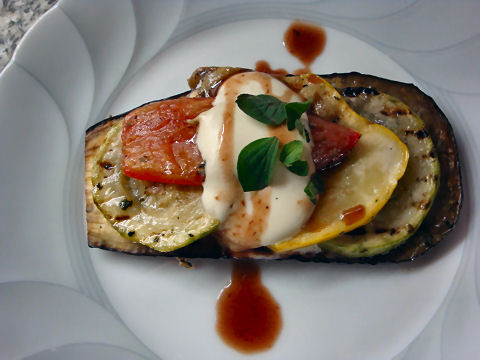 What's a Napoleonic dinner without a napoleon or two? In this case, a simple one of grilled vegetables – eggplants, green and yellow squashes, and tomatoes, all marinated for a couple of hours in olive oil, garlic, dried peperoncino, oregano, salt and pepper, then grilled and set aside to cool. When cool, I placed the eggplant on a silpat, put a dollop of fresh goats' cheese on it, then a lineup of the squashes, a wedge of tomato, another dollop of the cheese, and, about ten minutes before serving, put them into a hot oven. Drizzled with fruit vinegar and a couple of oregano leaves to finish.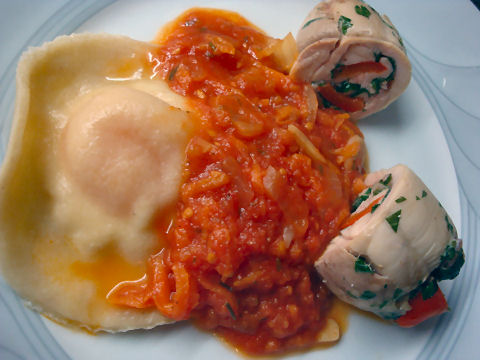 I have made Napoleon's purported favorite post-battle dish (story on the second link following), Chicken Marengo, in a fairly classic presentation in our Piemontese classes, and I have made it once for a Casa SaltShaker dinner, still classically made, but presented in a pretty little tower. This time, I decided to simply go with the inspiration of the ingredients and come up with something… different. At its core, chicken, tomato-wine sauce, shrimp, egg, fried bread… What to do, what to do? It came in a flash, at least minute, as I'd just the day before had a class with a group of visitors and showed them how to make arrolladitos de pollo, the chicken version of the matambre casero here – a roll up of chicken breast stuffed with vegetables and, generally, hard boiled eggs. Here I took chicken thighs, butterflied them, coated them on the inside with parsley, garlic, salt and pepper, then a layer of spinach leaves, some julienned red bell pepper, and shrimp. Rolled those up, wrapped them in plastic wrap, tied them, and then poached them for about 40 minutes just before serving – removed them from the plastic, sliced them and, onto the plate. The sauce, a simple Sardinian inspired sauce of plum tomatoes, carrot, garlic, onion, thyme, and a little wine.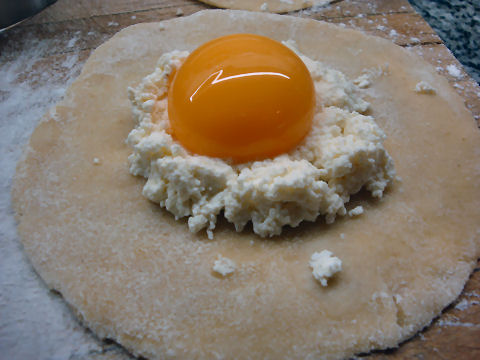 This was the fun part – the egg. I decided on something I haven't attempted in many years – egg yolk ravioli. A basic semolina pasta dough, rolled out in rounds. A scoop of freshly made ricotta seasoned with salt and white pepper. Make a little depression in the scoop and carefully place an egg yolk into them. Wet the dough slightly, seal it with delicacy so as not to break the yolk. Then cook normally for ravioli in a pot of boiling water. Here are the tips, rediscovered after playing with it. One, you really want to go as minimal time as you can get away with so as to just cook the pasta to al dente and still leave the yolk running but hot. In order to do that, two things – make the dough as thin as you can get away with; and, make the ravioli as close to the time you're going to cook them as possible – the longer they sit, the drier the pasta gets and the longer it takes to cook, resulting in a yolk that is more firmly set. It takes practice, and although most of them stayed runny, I noted that several of them, particularly the first night, were firmer than I'd have liked.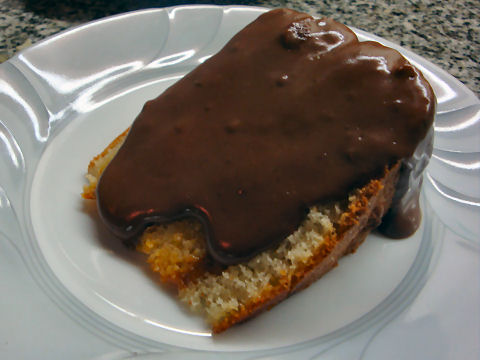 And, continuing on practicing my new pastry techniques, a bizcochuelo (sponge cake – or genoise), here layered with dulce de leche and apricot jam and then topped with hot fudge sauce. Just to see what it looks like under the scoop of fudge…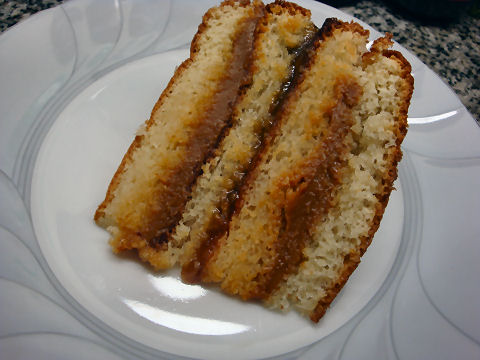 Here you can see the layering – oh, and the sponge is soaked with an almond liqueur syrup.
And that's the roundup of Napoleon's 100 Days Dinner, perhaps not quite an emperor's feast, but worthy of our table!