Girl Scout: Is this made from real lemons?
Wednesday: Yes.
Girl Scout: I only like all-natural foods and beverages, organically grown, with no preservatives. Are you sure they're real lemons?
Pugsley: Yes.
Girl Scout: Well, I'll tell you what. I'll buy a cup if you buy a box of my delicious Girl Scout cookies. Do we have a deal?
Wednesday: Are they made from real Girl Scouts?

– from The Addams Family movie
No, I haven't switched teams, let's just be clear on that. Last weekend here at Casa S we celebrated the near centennial of The Girl Guides, which in some places later became The Girl Scouts, and I know you've all just been holding your breath and turning blue waiting to find out just exactly what it was that we did for such a dinner. Marshmallows on a stick? No, but we were on that track. The internet, as we all know these days, is both a vortex that draws you in and consumes your time and energy, but it's also a source of amazing little tidbits of information – like recipes and scans of pages from old Girl Guide and Girl Scout cookbooks. And therein lay the source of our menu….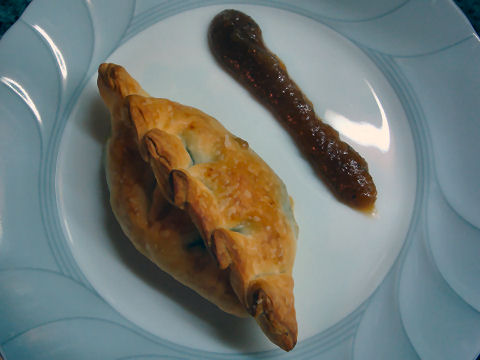 I started from something simple – hey, we even did this in the Boy Scouts, not exactly a group known for their cooking skills – we used to take the dried fruits from trail mix, plump them up in a little water, wrap them in bacon, put them on a stick, and roast them over a campfire. You can, of course, see how that morphed into an empanada filled with apricots, prosciutto and swiss chard in a bechamel sauce and then served up with a spicy fig and chili jam, right?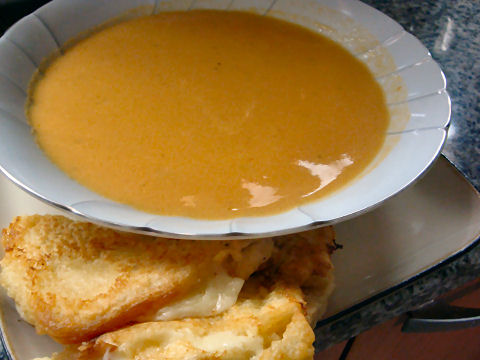 Every Girl Guide way back when knew that lunch was a bowl of cream of tomato soup with a grilled cheese sandwich – the former out of the familiar red and white can. I went with my favorite tomato gin soup, though I've taken to roasting the tomatoes before they go into the pot which gives this even more flavor, and then accompanied by mozzarella en caroZza – little crustless white bread sandwiches with mozzarella, dipped in flour and then beaten egg and fried – the precursor to mozzarella sticks.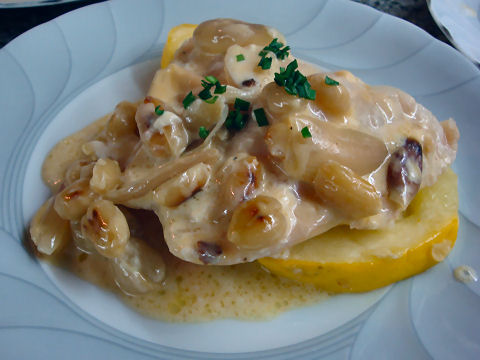 This, I have to admit, was my least favorite course, yet, from the responses I got from people who attended the dinner, it was, other than the dessert, the favorite course of almost everyone so far. One of the cookbooks from the 50s had a recipe for creamed onions with peanuts and suggested pairing it with baked fish. I made creamed shallots and peanuts – basically caramelized the shallots in butter, then added flour and cooked it to make a blond roux, added toasted peanuts and some milk and cooked until thick. Let it cool. Then in foil pouches I put fillets of grouper with a splash of white wine, over slices of yellow squash, topped them with the creamed shallot mixture, closed them up, and baked them. It was good, but I found it a little too heavy for my tastes – and reminded me of something from the late 50s/early 60s home-ec sort of cooking, something that was probably better left in that era. Apparently retro is in.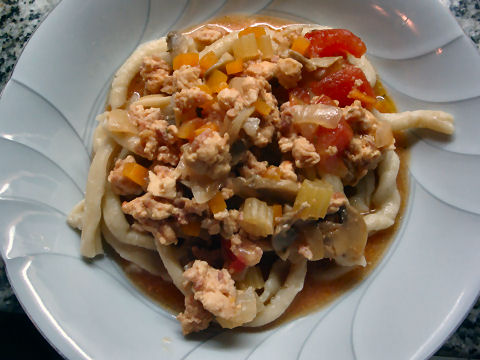 Another edition of the cookbook offered up spaghetti bolognese, but recommended making it with chicken. I won't go into the horrors of the stated recipe… okay, I will – it was diced chicken with cream of mushroom soup, some canned tomatoes and some dried herbs, and that was about it – not exactly bolognese sauce. I used my standard bolognese recipe but substituted chicken in for the veal and pork. It came out okay, but chicken is blander than those meats and it needed more zip to it, which I did on the second night, and it still needed more. I'll stick with veal and pork. Oh, and instead of spaghetti, one night I made hand-rolled pici and the other pappardelle.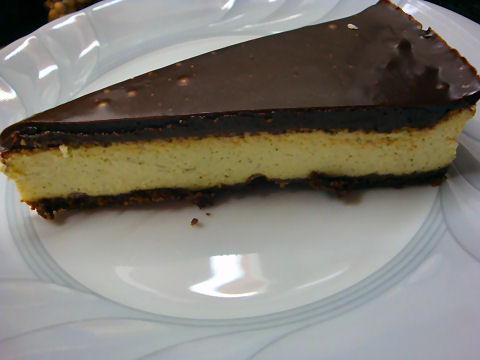 No question this was the hands down favorite of pretty much everyone at the dinner. A Thin Mint cheesecake – I mean, for most people, that's the defining Girl Scout cookie, right? (Personally, I like the Samoas best….) They make up 25% of the cookie sales after all. So, a dark chocolate cookie crust, a fresh mint and cream cheese filling, and a bittersweet chocolate ganache atop. What's not to like?