"Too few people understand a really good sandwich."

– James Beard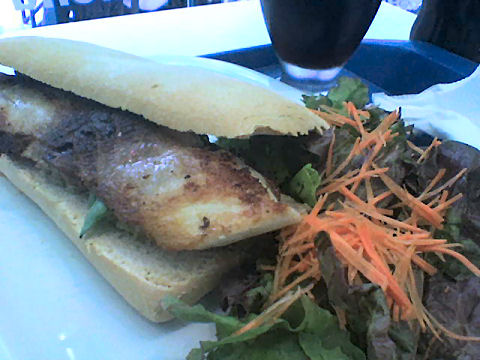 Growing up in the midwest, lunch was virtually always a sandwich. Even to this day I tend to prefer that for lunch, regardless of whether it's some basic comfort version like grilled cheese, peanut butter, or tuna salad, or something fancy like a club. In general, while I like sandwiches here, they tend to be simply bread flanked versions of very basic porteño dishes, like sticking a milanesa or a lomo onto a roll, and, of course, ham and cheese is ubiquitous.
So, it was a great pleasure to find Strobel's, Pasaje Carabelas 261, a small pedestrian walk right near to the Obelisco. It's a gleaming, new looking, sandwich counter. There are a series of high tables with stools – my goodness, shared tables in Buenos Aires! – and a counter where you can place an order, or, you can wait for a waitress to come around and take it. They offer a dozen sandwiches, each named after a major world capital – the fillings don't seem to necessarily relate to the name (the Sydney is chicken and mustard, the Roma is vegetables, the New York is steak and mushrooms, while the London is smoked salmon and cream cheese), but so be it – they describe them well.
And, having just tried one, I'll say it was delicious – possibly the best sandwich I've had in nearly five years here (well, maybe excepting the lomo sandwich at Rodi Bar). I tried the San Pablo – grilled pacú with black olive tapenade – sorry about the photo, only had the phone camera with me. At lunch, the place is packed – they're open from 8 a.m. until 5 p.m. only – they also serve coffee, some salads, and pastries – so you might have to wait for a spot to open up to sit – then again, a lot of folk seem to be local office workers who either grab a sandwich and take it to go, or wolf it down faster than I think I've ever seen Argentines eat. The prices range from mid-teens to mid-twenties for a sandwich, but they're big, filling, and come with a small side salad.