"Business is the art of extracting money from another man's pocket without resorting to violence."

– Max Amsterdam
You'd think given my penchant for a good sandwich that someone would have mentioned Café Paulin, Sarmiento 635 in Centro, to me at some point during the last five or so years. But to the best of my hazy recollection, the name hasn't passed into my ears. And what a shame, because this is a sandwich shop that's worth a visit just to watch, let alone eat. Long and narrow with a double bar alongside a narrow corridor in which stand the sandwichistas, this dimly lit (and more so as the power went out twice during the course of lunch), and somewhat dingy spot churns out sandwiches at a rate that should make the owners of Subway or McDonald's green with envy. Between those who've managed to grab a seat at the counter, those lined up out onto the street, and the constant ring of called in orders, at some moments it seemed like they were turning out a sandwich every two seconds.
Now, the sandwiches are pre-made, and heaped on platters, and you get 'em the way they make 'em. But there are dozens of varieties and they seem to have them all laid out for easy access – the most popular ones pre-wrapped to go as well as nekkid and ready for a plate, the less popular varieties grabbed and wrapped in a second. And priced reasonably, anywhere from the low teens to the high twenties, depending on your sandwiched desires.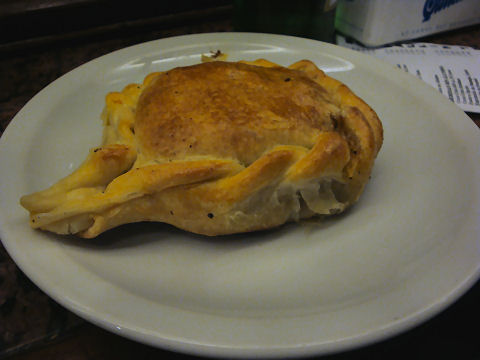 We decided to split an empanada to start. Now, generally, the concept of splitting an empanada wouldn't enter my thoughts, I can eat 2-3 of them before I consider my sandwich. But may I just point out that the plates at Café Paulin are roughly 8″ across. That's one big empanada. Unfortunately, it wasn't a great empanada – barely warm as it, like the sandwiches, is simply grabbed off a tray heaped with others – which also means that the crust tends to have steamed a bit, making it too soft. The filling was a sort of pasty unseasoned ground beef. Not exciting.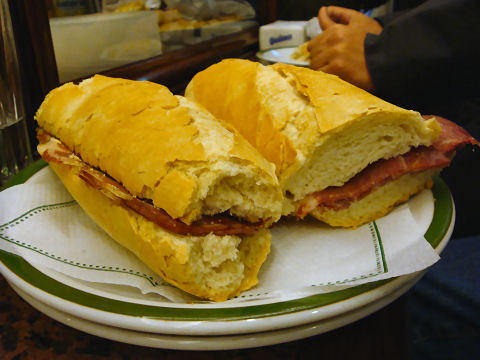 The sandwiches are generous in size, the baguettes, if you choose that as your bread (several options available) give you somewhere between a twelve and fourteen inch sandwich. And the fillings, while not always stacked high, are still plentiful. The bondiola, here, was not what we expected, being cured bondiola when we were hoping for juicy, carved slices of freshly cooked, but was still excellent. A tad on the salty side, but with the addition of mayo or mustard that saltiness immediately disappears.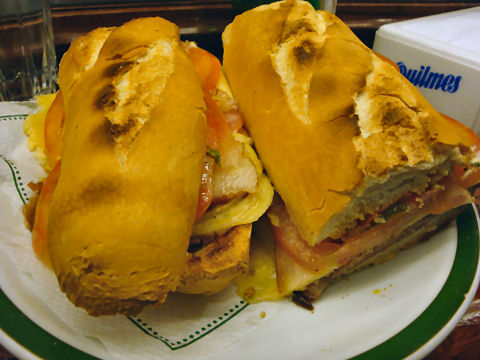 This, however, is the winner, and what Café Paulin is justifiably, as it turns out, famous for – the peceto completo. Peceto is what we would call "top round", here, juicy and beautifully seasoned, heaped on a sandwich, the completo being the most expensive option on the menu at 29 pesos, but stacked with lettuce, tomato, onions, cheese, and roasted green peppers. Absolutely delicious and quite possibly the best sandwich I've had in Buenos Aires – at least rivaling my previous favorites, the lomo completo at Rodi Bar and the San Pablo at Strobel's.
Worth a visit! And, by the way, to be checked out in the near future, the owners are also the proprietors of two neighboring restaurants, the very posh New Brighton and the casual Ital-Argentine Luciano, in the same building, Casa Cuyo.