So who knew that Trujillo had a beach? I knew the city was located on the coast, but somehow, I'd pictured it slightly inland. After all, when anyone talks about going to the beach, they talk about Huanchaco. Then again, Playa Buenos Aires is not much of a beach.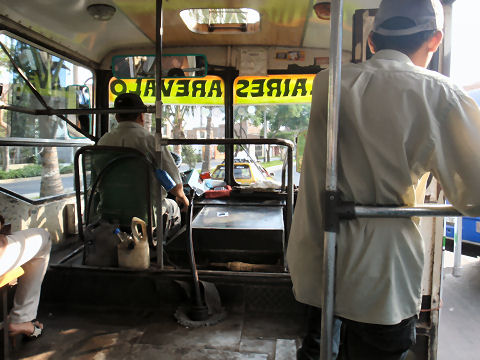 First, of course, is getting there – while one could take a taxi for about 20 soles, for a mere single one you can take one of the rickety micros, what look like short school buses, that roam the city in place of a true public transit system. Each has a driver and "conductor" who leans out the open door yelling out the destinations – the micro slows down, but rarely stops, unless there are lots of people waiting, the conductor leans out, grabs you by the hand and sort of swings you up and onto the bus. Henry's sister Violeta and I hopped on one and headed for the west…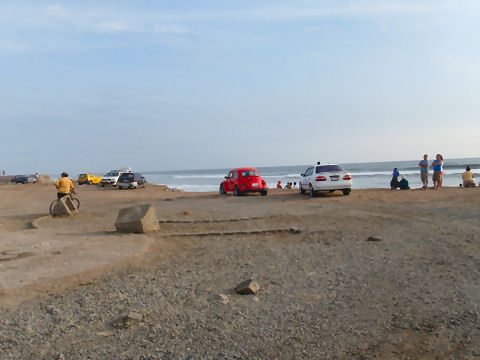 …and half an hour later arrived at the beach. The neighborhood is a little ramshackle and weatherbeaten, but so be it, it's on the ocean, right?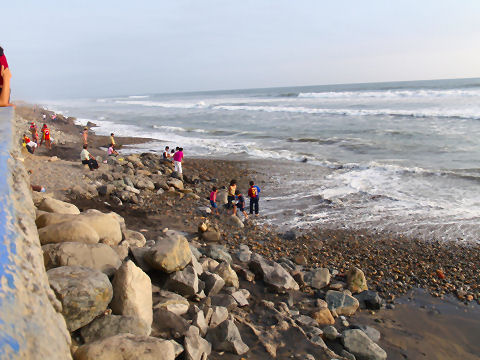 Though, it turns out, there's not much beach to the beach. Still, one could dip their tootsies in the water, no? We walked the concrete rambla for a bit, then hopped the bus back to the center of town and headed back to the house.
And thus, with little other fanfare or other things of note, concludes our wanderings to launch into 2010. We spent another day, mostly hanging with family and eating, then the following morning headed bright and early to the airport and the return flight to La Ciudad de Nuestra Señora Santa María del Buen Ayre and home.
And now, we return you to our regular programming….