"December 25 is the birthday of the Roman Sun God, Sol Invictus. Dies Natalis Solis Invicti means "the birthday of the unconquered Sun". The use of the title Sol Invictus allowed several solar deities to be worshipped collectively, including Elah-Gabal, a Syrian sun god, Sol, the god of Emperor Aurelian, and Mithras, a soldiers' god of Persian origin. Emperor Elagabalus (AD 218-222) introduced the festival, and it reached the height of its popularity under Aurelian, who promoted it as an empire-wide holiday. The festival was placed on the date of the solstice because this was on this day that the Sun reversed its southward retreat and proved itself to be "unconquered".

– Willie Boyd, CoinTalk
A quick wrap-up of our last dinners of the year, December 24th and 25th. Not surprisingly, given that so few places are open, we were inundated with requests for dinners, right up until minutes beforehand on both evenings. A couple of last minute cancellations on the 24th allowed us to go on down the waiting list, and with a false start or two, we did end up re-filling the night. Our theme pretty much left things open for what the menu would be, though I did try to make use of some of the most current seasonal produce.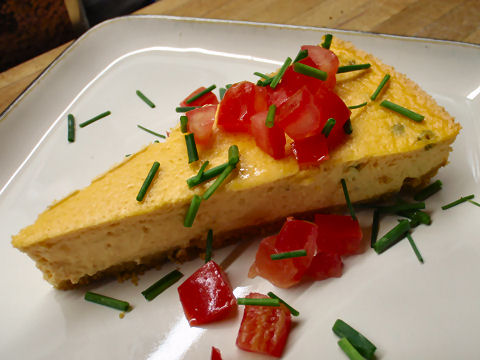 We started off with a smoky tomato cheesecake – my classic cheesecake recipe with a few modifications – a cracker and curry powder based crust rather than cookies and sugar – blended in some wood-chip smoked tomatoes in place of most of the milk that usually goes into it – and, a bit of smoked salt.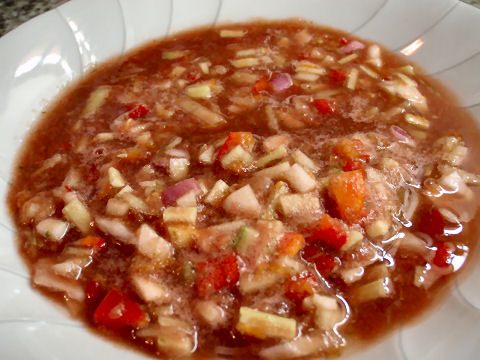 One of my favorite summer gazpachos – everything pretty classic except that watermelon fills in for the tomato. The base, a puree of watermelon, basil and red wine vinegar, and then filled in with finely diced red bell pepper, red and sweet white onions, and cucumbers, plus finely grated carrot and garlic. Salt and pepper to taste, and adjusted again after it's well chilled.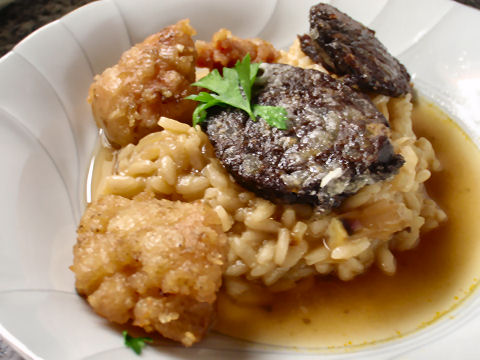 You might remember how much I liked the risotto dish at Moreno a few weeks back, and I've been thinking about how to make it my own. It's still not quite there, but turned out really well. I duplicated last week's caramelized shallot risotto, though blended in fresh goat's milk cheese instead of the yogurt – that part is golden. Prepped, blanched, and then crisp fried sweetbreads, and also sliced lightly dusted morcilla sausages with cornstarch and also fried them. Placed on the risotto and then a ladle of reduced chicken stock around it. The plus over the Moreno version – the risotto, creamy and al dente rather than just rice, plus I think, better flavored. The minus, no question he got the sweetbreads and the morcillas just a little crisper and they held together better. I'll be playing with this. Almost everyone ate everything too, despite some initial trepidation about both meats.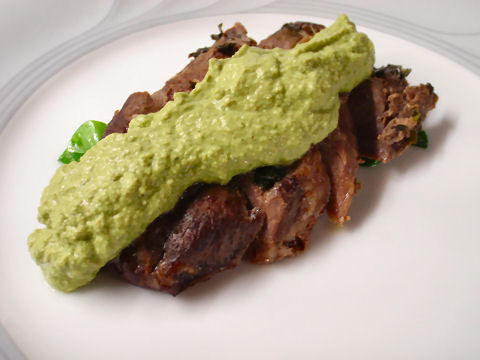 Simple dish – lamb loin marinated for several hours in olive oil, yerba buena, garlic, salt and pepper. Roasted in the oven to medium. Served over arugula salad dressed with olive oil and lemon juice. Topped with a pesto of green olives, walnuts, tarragon and orange juice. Slightly past the medium point on the lamb after it rested, but tasty!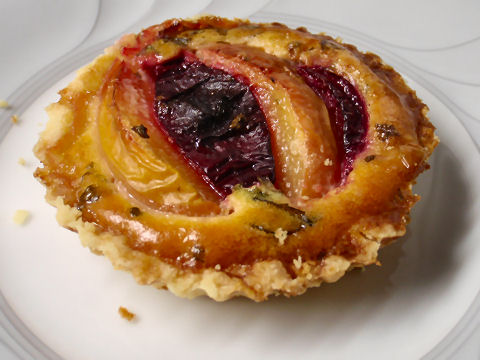 Individual tartlets of alternating wedges of nectarines and plums, filled in with a mint custard base. What more needs be said?