"Rarity gives a charm; so early fruits and winter roses are the most prized; and coyness sets off an extravagant mistress, while the door always open tempts no suitor."

– Marcus Valerius Martial, poet
Buenos Aires – Some of you may remember last year's Masters of Food and Wine event, which, other than one negative encounter was a delightful experience. The hotel's public relations person contacted me directly this year, with another apology for my being unable to attend the Wine Spectator Rarities Dinner, and asked if I'd like to come this year. Too late for my published article from last year, but certainly not too late to check out, once again, the opening night wine and cheese party and the dinner itself. Added bonus, my friend and fellow food and wine writer, Eunice, was coming down for the week's worth of events (I only went to the two events in Buenos Aires this year). The first evening was much the same as last year's opening night party – though far fewer journalists, and seemingly far fewer locals were in attendance – of course, it was pouring rain at a near Noah's Ark level for much of the day, so perhaps many decided not to come out. And, of course, the event, at last minute, couldn't be held outside in the hotel's beautiful courtyard gardens, and was hastily erected in two of the banquet rooms – a little bit of disorganization, but I thought overall they pulled it off pretty well.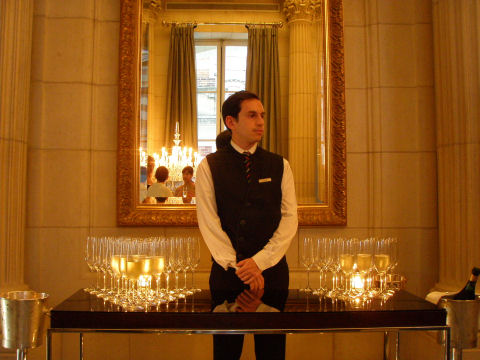 The second night was far more sedate – something like 65 or 70 people in attendance, including half a dozen journalists, and fair number of invitees (each of the wineries that was showing a wine apparently got two invites to use for themselves or someone they wanted to come), and, of course, the paying customers. An hour and a half of flowing champagne and passed blini with various toppings and we were ready for the inside scoop.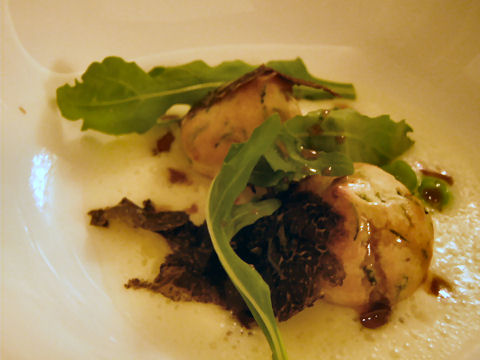 First up, little mini-goujeres, or cheese puffs, made with d'Orleans mustard, served in an arugula jus, with Perigord truffles and green peas. This was presented by chef Jean-Francois Rouquette from Paris. Delicious, if a bit teeny. The wine served with it, the Felipe Ruitini 1996, a half Cabernet, half Merlot blend was, unfortunately, lightly oxidized, with a note of burnt rubber, and heavy on the alcohol. With a little time, it opened up a bit with some red fruit, and some of the burnt smell seemed to blow off, but it never really developed into something we wanted to drink. A shame, it was probably less than a year past when it should have been opened.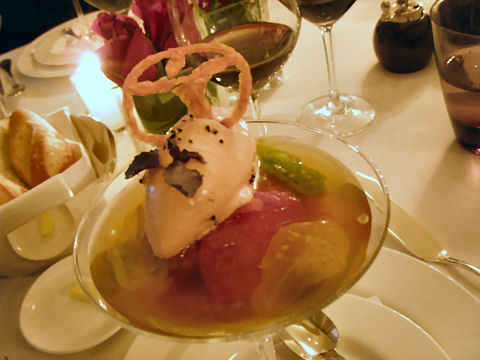 My favorite course of the evening, simply titled "Forgotten Tomato Varieties", from chef Phillippe Labbé of Eze Village, France. Layers of heirloom tomatoes in a soft gelatin, with hidden bits of herbs and cheeses, and an intense tomato sorbet – it was really one of those "perfect" dishes. And, though the 1997 Q Tempranillo from Familia Zuccardi was reasonably good on its own, with juicy acidity, red plums, cocoa, and orange peel (though an odd note for a few moments on the nose of garlic, but that disappeared), there was clearly no attempt to match it to the dish (something that held true throughout the dinner – it was as if the chefs simply decided what they wanted to prepare, while the wineries decided what they wanted to show, and neither group talked to the other).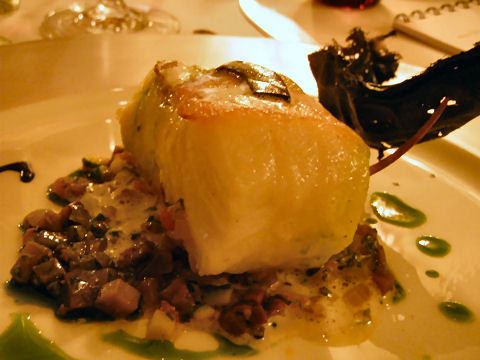 Next up, from chef Nicolas Sale, Le Castellet, France, a merluza negra, or Patagonian toothfish (or, as we know it from the market, Chilean Sea Bass), with confited vegetables and fennel foam, and a cute touch of a toasted bit of black seaweed. Not a wow, but quite good. Two wines served – Trapiche's Medalla 1997 Chardonnay – completely oxidized and undrinkable (in fact, one of the two sommeliers running the show had told me that before the dinner started – that they didn't have a single drinkable bottle of the chardonnay… errr… so why serve it? I'm sure given that they'd tried the wines earlier in the day that someone from Trapiche could have grabbed a few bottles of something else from their local warehouse). The other wine, Viña Pomal 1985 Bodega Bilbainas, the one non-Argentine wine of the evening, from Rioja, though, given that the point of the eve was to try older Argentine wines, no one seemed quite sure why this one was served, other than that the bodega has a winery in Argentina as well, Bodega Septima. Completely drinkable, red currants, aged leather, a touch of strange brininess – a little on the light side, as if it were fading, but not gone.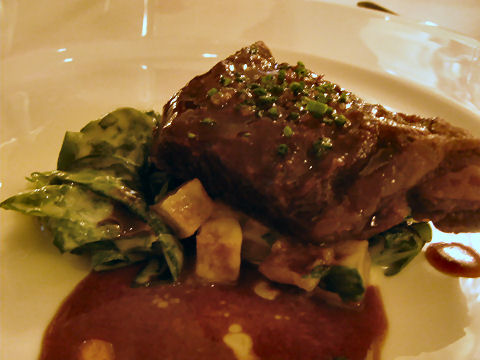 The main course, the only one I didn't care for – from local chef Fernando Trocca, braised veal cheeks with spinach, potatoes, apple, and a port wine sauce. Nothing wrong with the idea or flavors of the dish, but the cheeks weren't braised long enough to be tender, they were hard and rubbery, and for the most part, we were just pushing them around on the plate. Two wines again, the winner of the evening, from Finca Flichman, their Dedicado 1996 (interestingly, the sommeliers told me they'd opened a couple of bottles earlier in the day and they were over the hill, but Flichman had a couple of 3 liter bottles around, and they were still in good condition, so that's what they used for the dinner) – lots of red fruit, spice, cocoa, great acidity and balance. The other wine, Angélica Zapata Malbec Alta 1005, likely would have been fine, except the bottle served to our table was corked – not terribly, but enough to eliminate enjoying it, and when we pointed it out, we got shrugs – not replacements – I couldn't personally complain much because I was there for free, but the paying customers were a bit miffed.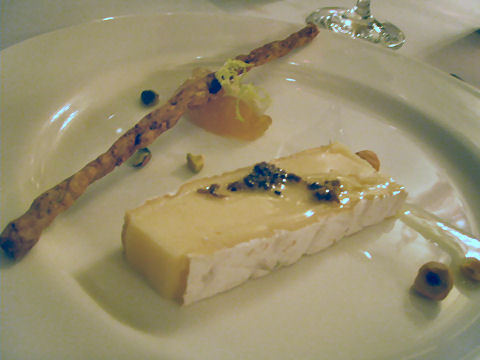 The cheese was served with a grand flourish – a couple of chefs carrying out a huge, two foot across brie, on a board, and proceeding to carve it up on a center table in the room. The chef "in charge" of this course, Christophe David, from Chicago, doing a fine job of cutting up the cheese and pairing it with a nut grissini and some pear chutney, but I do hope he gets a chance to showcase some higher level of skill than that over the course of the week…. The wine, Terrazas de los Andes Gran Cabernet Sauvignon 1999 was good, with black currant, green leafiness, cocoa, good tannins and acidity, though for some reason, despite probably being the biggest, fullest bodied wine of the evening, was served in a little dessert wine glass which didn't allow it to open up much. It was also a bit overwhelming for a brie….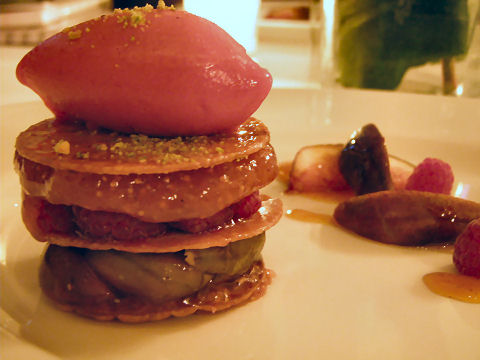 And, finally, a little tower of dessert from Roman Dombrowski, chef from the hotel, who made a millefeuille of honey roasted figs, raspberry sorbet, and little cookies, labeled as Arlette Croustillante, and made from some sort of whole grain flour that left them tasting like some sort of savory bran cracker – not a pleasant combination with the fruits, and I, for one, pushed the cookies to the side and just ate the sorbet and fruit. The wine, from Graffigna, their Malbec Tardio 2008 – neither a rarity nor an older wine, but a weird, slightly fizzy, burnt sugar and Play-Doh tasting semi-sweet wine that was completely undrinkable.
Great chocolate petits fours….
Overall, high marks to the food – presentation, creativity, flavor – after all, these are some pretty top chefs – and pretty much low end marks to the wine and any attempt to pair the wines with the dinner.