"Each heart taken is one point, and the Queen of spades is a whopping 13 points. If a single player takes all 13 hearts cards, and the queen of spades, the effect on the scoring is reversed all other players receive 26 points. This is called "shooting the moon."

– from the rules for Hearts
Buenos Aires – I know this will come as a shock, but I am actually aware that we no longer have themes listed on Casa SaltShaker's schedule. I program the page, and really, it wasn't an oversight, it's intentional. I know people like the themes, there's a certain playfulness about them. But they were beginning to feel constraining in the kitchen – I found myself spending too much time trying to figure out what sort of menu I felt like preparing just to fit in with the theme for the week. And, on the flip side, I got too many responses that amounted to "If you were doing a different theme, I'd come, but I know I'm not going to like that one." Even without a menu posted.
So, much as I hate to use the overused term, our menu will now become, more or less, "market driven". Or really, more "whim driven". It's going to be what I feel like cooking – and I may have a theme, or I may not – I'm going to post the upcoming menus, reserving the right to change any or all of each one as things go along (I'll try to keep the page as close to where my thought processes are at any point – and unlikely that things will change radically to a completely different range of foods for any one evening). As I pointed out to someone who was grilling me about what an upcoming menu might or might not contain – that's not usually the approach with a chef's tasting menu – in fact, many people order them without having a clue what the menu will contain. The idea is the kitchen sends things out that are fun and interesting. And so that's where we're headed.
So, this weekend was our first that I approached this way – sure I could have come up with some sort of combination of Friday the 13th and Valentine's Day (finally, he gets to the point where we can figure out what that whole 13 hearts quote was about above…). And there may have been an influence in there at some point, but more, I just had fun cooking in the kitchen, and with food that I was more comfortable making, I was also able to spend more time out in the dining room with our guests.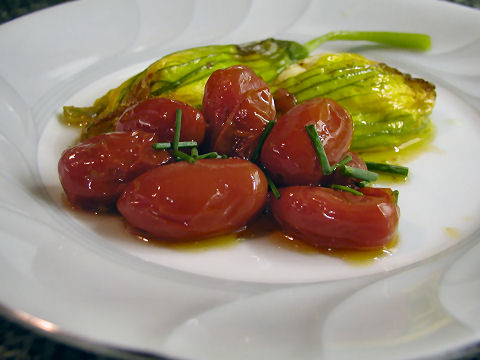 During the short period of time when they're available, I love to play around with squash or zucchini blossoms. I decided to bring back and slightly refine a dish I made a couple of years ago for our tomato dinner. Fresh zucchini blossoms stuffed with homemade ricotta, seasoned simply with salt and white pepper, drizzled with olive oil and baked in the oven until starting to lightly brown. To accompany, a burst cherry tomato sauce – whole cherry tomatoes into a pot with a big glob of butter, a spoonful or two of marjoram leaves, some salt, and a few drops of vanilla extract. Put in the oven for about an hour until the tomatoes burst.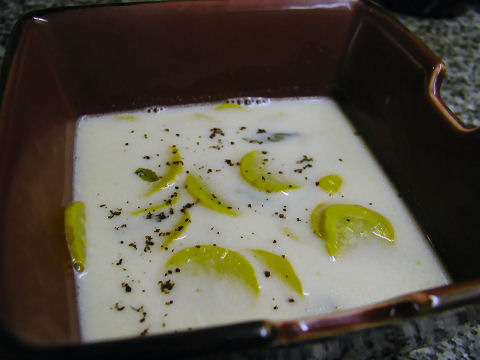 Still keying off the zucchini idea, I found some beautiful small yellow ones (we have a new vegetable purveyor that delivers straight from el campo, and I'm very happy with the quality of what they have). The soup base, lots of celery and sweet white onions simmered in water with salt and pepper, pureed with the immersion blender, then strained. Thinly sliced zucchini, fresh yellow corn, all simmered in the soup until soft. At the last minute, I mixed in a good amount of feta cheese that was melted in a roughly equal amount of heavy cream, and a large handful of fresh mint leaves. Let it infuse for about five minutes to get the mint flavor throughout the soup, then adjusted the seasoning with salt and white pepper. A little bit of sumac is dusted over the top.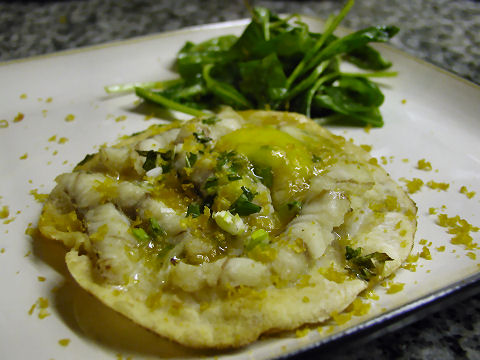 Giles Coren, one of my favorite restaurant reviewers (Times UK), recently wrote about a trip to California and a dish that caught my eye – "thin pizzetta with a soft egg, grated bottarga and scallions". I made a note of it, thinking it might be fun to play with at some point. Then, a couple of weeks ago I had that interesting two-salmon pizza rustica at Bo Bo. I thought about it and came up with a sort of mix of the two – using a grilled pizza crust dough and grilling small rounds in advance to give them a lightly charred flavor. Then, topped with slices of salmón blanco, which, as I've pointed out before, isn't a salmon at all, but Brazilian Sand Perch, finely chopped green onions, sea salt, and a drizzle of olive oil. Into the oven on high heat with the convection fan going – they came out not quite as crispy on the bottom as I would have liked – it'll take a little work to perfect that, but overall I was happy with the result. I topped each pizzetta with a raw quail's egg as soon as they came out of the oven, which pretty much set the white of the egg, and left the yolk soft, and then I grated bottarga over the whole thing. On the side, a small arugula salad tossed with olive oil and pecan infused wine vinegar.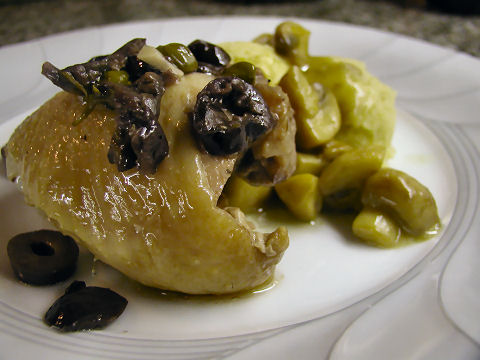 I've had a recipe in my files that I've wanted to try for sometime, it's for Confit of Chicken, and comes from my favorite restaurant on the planet, Tetsuya's. I don't recall where I got the recipe, but it turns out spectacularly well – I didn't use whole spring chickens as the original calls for, but just chicken thighs – slow cooked for about 6-7 hours in a mix of white wine, olive oil, sliced black olives, sliced garlic, capers, oregano, black pepper, and salt. It's amazingly juicy and tender. To accompany it I made skin-on mashed potatoes finished with butter, milk, salt, pepper, and nutmeg, and then a classic sherry glazed mushroom sauce (wow, I'd forgotten how good those mushrooms are) – quartered button mushrooms dusted with flour, salt and pepper, and sauteed in butter and olive oil until light browned, deglazed with slightly sweet sherry, letting that evaporate, and then adding a ladleful of vegetable stock (that I'd saved from making the soup) and a few sprigs of fresh thyme, letting them simmer for about ten minutes, then turning the heat up high and cooking it until the liquid reduced to a glaze.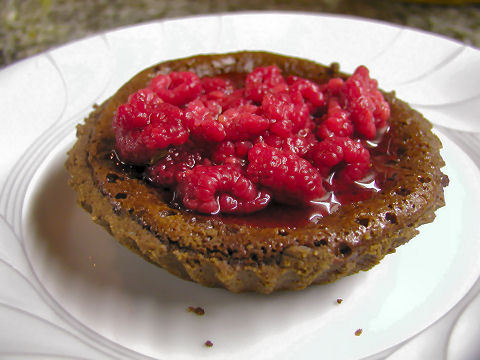 I'll refer you back to my chocolate rhubarb pudding tart that I made about 8 months ago for another dinner – I followed the same process except used raspberry jam in place of the stewed rhubarb – and, instead of a single large tart I made little individual ones. I topped each with a large spoonful of fresh raspberries that spent the day marinating in raw sugar and kirsch. That's sort of valentine-y, no?
Viva the themeless dinnners!