"It's the lore of the North that allows a traveller caught in a blizzard to break into a cabin for food and warmth in order to keep body and soul together. But what about breaking into an expensive condo just before Christmas, ripping open all the presents hoping to find chocolates, raiding the fridge and cupboards and pigging out on cups of tea, chilli, cream cheese and tortillas before slipping into a stupor and passing out?"

– Gerry Bellett, Vancouver Sun
Buenos Aires – Anyone possessed of functional tastebuds, who's lived in New York City, knows that the city's true claim to fame is a simple bagel "with a schmear" – of cream cheese, that is. Of course, New York City apparently requires a bit of propping up, since a really good schmear comes in the name of Philadelphia, not that the stuff has anything to do with the city in question…
Cream cheese originated in the United States in 1872 when a dairyman in Chester, New York, developed a 'richer cheese than ever before,' made from cream as well as whole milk. Then in 1880, a New York cheese distributor, A. L. Reynolds, first began distributing cream cheese wrapped in tin-foil wrappers, calling it Philadelphia Brand….The name "Philadelphia Brand cream cheese" was adopted by Reynolds for the product because at that time, top-quality food products often originated in or were associated with the city, and were often referred to as being "Philadelphia quality." – Kraft Foods
Here in BsAs, Queso Filadelfia as it's known (despite the "correct" spelling on the labels of the imported stuff), is the generic branding of cream cheese in general. The non-Kraft stuff is barely edible, a testament, at least, to the adherence to some standard for the name brand. Now, I promised you the best cream cheese you'll ever taste… and I'm going to more or less deliver. I have to admit, and Hector, my cheese prof – admits as well, that this isn't actually the recipe for true cream cheese, which is an actual coagulated cheese made with a mix of milk and cream, etc. But it's a fascinating way to get the right taste, and more, and it follows on yesterday's ricotta making post.
I meant, by the way, to post some photos of just what I mean by how technical things get in the classes… not that I, yet anyway, have any of this stuff at home…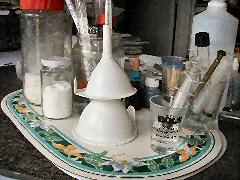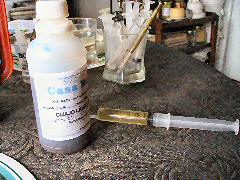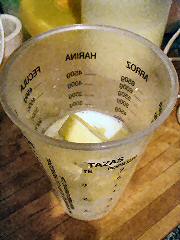 On to the "cream cheese" and an extraordinarily simple process, assuming that you've already made the ricotta – he swears this will not turn out right with commercial grade ricotta, and certainly, at least, here, the commercial ricotta sucks, so he may be right on that basis – though if I found some fresh stuff from a good quesería I'd give it a try – not that it's hard, as you saw yesterday, to make your own. It's also pretty economical, depending on how you factor in the value of time spent. The 3 liters of milk and bit of vinegar that I used to make the ricotta cost me a shade over 6 pesos, and resulted in a little over half a kilo of ricotta, plus a couple liters of whey. Commercial grade ricotta runs nearly 6 pesos for a half kilo container and is barely worth opening, and from the better cheese shops that I've seen, a half kilo runs anywhere between 9 and 15 pesos. So here's the recipe… take that 600 or so grams of ricotta (less whatever you've already spooned into yourself), add in 100 grams of good butter, a cup of boiling milk, and mix the whole thing together with a hand blender. Add salt to taste. Taste. Try not to eat it all while still warm. Chill. Eat and be happy.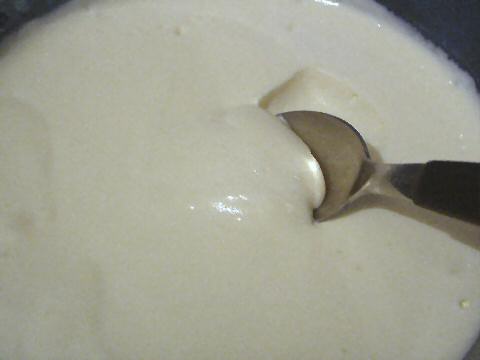 Oh, and staying with the economic thoughts above… adding in the cost of the extra milk and butter brings the cost of this up to around AR$7.50, for now nearly a full kilogram of cream cheese – Philadelphia brand here costs about 4 pesos and change per 150 gram brick (smaller than the standard 8 ounce ones in the U.S., which is 226 grams), so somewhere between 25-30 pesos! I'll let you figure out the savings in dollars, since I have no idea these days what the costs of milk, butter, cream cheese, ricotta cheese, etc., run in the States (or other countries and their currencies).