…there was always the risk of dating someone who'd owned a lunch box with my picture on it."

– Shaun Cassidy, Pop Singer/Actor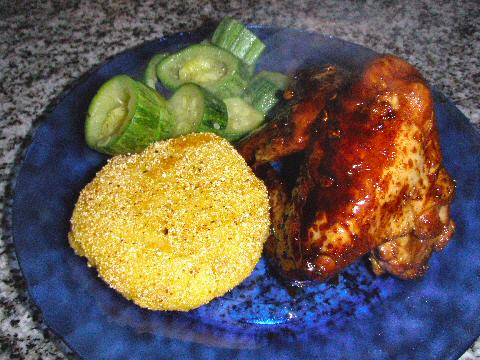 Buenos Aires – There's nothing like a really good use of some leftovers. In this case, the mamaliga from this weekend's dinners. More or less the Eastern European version of polenta, I formed the remainder into patties about the size of a good hamburger, than put them in the refrigerator to chill overnight. For lunch the next day I rolled them in a little more cornmeal, sprinkled with salt and freshly ground black pepper, and sauteed them up until lightly golden on each side. I think I may even like this better than when the stuff was just made! To go with them, we had picked up some chicken wings and I marinated them to make "Peruvian chicken" as we've come to call it – in a mix of soy, olive oil, dried ajís amarillo and mirasol, garlic, and wine. Then browned the chicken, added the marinade into the pot, covered it, and cooked until the chicken was done. At the last minute reduced the remaining liquid in the pan to a glaze. Some fresh zucchini just simply simmered up and then tossed with butter and parsley rounded out lunch… There's always a good use for leftovers, no?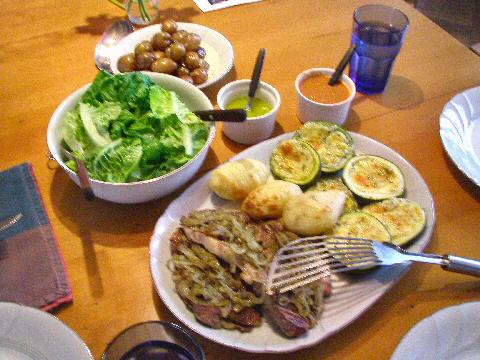 I've mentioned on and off that I teach some cooking classes. Usually it's to folks who live here and just feel like learning how to make something new to add to what they already cook at home. The most popular request seems to be Peruvian food – causas and ceviches certainly top the list, but the occasional other dish creeps in as well. This week I had a request from some visitors from Australia who wanted a nice little tour of the Mercado del Progreso – look for my upcoming article on the mercados over on What's Up Buenos Aires? when their new site launches – and then back to my place for an Argentine cooking session. We visited the market for about an hour, chatting away for a bit with Alfedo, the market "president", and in the end taking his recommendation for some just butchered beefsteaks – cooked to just medium (at his demand, he didn't want us ruining his meat by cooking it too much, not that we would have cooked it further anyway). His recommendation of topping the steaks with lots of grilled onions and garlic tossed with salt, pepper, and ground bay leaves was delicious. His version of a baked potato was interesting but needs some work – peeled, then slits cut into them, then doused with red wine vinegar and baked – too much of the vinegar flavor disappears that way – maybe wrapped in foil or something… I'd already planned some potatoes a la crema, so when we saw the little Andean potatoes we boiled those up and then tossed them with some homemade sour cream, salt, pepper, and parsley. Zapaliitos rellenos – the round zucchini, baked alongside the potatoes with the insides scooped out and the pulp mixed with some good cheese (I still has some scamorza from the Italian cheese shop – perfect!), garlic, salt, and pepper – until browned. A nice salad. And we whipped up two versions of chimichurri – a green one which we ended up using as a salad dressing and with the zucchini, and a red one to accompany the steaks. Not a bad class lunch!