"What is sauce for the goose may be sauce for the gander but is not necessarily sauce for the chicken, the duck, the turkey or the guinea hen.

– Alice B. Toklas
Buenos Aires – I've been promising on and off since our trip to Perú that I'd share a step-by-step how-to for ají de gallina, or chicken (traditionally hen) in a spicy yellow chili pepper sauce – one of our favorite dishes. So, follow along with Maria, Henry's sister, as she demonstrates making it at home…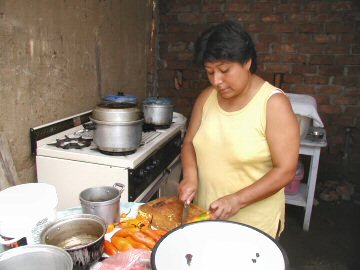 Remove seeds and veins from fresh ají amarillo (here in Buenos Aires we end up having to reconstitute dried ones as the fresh simply aren't available). [This has changed over the couple of years since this post was written and fresh ají amarillo are now pretty readily available.]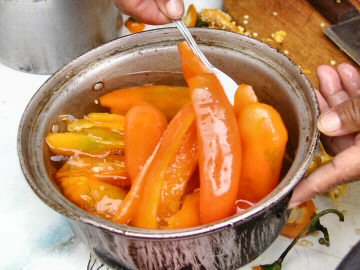 Put chilies in a pan of water, bring to a boil, cover, and let boil until soft.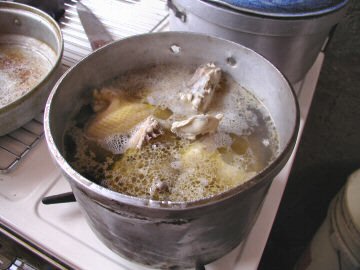 In another pan, put chicken breasts, cover with water, bring to a boil, and let simmer until cooked through and soft enough to shred.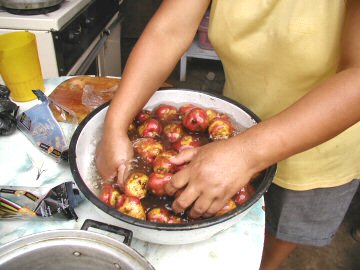 Wash potatoes, boil until cooked but not mushy (sliceable), cool, peel, and set aside. In the same pot, toss a few eggs to let them hard-boil. Let them cool and then peel and quarter them.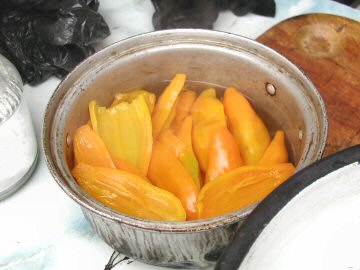 When the chilies are nice and soft, take them off the heat.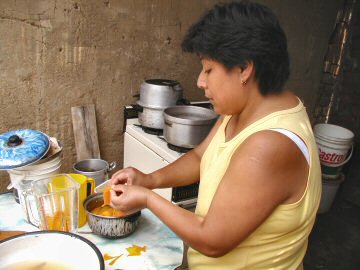 Peel the chilies and put in a blender. If you're using dried chilies the peeling won't be possible, just include the skin. If you want a milder version of the sauce, remove the seeds too.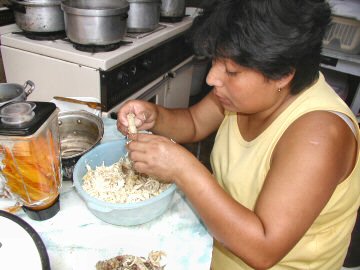 When the chicken is done, remove from the water, and let cool until you can handle it, then shred the meat into fine shreds.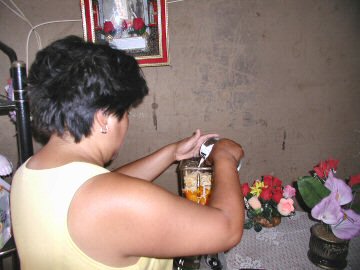 This comes down to a "to taste" – in the blender with the chilies add a little fresh cheese (farmer's cheese, or something like port salut), some chunks of stale bread, a handful of walnuts or peanuts (you can leave these out if someone is allergic), and start it blending. Add milk while blending until you've got a thick, but smooth puree. I've seen recipes that use the chicken water instead of milk, and others that use evaporated milk or cream, this is just the way I've learned to make it. When we want it extra spicy we use the chili cooking water for at least a part of the liquid. To this point, the sauce is what's called huancaina and can be chilled and served over chilled, boiled potatoes, a classic Peruvian dish, papas a la huancaina.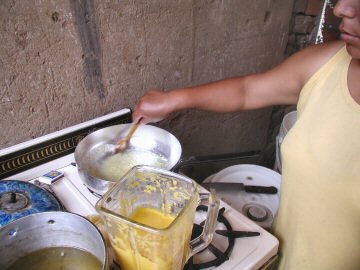 Saute finely chopped garlic and a white onion in olive oil until translucent and soft. Then add the pepper puree to this and continue cooking for a few minutes.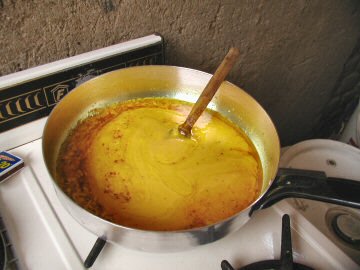 Add a little red chili powder or paste – more just to give the dish a vivid color than for additional spice.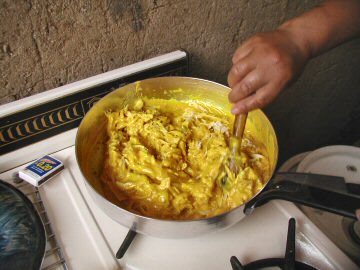 Add the chicken and stir well to coat, turn the heat down to low and let simmer.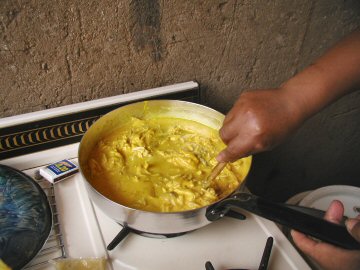 The sauce will thicken and get glossy after about 10-15 minutes (stir occasionally so it doesn't burn). It's ready to serve.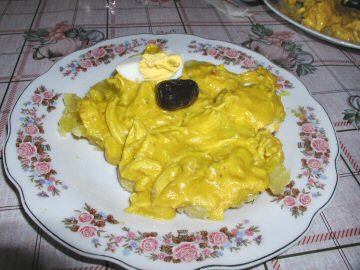 Serve over sliced potatoes, decorated with black olives and hard-boiled eggs. Rice on the side is optional, but usual.
I really was helping Maria cook, and learning to make this in between taking photos. We just posed her for the shots.