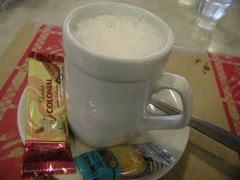 Buenos Aires – Headed back to New York for a couple of weeks. Just a few random thoughts on the day of travel… While waiting for my flight in Ezeiza Airport, the major international airport in Buenos Aires, I thought I'd have a little sandwich and a Submarino. This is the local version of hot chocolate. You get a cup of steamed milk from the espresso machine, and a small bar of semi-sweet chocolate that you dissolve in the milk yourself. It's admittedly not as good as a proper hot cocoa, but it's better than, say, a cup of instant hot chocolate.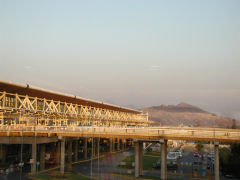 Santiago – On my trip into Buenos Aires three months ago I mentioned how much I liked the setting of Santiago's airport. This time, unfortunately I didn't have time to pop into the main airport restaurant (that really seems odd to me to say that, but I did like the place), but I took a moment as I sort of ran between flights to snap a photo of the airport in the twilight, looking off at the Andes.
New York City – Back in New York and staying at my friend Frank's house. He's been a mainstay and staunch supporter of my monthly dinners over the years. Now if only I can find a way to convince him to pop down to Buenos Aires once a month… Headed out to handle some first day back errands, found myself in the East Village, and decided on the need for a New York deli fix. I think it's pretty hard to beat the 2nd Avenue Deli, 156 2nd Avenue. I don't go out to delis a whole lot, it's the kind of food that, much as I may love it, doesn't love me – it has a tendency to add numbers to my weight, waist, and cholesterol, none of which makes me happy. So maybe once or twice a year, for now 24 years, I pop in for lunch to this place. I virtually always order the same thing – the plate of soup and half a sandwich combo – more than enough food to handle my fix. Well made, fresh matzoball soup, with a nice plump matzoball, not too light, not too heavy, and the size of a tennis ball; fresh carrots, small noodles, good broth, and fresh dill. The sandwich? This time a half-and-half pastrami and chopped liver on rye with russian dressing and red onions. Usually I'd get the corned beef, I think 2nd Avenue Deli has the best in the city, but I was just in the mood for pastrami. What can I say?
[Note: this restaurant has closed.]