New York City – Frank and I both like Indian food, and Buenos Aires currently has a dearth of really good Indian restaurants, though has a couple that are acceptable. A little exhausted from my travels and running errands for the day, I was far more in the mood for something local on the Upper East Side, and Frank suggested his favorite Indian place, Mumtaz, 1493 3rd Avenue. As is pretty standard in New York City Indian restaurants the place is festooned with more sparkly ribbons and gewgaw than a drag queen's parade outfit (and I haven't encountered this in Indian restaurants elsewhere – anyone know how it all started?). Actually, Mumtaz is one of the more laid back as decor goes, the festooning is limited to a complete covering of the walls, but unlike many places the ceiling is not dripping with streamers and pom-poms that leave one feeling like they've landed in the aftermath of a party supply liquidation sale. Red, is of course, the dominant color (another question, why red?).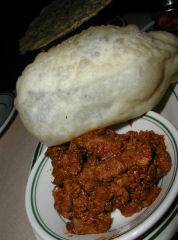 We began the evening with a couple of appetizers – first, a sampler platter that consisted of four "tastes" off the menu along with a crisp papadam bread, all not quite splittable, though we managed; and a dish that Frank had assured me was well worth trying, the murg kaleji – chicken livers sauteed with a mixture of onions, ginger, cumin, and coriander, and served with a properly puffed poori bread. Indian flatbreads are amongst my favorites, and Mumtaz offers a selection of poori, parathas, and chapati, but no nan, which is my favorite. I believe, though could certainly be wrong, that nan is cooked flat on the sides of a tandoori grill, and they don't offer any straightforward tandoori dishes (though they do have the chicken tikka I mention below, so who knows?), so perhaps they just plain can't make nan properly. Maybe it's just the wrong region of India. I didn't get a detailed answer out of our waiter, just a "have the chapati, it's very good" repeated a couple of times. We did, and it was.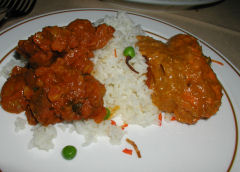 Both of us tend to like Indian lamb dishes, and we selected one neither of us had tried before, the lamb dhansak, described as a hot, tangy, and sweet lamb dish. It was indeed hot, tangy, and a touch sweet, really quite good, and quite different from most of the other Indian dishes I've had. From what I've been able to find this is a classic Parsi specialty from Bombay that is a pineapple and lentil based curry with a mix of spices like chilies, coriander, fennel, cumin, and a fair amount of cardamom. The other plate we sampled was a classic chicken tikka masala, a perennial favorite. The chicken was a little overcooked and dry, and the sauce was a trifle bland for our tastes, but some of that may have been in contrast to the lamb dish's potency.
Chicken Tikka Masala – a mild curry dish of chicken in a tomato and cream based sauce. Chicken Tikka is an Indian dish, the chicken is marinated in yogurt and spices and then cooked tandoori style in a charcoal-fired oven, however chicken tikka masala has a postcolonial history, produced when this classic found itself confronted by a British palette unused to anything spicier than table salt. Legend has it one obstinate diner demanded gravy on tandoori chicken. A local chef responded by adding tin of Campbell's tomato soup and pinch of spices, an early example of fusion cookery. The Masala sauce was added to satisfy the desire of British people to have their meat served in gravy.
A couple of Kingfisher beers washed everything down nicely. There's nothing particularly descript (is that the opposite of nondescript?) about it, but it's a passable beer that's light in flavor, but works well as a foil to the types of spices used in Indian cuisine.